Loaded with nuts and crystallized ginger, this deeply toasted Cashew, Almond and Ginger Granola delivers serious flavor and texture in every single bite.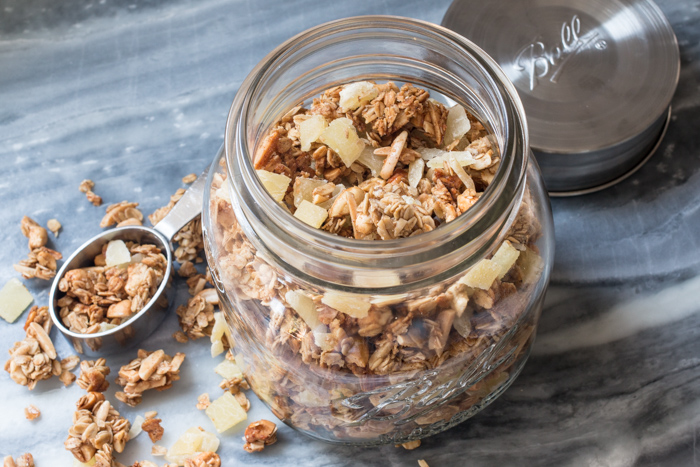 I used to make homemade granola all the time. Years ago, I even packaged it up in fancy jars as holiday gifts.
While nothing beats the toasted flavor of freshly baked granola, I somehow got out of the habit of making my own.
Once we moved within blocks of Trader Joe's, I guess I just got lazy after trying the store's Just the Clusters Cashew, Almond and Ginger Granola.
I kept meaning to start baking my own again, especially since it's super easy to make, but I kept putting it off — until recently.
Anyone who shops at Trader Joe's knows that products sometimes mysteriously disappear from the shelves. When I asked if they'd stock my granola again soon, no one could tell me.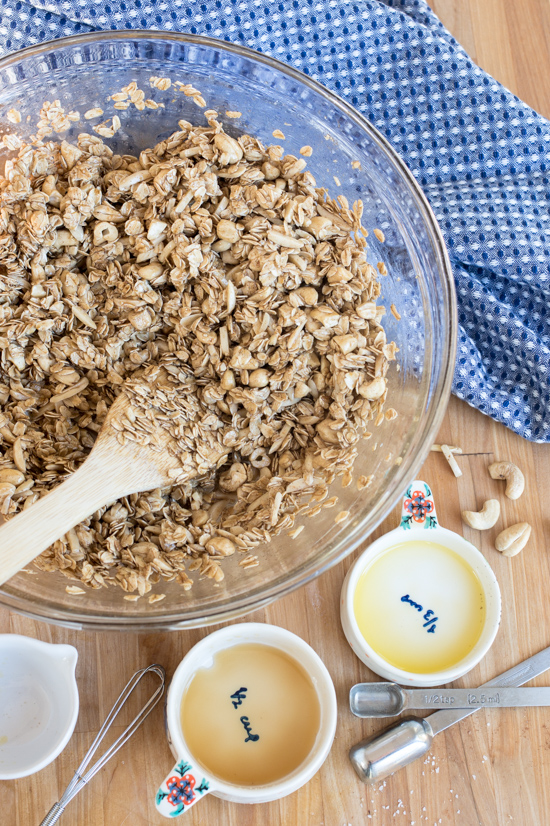 Feeling optimistic, I tried a different Just the Clusters flavor, but I found it way too sweet to finish the box.
It was time to start making granola again.
The more I thought about it, the more excited I got. I knew — based on my experience making homemade granola in the past — it would be even better than TJ's version.
I love chunky granola, which is why I first tried TJ's Just the Clusters line. Despite its name, I always found that about halfway through the box, the clusters disintegrated into small, dusty dry bits that were super disappointing to eat. I also wanted more ginger, more nuts, and more spice in my granola.
To ensure that my chunky granola would hold its shape, I added egg white to help bind the oats and nuts together. The egg white clearly works its magic (while adding extra protein, too) as this granola bakes so firmly, it feels like you could cut it into granola bars.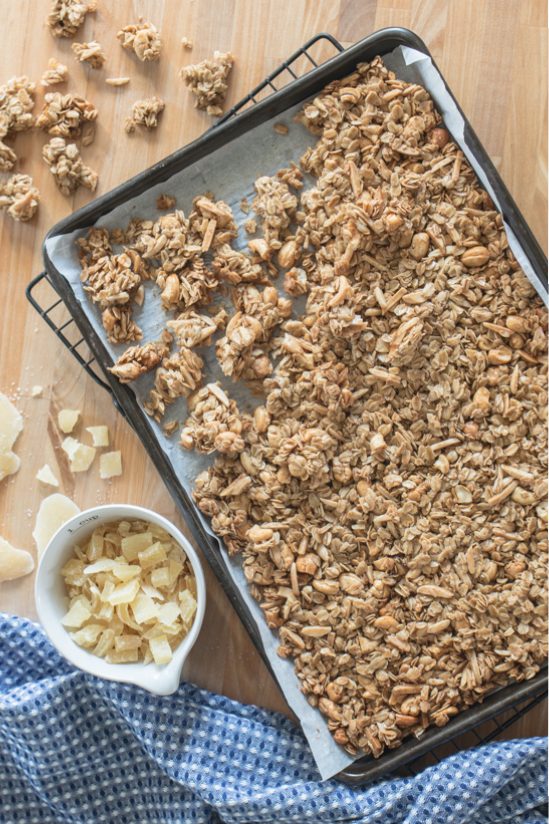 I haven't actually turned the toasted, flavorful mass of granola into bars myself because, for me, crystallized ginger plays an important role in the overall flavor. Since you mix in the ginger after baking, this would mean missing out on its amazing zing.
I added plenty of crystallized ginger to the recipe, which adds a fruity flavor to the mix. Its spicy kick provides a perfect counterpoint to the sweet, toasted goodness of the granola.
Generous quantities of cashews and slivered almonds ensure nutty crunch in every single chunky bite of granola. I use raw nuts in the mixture, which toast to a deep golden brown during baking. This roasting heightens their flavor and crunch.
Cinnamon and cardamom blend harmoniously in the mix, which gets sweetness from maple syrup and brown sugar.
This simple recipe requires a bowl, a spoon, measuring cups and spoons, and a rimmed baking sheet. After mixing the ingredients together, spread them on the baking sheet and cook for about 40 to 45 minutes. While the granola bakes, your entire house fills with an enticingly spicy, nutty, caramelized aroma that draws people to the kitchen.
This delicious, flavorful granola tastes great with yogurt and fresh fruit for breakfast or a healthy snack, but don't stop there. A generous scoopful adds satisfying flavor and crunch to an ice cream sundae. Don't forget the Lemon Sauce, Hot Fudge, or Mocha Sauce!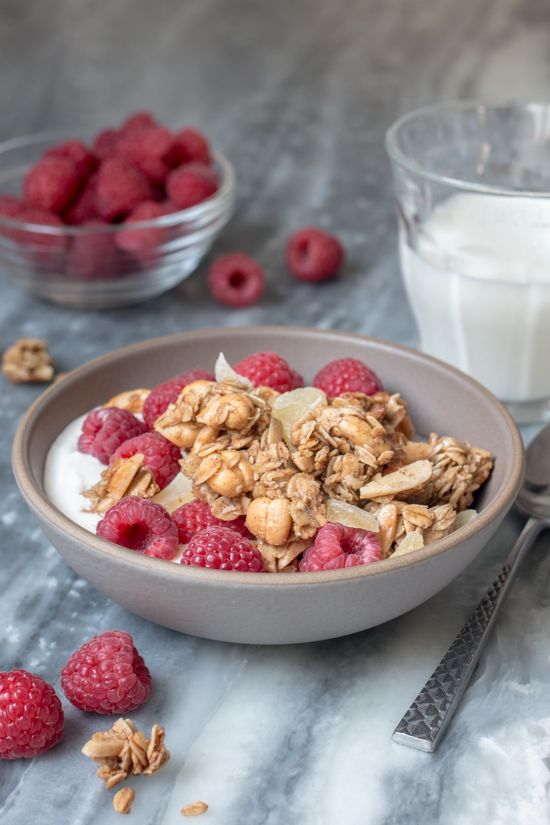 While my Trader Joe's has begun stocking Just the Clusters Cashew, Almond and Ginger Granola again, I'll never go back.
This simple homemade granola recipe is just too good!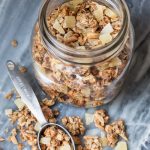 Print Recipe
Chunky Cashew, Almond and Ginger Granola
Inspired by Trader Joe's Just the Cluster Cashew, Almond, and Ginger Granola and these amazing
granola guidelines
from BuzzFeed. Makes about 8 cups.
Ingredients
3

cups

old fashioned rolled oats

3/4

cups

raw cashews

coarsely chopped

3/4

cups

raw almonds slivers

2

tablespoons

brown sugar

1

teaspoon

kosher salt

1

teaspoon

ground cinnamon

1/2

teaspoon

ground cardamom

1/2

cup

maple syrup

1/3

cup

olive oil

1

egg white

whisked until frothy

1

cup

chopped crystallized ginger
Instructions
Preheat oven to 300º F.

Line a rimmed baking sheet with parchment paper. Set aside.

Mix together oats, nuts, brown sugar, salt, cinnamon, and cardamom in a large bowl.

Add maple syrup, olive oil, and egg white to the dry ingredients. Stir well to combine.

Spread the mixture on the prepared baking sheet and bake without stirring until deep golden brown and fragrant, about 40 to 45 minutes.

Allow the granola to cool completely in the pan -- it will crisp up as it cools.

Once cool, break the granola into chunks with your fingers and mix in crystallized ginger.

Store in an airtight container.
YOU MIGHT ALSO LIKE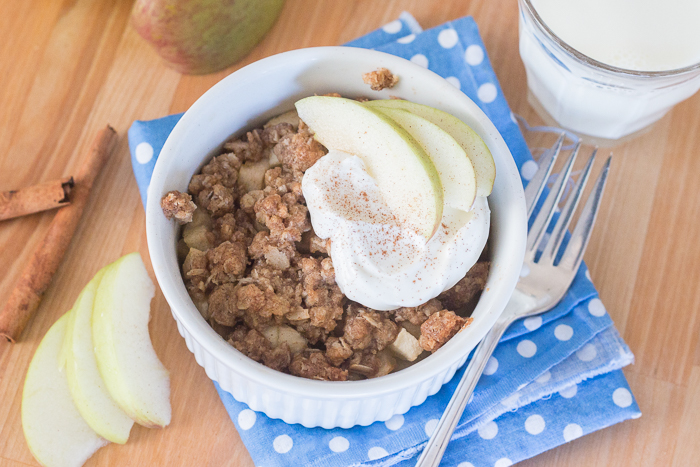 Quick and Easy Single Serving Breakfast Crisp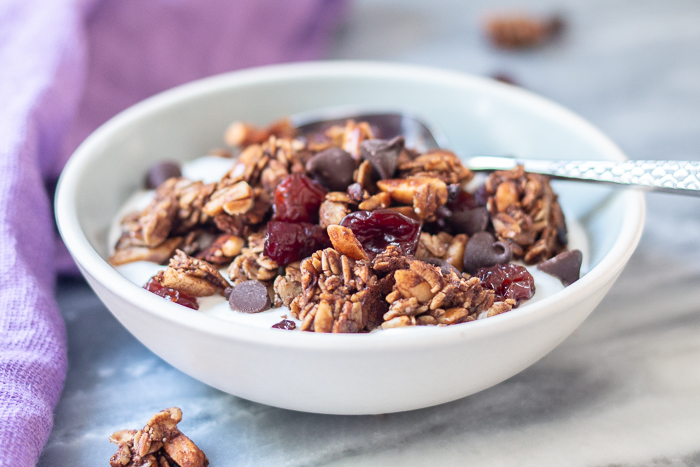 Bittersweet Chocolate and Cherry Granola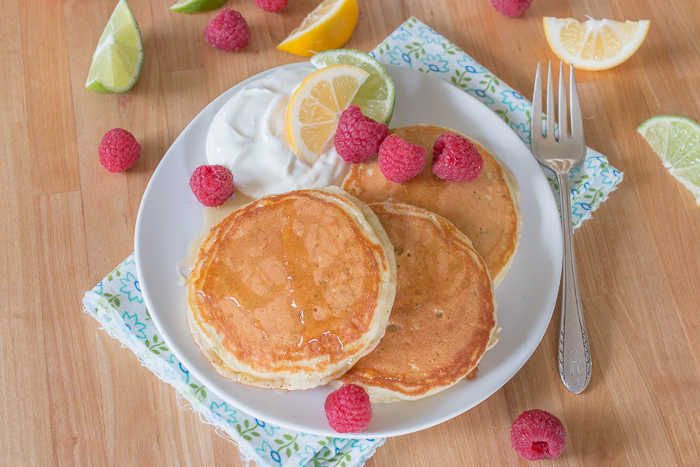 Lemon-Lime Pancakes