Why serve veggies on a platter when you can go vertical instead? Build a Jenga Veggie Tower for your next party. Don't miss out on this flavorful Creamy Cilantro Dip, either!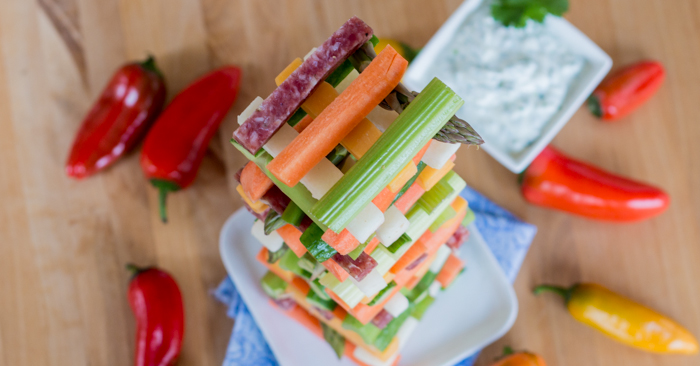 S
ince
The Big Short
focuses on the collapse of the U.S. housing market, I can't think of a better appetizer to serve in honor of this best picture-nominated film than a precarious platter of vegetables. Okay, I may be overstating things. While I do think this
Jenga
Veggie Tower is super appropriate for your Oscars Party, I need to be totally honest: it was the only I idea I had.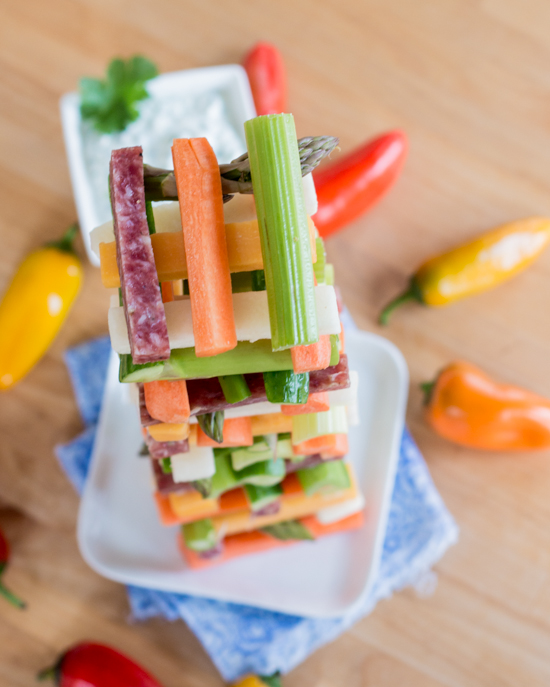 If you've seen
The Big Short
, you may have noticed that food makes very few appearances on screen. When it does, it's mostly in the background and — with only a few exceptions — it's not super connected to the story-line. As the film progressed, I began to think I'd made a mistake in agreeing to come up with an appetizer, cocktail, or dessert for this movie as part of an Oscar Blog Party (scroll to the bottom for fantastic best picture-inspired recipes from other fabulous bloggers).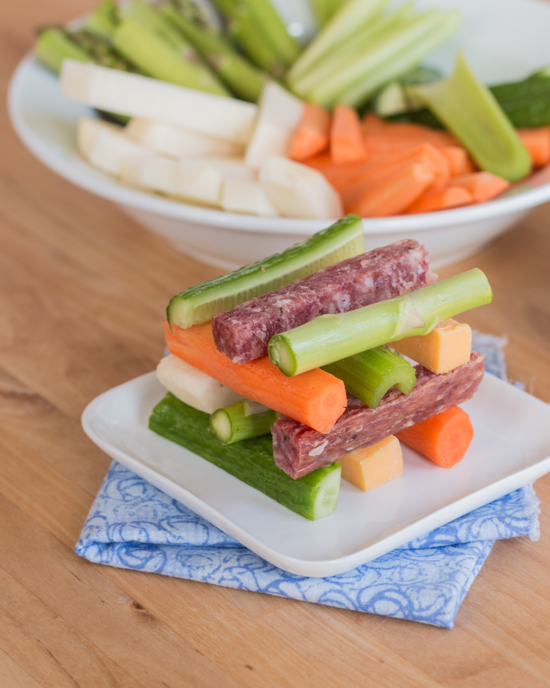 In a mad panic, I started scribbling with a
Sharpie
on my box of Junior Mints: tums, pretzel, donuts and coffee, beer, champagne. Seriously? According to the movie, this is what investment bankers eat. Sure, I could have come up with something related to these edibles, but I just wasn't feeling it. I'm an English teacher for crying out loud. I needed significance, symbolic representation, and a clear connection to the movie's overarching message.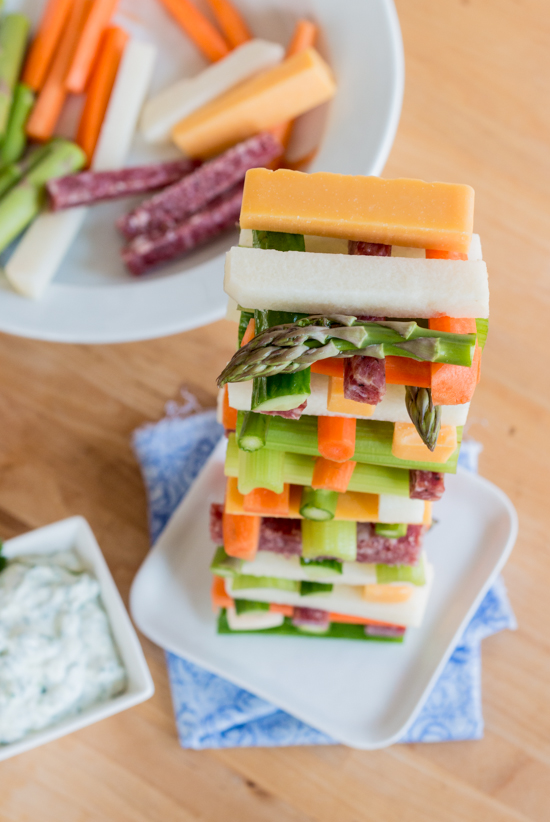 And then, just when I had almost lost hope, Ryan Gosling's character, Jared Vennett, uses a tower of Jenga blocks to show how close the housing market is to collapse. I know, I know it's not food, but when I saw it, I almost got up and started dancing. Visions of vegetables in a tall narrow stack filled my head. I stopped taking notes. My husband was totally skeptical of my whispered idea about stacking sliced vegetables like a Jenga tower. He was so skeptical, in fact, that he kept taking notes: fish/fresh or not–seafood stew, fresh salad — make a garden, ice cream sundae–with sprinkles.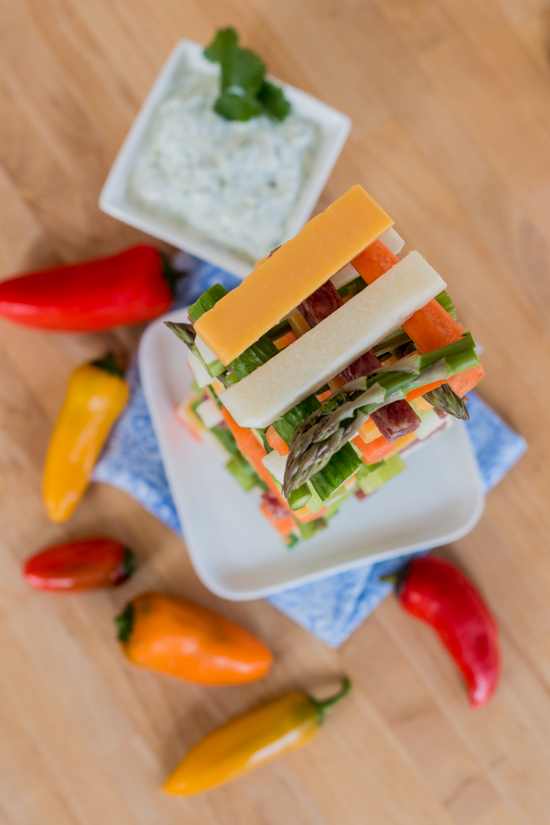 All the way home he tried to convince me to make ice cream sundaes (can you guess what he'd rather eat?), but when we got home, he finally gave up after I threw together a quick veggie tower with the vegetables we had on hand. It's clearly impressive if he was willing to let ice cream sundaes (with sprinkles!) go that easily. This tall stack of healthy vegetables, with the slightly less healthy cheese and salami thrown in for good measure, is my new favorite party snack. It's fun, interactive, and way easier than it looks. Don't miss out on the Creamy Cilantro Dip, either. It adds finger-licking flavor to the crisp, fresh veggies, and it's surprisingly good with salami, too! As I worked on building the tower, I quickly dispensed with the idea of making all the vegetables — as well as the cheese and salami — completely uniform. It was way too frustrating, wasteful, and not at all necessary.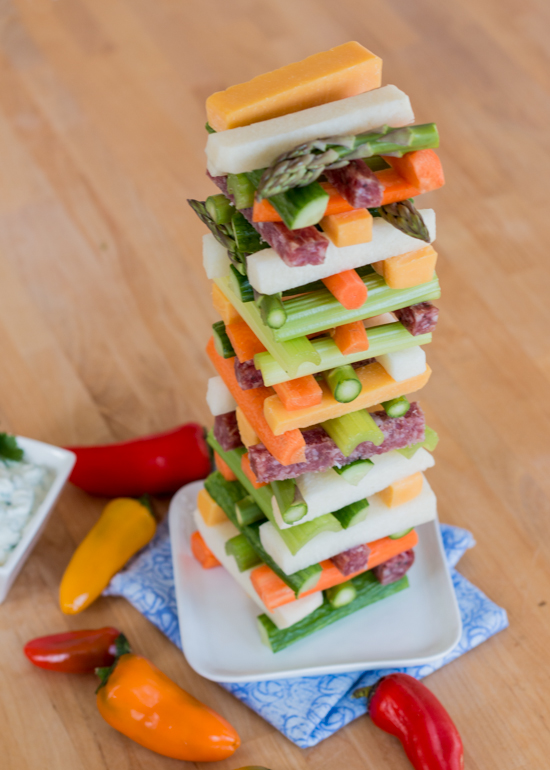 As long as you cut the ingredients the same length (I went with three inches, the size of a Jenga block) and they're close enough in width and height, you can build a relatively stable tower. Of course, this adds to the challenge because you will need to stack with care, selecting at least two ingredients per layer that are similarly sized. I also ended up balancing, say, the curve of a carrot that might have made the tower lopsided with a celery stick that had some unevenness as well. It's almost like playing with blocks. You could totally get your kids to do it for you. You're going to want to build the tower right where you plan to serve it. While a carefully built tower is surprisingly stable, moving it more than a few inches would be as challenging as getting a housing loan in 2008. Is your tower going to crash before party guests nibble down to the bottom? I hope so. It's half the fun.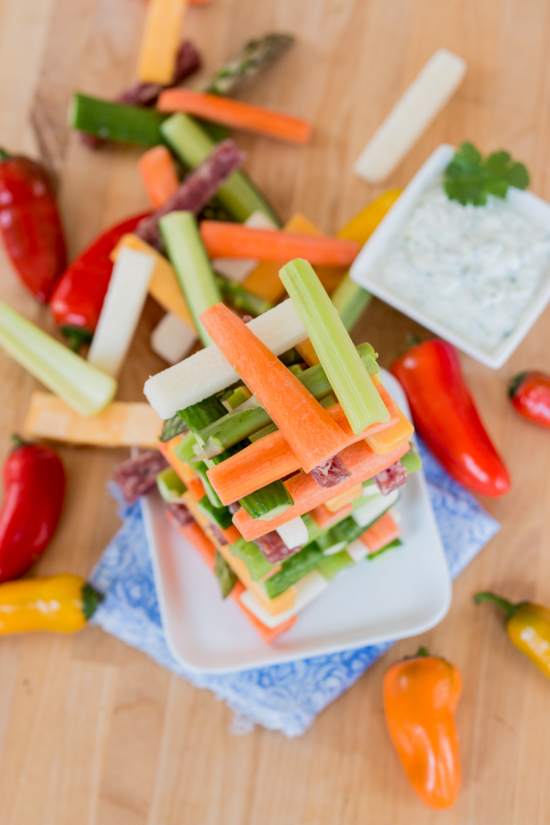 Check out these other tempting Best Picture-inspired recipes. From sips, to snacks, to sweets this great group of bloggers has got your Oscars Party planning covered:
Bridge of Spies: Bitesize "TV Dinner" Meatloaf Appetizers from Pickles Travel
Brooklyn: Chocolate Stout Cannoli from Femme Fraiche
Mad Max: Fury Road: Ruby Red Grapefruitcello from Making It With Stephany
The Martian: Homemade Cheddar and Chive Tater Tots from The Honour System
The Revenant: Crock Pot Ribs from Dining With Alice
Room: Victoria Sandwich Cake from Savoury Table
Spotlight: Cheesy Boston Clam Dip from Cheap Recipe Blog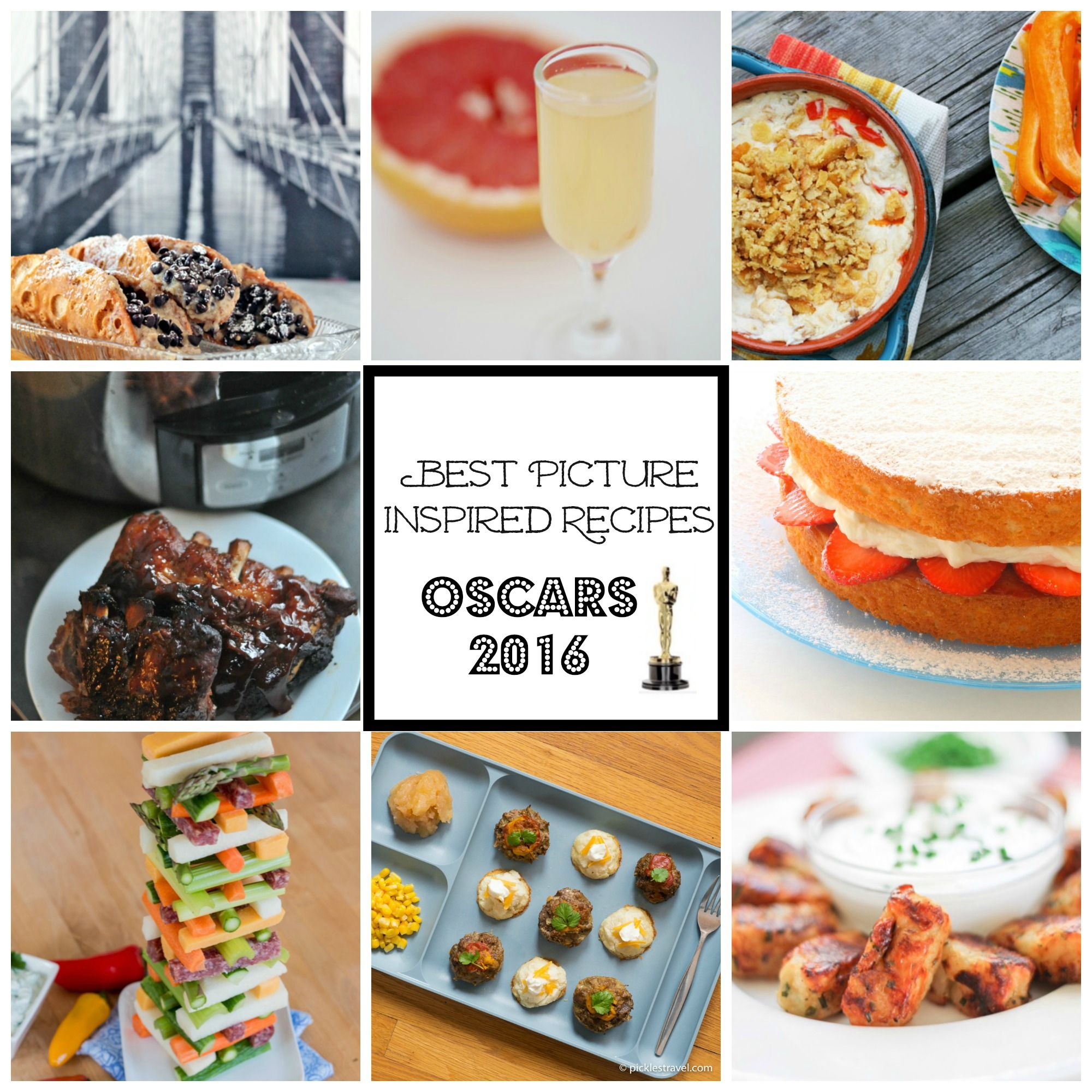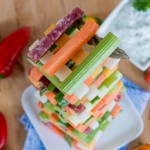 Print Recipe
Jenga Veggie Tower with Creamy Cilantro Dip
Makes one 12-inch veggie tower with a handful of extra ingredients for replenishing.
Ingredients
Tower

4

large carrots

6

large celery ribs

4

Persian cucumbers

6

asparagus spears

1

medium-large jicama root

8

ounces

cheese

3-inch

length of salami

Dip

2

cups

Greek-style yogurt

1-2

cloves

garlic

minced or pressed

1/2

teaspoon

salt

1/4

cup

chopped cilantro

black pepper

to taste
Instructions
For the tower, slice vegetables, cheese, and salami into three-inch lengths. With the exception of the asparagus (unless you have enormous spears), halve, quarter, and/or trim ingredients so they are similar in size.

Place serving dish where you plan to serve it as it will be difficult to move once you've finished. Begin with a solid base that includes three items of equal size with flat bottoms and tops (you may want to do extra trimming on this foundation layer). Continue stacking, alternating items for variety as you progress. Each layer should include at least two vegetables of equivalent size to maintain the stability of the tower. It the tower begins to lean, back track a layer or two and adjust as necessary. Build as high as you dare!

To prepare the dip, combine ingredients in a medium bowl. Mix well to combine. Refrigerate until ready to serve.
Some of the links in this post are affiliate links. If you click through and make a purchase, I earn a small commission for my referral at no additional cost to you. Thank you for supporting Flour Arrangements.
PIN IT FOR LATER

You might also like
Baked Brie with Honeyed Cherries & Toasted Pecans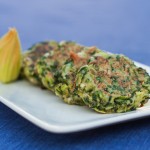 Zucchini Pancakes with Basil & Blue Cheese
Cheese-Stuffed Monkey Bread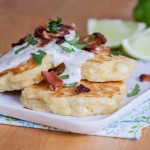 Savory Corn Pancakes with Cilantro-Lime Sour Cream