Tender and rich, these Buttery Spiral Rolls make any meal feel like a special occasion.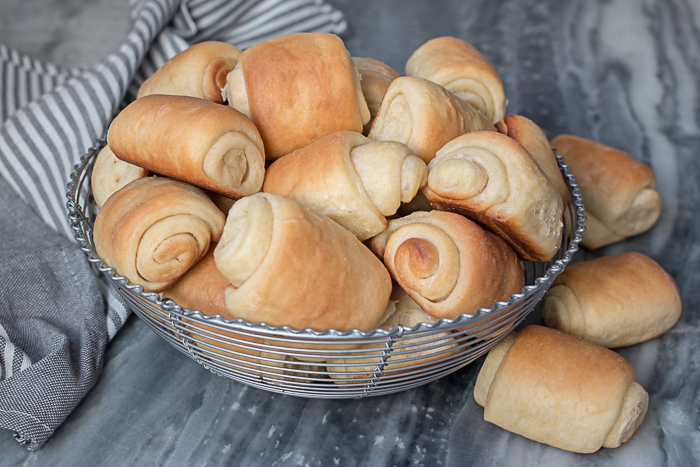 I'd been wanting to make some extra buttery rolls ever since the Cake Box, the bakery where my mom always bought dinner rolls, went out of business.
For as long as I can remember, the Cake Box's tender, super buttery rolls were a staple for holidays and, when we were lucky, everyday meals. After they closed up shop, my entire family missed these rolls at special meals.
So this Christmas, I set out to bake some Buttery Spiral Rolls with the hope that they might stand in for our favorite dinner rolls. During dinner at my parents' house, my brother commented that they reminded him of Cake Box rolls, and I couldn't help feeling proud of myself.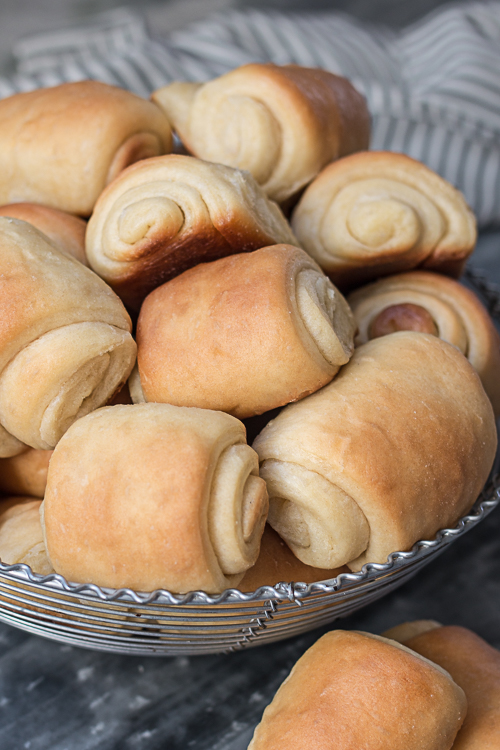 With butter mixed into the dough, butter spread over the dough during shaping, and butter slathered on top straight from the oven, these Buttery Spiral Rolls certainly earn their name. In addition to their richness, they're fluffy, tender, and so satisfying to unroll while eating.
If you can believe it, my husband and kids actually spread on more butter on the exposed layers as they unroll them. To be honest, these rolls really don't need it, but sometimes it's hard to say no to more buttery goodness. It's not like they're light on calories anyway.
These tasty spirals are my new favorite dinner roll! In addition to their awesome flavor, delicate texture, and cool shape, they are super easy to make. The hardest part about this recipe is waiting for the dough to rise!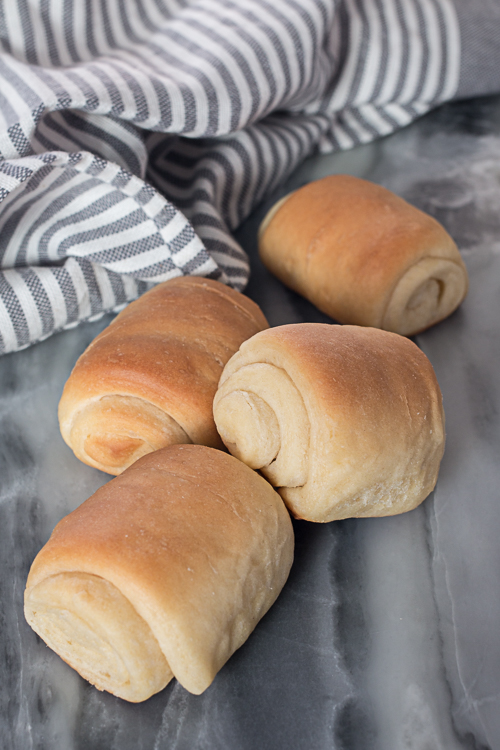 When the dough is finally ready to work with, divide it in two and shape each half into a 12-inch square. Brush the squares with melted butter and give it a minute or two to solidify so the butter will stay where you want it. Cut each square into quarters.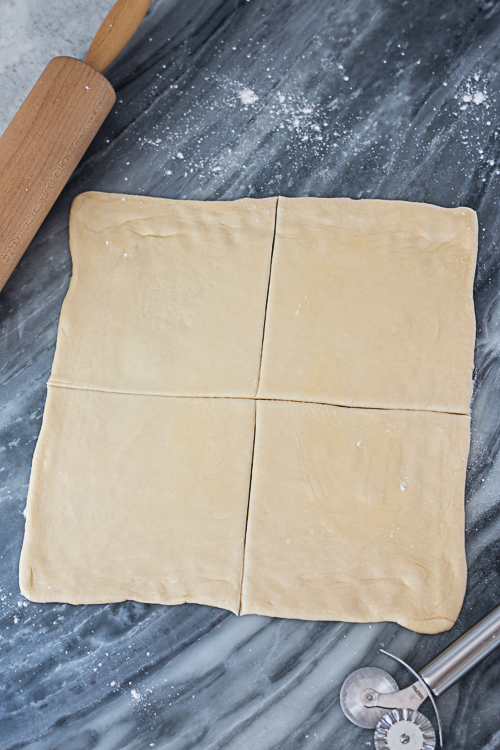 Divide each quarter into three 2-inch wide strips. I like to use a pizza wheel or pastry cutter because it makes nice clean cuts in the soft dough.
Roll up the strips of dough. There's no need to make them super tight or to seal the edges.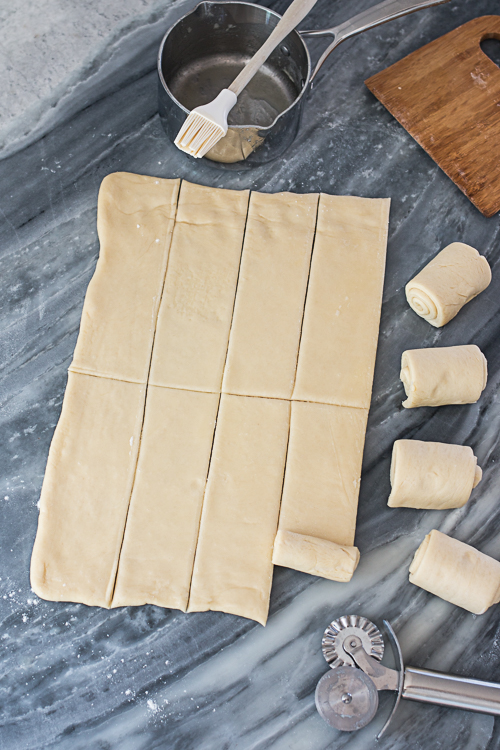 Once you've shaped the rolls, set the spirals on a greased or parchment-lined baking sheet with the open edge touching the bottom of the baking sheet.
I usually place all the rolls on one baking sheet so they rise into each other — almost like pull-a-part rolls — which keeps the edges tender. You can also bake them on two baking sheets to give them more room for full browning all the way around if you like.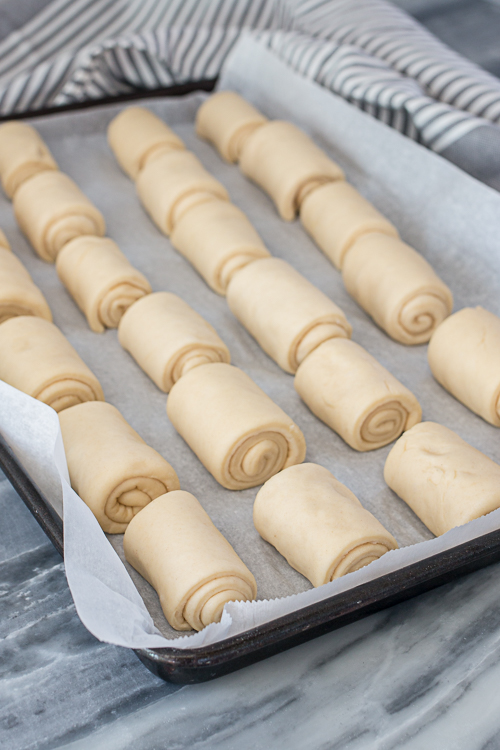 After the rolls rise for about 30 minutes, bake them until they're golden brown, about 15 to 20 minutes. As soon as they come out of the oven, brush the tops with more melted butter.
The butter soaks into the rolls without making them feel greasy. I don't understand it, but I like it.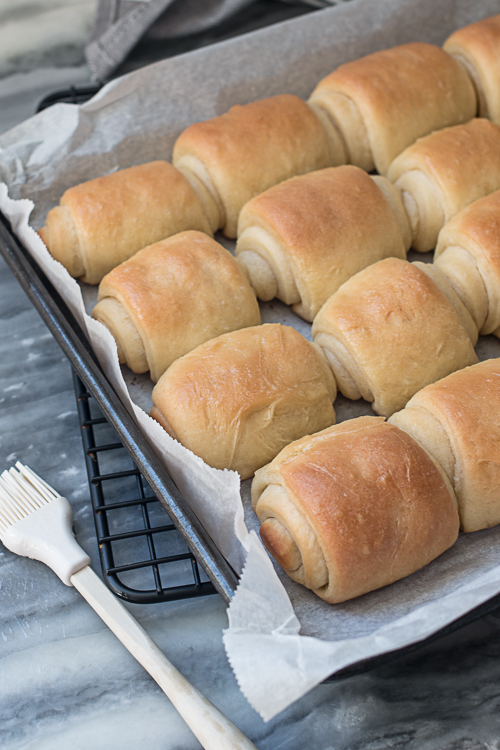 While best served warm from the oven, these tasty rolls are also perfect vehicles for small post-meal turkey sandwiches.
They reheat well, too. The last time I made them, I sent some home with my dad, who froze them to eat later. He said they reheated perfectly in the toaster oven.
These Buttery Spiral Rolls add something special to holiday and celebratory gatherings, but if you're feeling inspired, they're great for making everyday meals feel extraordinary.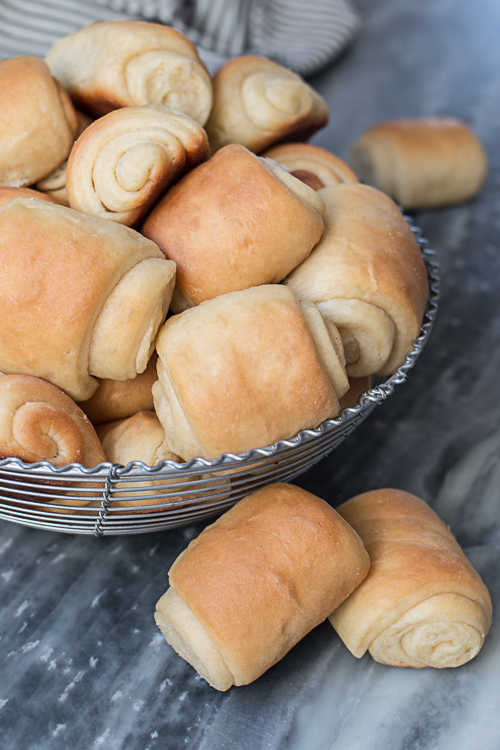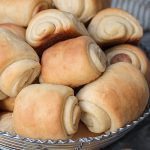 Print Recipe
Buttery Spiral Rolls
Makes 24 dinner rolls.
Ingredients
Dough

3

tablespoons

warm water

2 1/4

teaspoons

active dry yeast

2

tablespoons + a pinch

granulated sugar

6

tablespoons

unsalted butter

1

cup

milk

1

teaspoon

kosher salt

1

large egg

3 1/4 to 4

cups

unbleached all-purpose flour

Preparation

8

tablespoons

unsalted butter

divided
Instructions
To make the dough, add water to the bowl of a standing electric mixer. Scatter yeast and a pinch of the sugar over the water's surface. Stir to combine. Let stand until bubbly, about 5 minutes.

Meanwhile, melt butter in a saucepan over medium heat. Remove from heat and add milk, the remaining 2 tablespoons sugar, and salt. Stir to combine. Add egg and mix well.

Add contents of the saucepan to the yeast mixture along with 2 cups of the flour. Mix by hand or beat with the paddle attachment of a stand mixer until well combined. Add remaining flour, about 1/4 cup at a time, until a smooth but sticky dough forms.

Let the dough rest for 20 minutes. Turn the rested dough out on a lightly floured surface and knead until smooth, adding flour only to keep the dough from sticking. If using a stand mixer, switch to the dough hook and knead for 3 to 5 minutes.

Transfer the dough into a lightly oiled bowl, flipping it to coat the entire surface. Cover with plastic wrap and let rise until doubled in size, about 1 hour.

Grease or parchment-line a baking sheet and melt 4 tablespoons of butter for shaping the rolls.

Turn the risen dough out on an lightly floured surface and divide it in half. Roll out each piece into a 12 by 12-inch square. Brush the top of each square with the melted butter. Give the butter a minute or two to solidify before dividing each square into quarters (a pastry or pizza cutter works great for this). Cut each quarter into three 2-inch wide strips. Roll each strip into a spiral.

Place the spirals on the prepared baking sheet with the open edge of the spiral touching the bottom of the baking sheet. Cover with plastic wrap and let rise again in a warm place for about 30 minutes.

Preheat oven to 375° F. Bake the rolls until golden brown, about 15 to 20 minutes.

Near the end of the baking time, melt remaining 4 tablespoons butter. Brush the rolls with butter immediately after removing them from the oven. Serve warm.
Some of the links in this post are affiliate links. If you click through and make a purchase, I earn a small commission for my referral at no additional cost to you. Thank you for supporting Flour Arrangements.
YOU MIGHT ALSO LIKE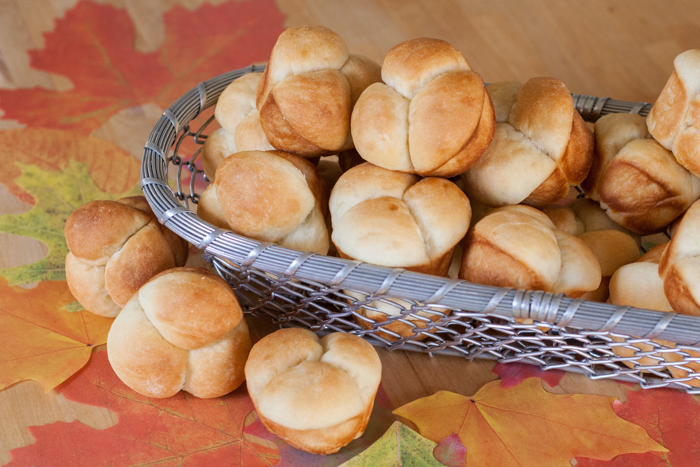 Tender Buttermilk Dinner Rolls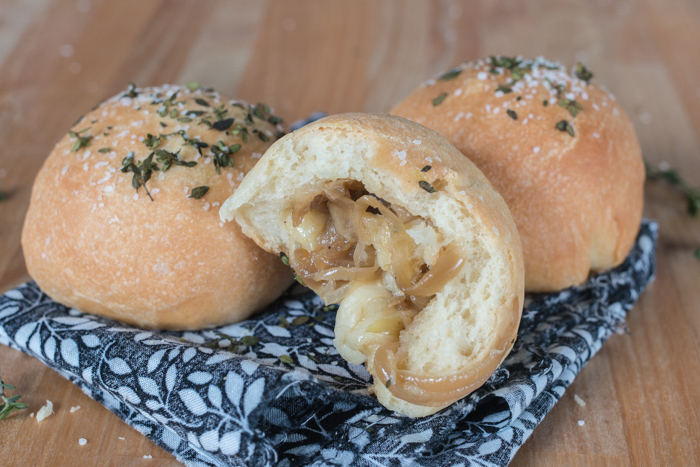 Caramelized Onion and Gruyere-Stuffed Rolls