This easy-to-prepare Asparagus Pesto Pasta delivers a rich, nutty dish full of asparagus flavor.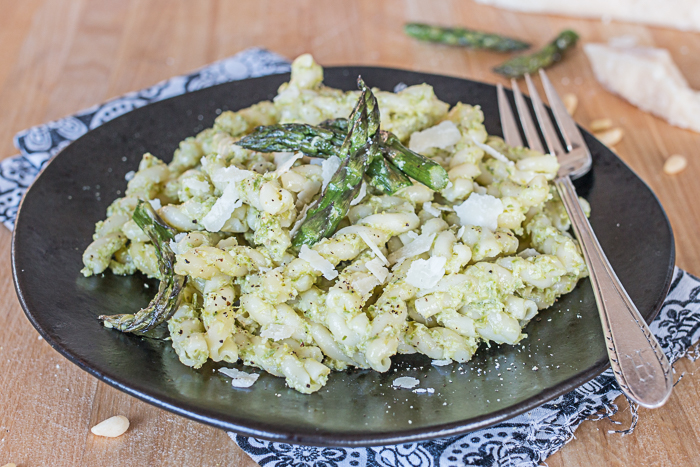 I've been trying to stock up on fresh ingredients when I visit the store these days since I don't know what I'll find the next time I venture out for supplies. At Costco the other day (alas, no toilet paper!), I grabbed a huge bag of asparagus since it's one of the few vegetables that everyone in my family loves.
We usually roast asparagus to eat as a side dish, but that was going to get old pretty quickly. I needed to come up with some creative ways to prepare the sheer quantity of green spears before they passed their prime.
As I brainstormed recipes, my husband reminded me that we used to make an Asparagus Pesto Pasta all the time. Though it had been years since we'd prepared it, we somehow managed to find a printed recipe from Gourmet magazine dating from April 1999. It's amazing what you can find when you're stuck at home.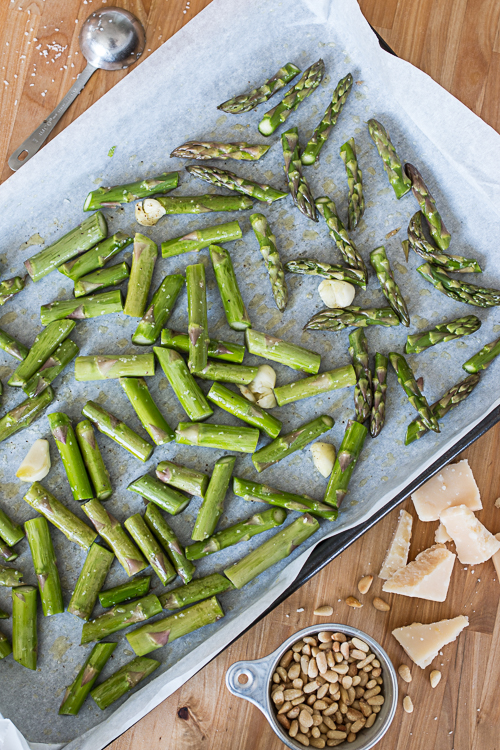 This easy pesto recipe — made from asparagus stems, pine nuts, garlic, and olive oil — provides a flavorful sauce that's just right for any kind of pasta. It's rich, nutty, and full of asparagus flavor without feeling heavy.
Reserving the asparagus tips to garnish bowls of pasta adds visual appeal to this simple dish. Freshly cracked black pepper and a sprinkling of Parmesan cheese add finishing touches and extra flavor.
The original recipe called for steaming the asparagus, but I decided to roast it instead — throwing the garlic along with it for good measure. Not only did this amp up the flavor and texture, it streamlined the recipe as well. The original directions called for steaming the asparagus stalks and tips separately — all over the same water used for boiling the pasta.
Separating the asparagus tips from the stems on a roasting pan makes it possible to prepare them at the same time. Roasting the vegetables also means that the pasta doesn't have to wait for two rounds of asparagus to steam before cooking.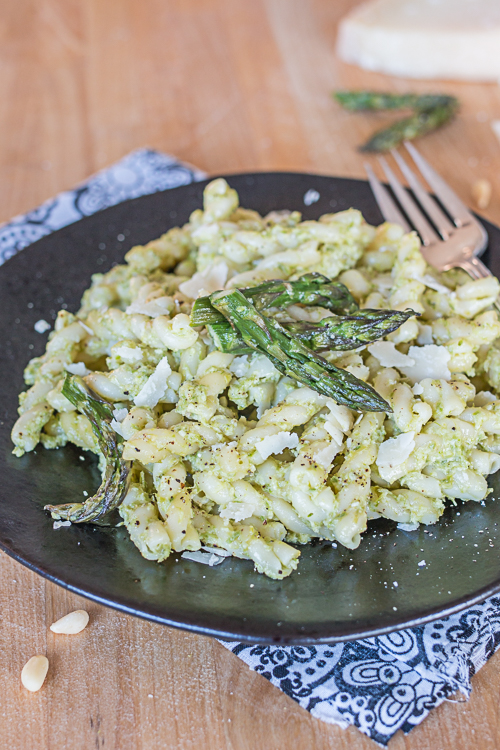 My kids, who don't normally like sauces on their pasta, served up extra helpings of this delicious spring pasta dish. I'm so glad to have another family favorite in my dinner rotation!
As we move through spring, hopefully asparagus will remain easy to find. You'll love this comforting, flavorful recipe! Enjoy!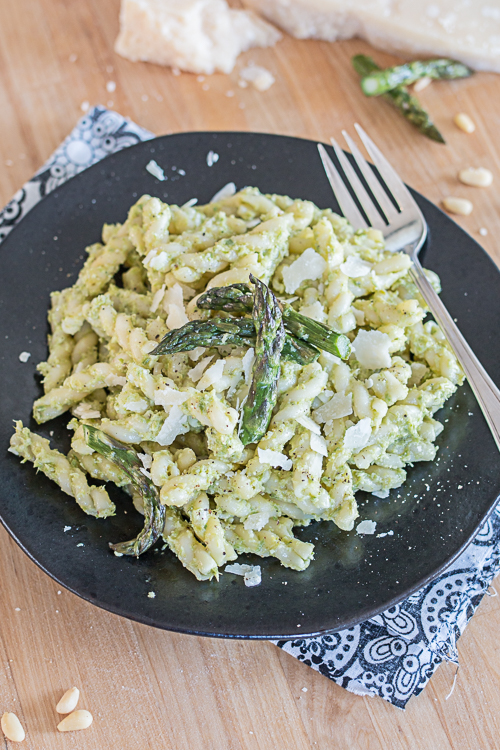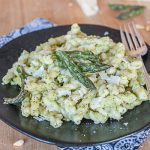 Print Recipe
Asparagus Pesto Pasta
Adapted from
Gourmet
. If you don't have any pine nuts, use almonds instead.
Ingredients
1

pound

asparagus

2 to 3

large garlic cloves, crushed with the side of a knife

1/2

cup

extra virgin olive oil, plus 1 tablespoon, divided

1/2

teaspoon

salt, plus more to taste (and for salting the pasta water)

1/3

cup

pine nuts, lightly toasted

2

ounces

Parmesan cheese, broken into chunks, plus more for serving

1

pound

pasta

freshly ground pepper
Instructions
Preheat oven to 425º F and line a baking sheet with parchment paper. Bring a large pot of water to boil.

Trim the tough ends from the asparagus and cut the spears crosswise into 1 to 2-inch pieces, keeping the tips separate. Mix 1/2 teaspoon salt and 1 tablespoon olive oil on the prepared baking sheet. Toss asparagus tips in the oil and move them to one side of the baking sheet. Toss the rest of the stems and garlic in the oil and spread them out, keeping them separate from the tips. Roast in the preheated oven until just tender, 8 to10 minutes.

Pulse pine nuts and Parmesan cheese in a food processor until finely chopped. Add the roasted asparagus stems to the food processor (reserving the tips for garnishing) and pulse until the asparagus is coarsely chopped. With the food processor running, pour in the olive oil and process to mix well.

When the water comes to a boil, cook pasta according to the directions on the package. Reserve about 1/2 cup of the pasta cooking water before draining the pasta in a colander.

Return the pasta to the pan and add the asparagus pesto. Mix well and season with salt and pepper to taste. If the sauce needs thinning, add some of the reserved pasta water until it reaches the desired consistency.

Garnish bowls of pasta with reserved asparagus tips, grated Parmesan cheese, and freshly cracked pepper.
YOU MIGHT ALSO LIKE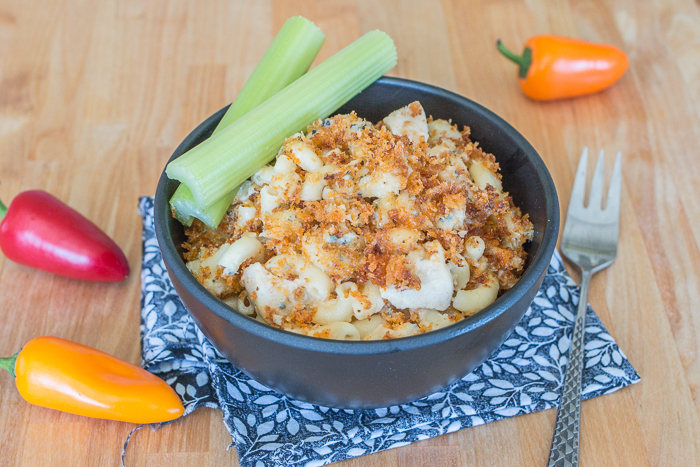 Buffalo Chicken Macaroni and Cheese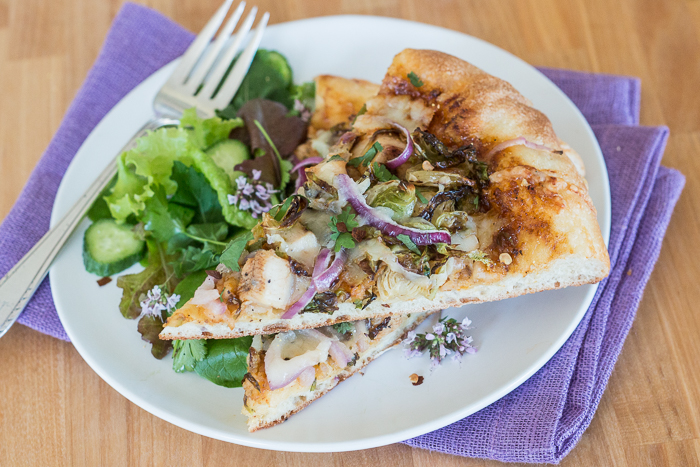 Barbecue Pizza with Chicken and Roasted Brussels Sprouts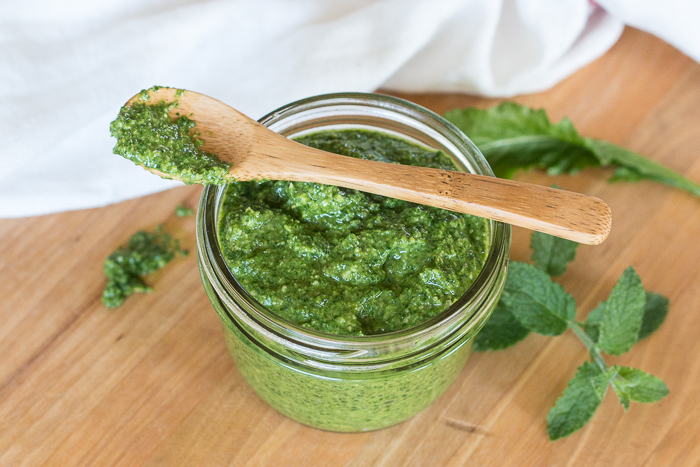 Arugula-Basil Pesto