These remarkably realistic-looking Dessert Tacos feature crisp cookie shells loaded with crumbled gingerbread "taco meat" and other sweet fillings masquerading as savory ingredients. They're perfect for April Fools' Day!
It might be hard to pull off a meal-time April Fools' Day prank this year since everyone's hanging out at home 24-7 these days, but based on my experience with these Dessert Tacos, it's entirely possible that you could fool your family into thinking you're serving tacos for dinner — even if they see you making them.
These impostor tacos totally mess with my head. I mean, I actually made all the filling ingredients, but they still confuse me. Like when I taste the green cream cheese frosting, I'm somehow surprised that it doesn't taste like guacamole. How is that even possible?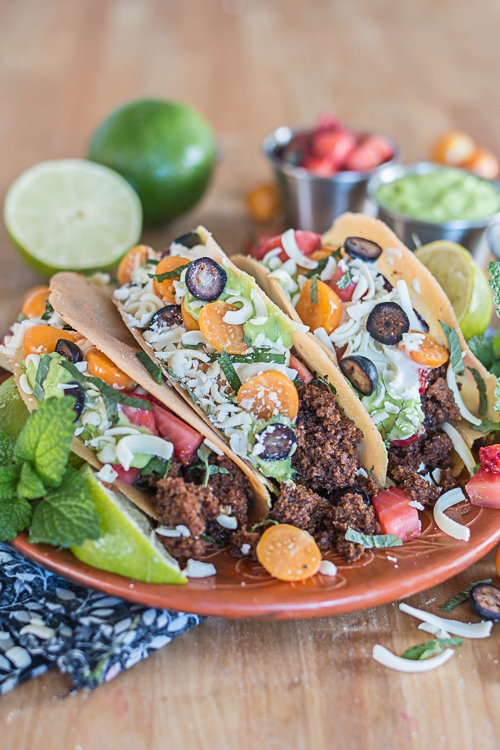 So I'd say these Dessert Tacos turned out even better than I imagined. They're surprisingly realistic looking, but more importantly, their medley of sweet-masquerading-as-savory elements blend in delicious harmony.
Along with cream cheese frosting posing as both guacamole and sour cream, the these trick tacos include gingerbread "taco meat," white chocolate "shredded cheese," strawberry "salsa," blueberry "olives," cape gooseberry "tomatoes," and lemon balm "lettuce."
All of these delicious goodies nestle into crisp cookie "taco shells" flavored with vanilla and almond. These sweet shells are just like fortune cookies, which start with a thin batter that's spread into rounds, baked, and folded into shape quickly right out of the oven before they harden.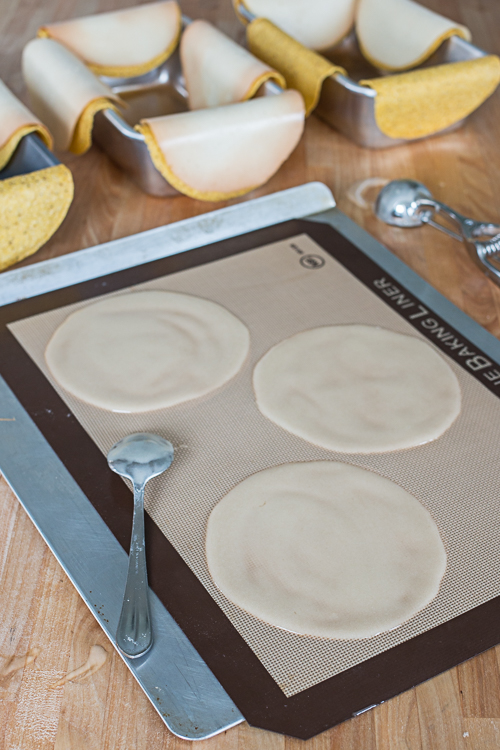 Fortunately, forming counterfeit taco shells is much simpler than folding fortune cookies. There's no need to tuck a message inside or precisely shape a scorching-hot cookie. You just need to drape each hot wafer over a mold where it can harden into the pro per shape.
While you can buy purpose-made taco molds, I didn't really want another single-use tool in my life. Space is tight in my small kitchen, so I picked up a box of crispy taco shells to use as molds instead. I just propped the corn tortilla shells upside down over some bread pans to stabilize them while I worked. Once I was done using them, I made savory tacos so they didn't go to waste!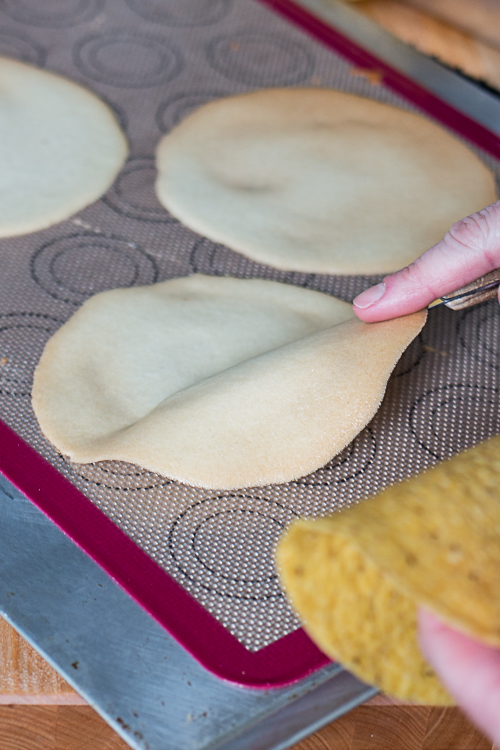 Fresh ingredients have still been relatively easy to come by in the Bay Area, so strawberries and limes for fruit salsa were readily available. I also picked up a container of blueberries because I thought they might look like olives. Sliced in half, they look darned close!
I didn't plan to include any specialty ingredients in this recipe, but when I saw cape gooseberries at Trader Joe's I couldn't resist buying them. They look just like cherry tomatoes, and they add an amazing sweet and tangy flavor to the mix. As for the lemon balm, I picked it from my garden because I couldn't find basil at the store. Either herb would work well in the salsa and as a lettuce impersonator.
The first time I made these Dessert Tacos, I baked a chocolate cake to use as taco meat filling, but I didn't feel satisfied with it. Chocolate cake looks just too evenly brown and chocolaty to really pass as taco meat.
I never imagined giving so much thought to the subtle variations of taco meat's colors and textures, but once I started obsessing, I couldn't stop myself. I finally realized that gingerbread's vibrant brown color with orange and red hues made it a perfect stand in for taco meat.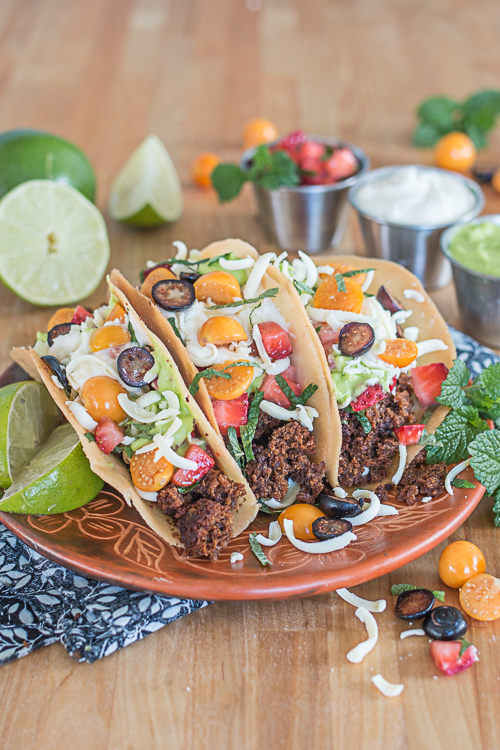 My Old Fashioned Gingerbread recipe produces a dense, moist gingerbread that almost glistens, which tricks the eye into seeing it as meat rather than crumbled cake. My favorite part about using gingerbread as taco meat, though, is how well it works with the spirit of its role. Taco meat is meant to be spicy, and gingerbread, full of warm, delicious spices, plays this part well.
When I set out to grate white chocolate into shredded cheese, it kept crumbling to pieces. It didn't matter what tool I used; I had no luck with a grater or vegetable peeler. I even tried scraping it off the chocolate bar with a melon baller. On a whim, I microwaved the bar briefly — just enough to warm it but not melt it — and tried grating it again, and this worked like a charm. And the leftover bits that I couldn't grate at the end were perfect chunks for adding a bit of texture to the guacamole! It was almost like I'd planned it!
If you decide to prank your family with these Dessert Tacos, you'll want to assemble them close to dinner time as the shells tend to soften once they come in contact with the frosting and fruit salsa (they still taste great when softened and don't crack the way hard tacos do, so some people might see this as a positive.) Honestly, though, the ingredients look so real that you could set up a taco bar and almost certainly keep the joke going until someone picks up a taco shell to start filling.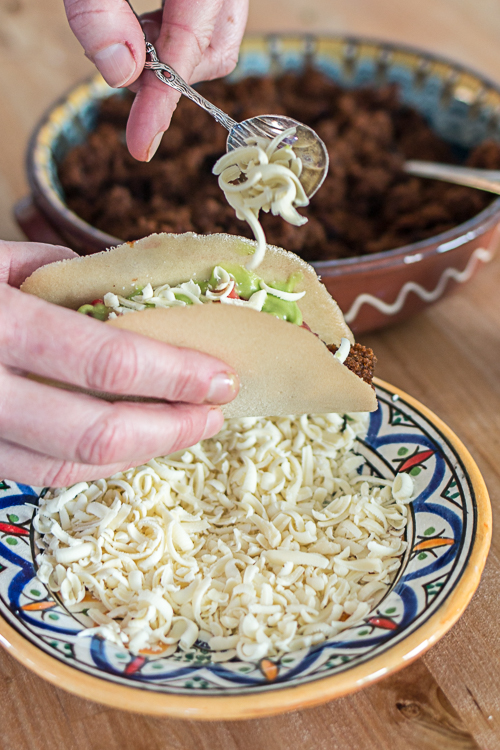 When I served Dessert Tacos at my house, I went taco bar-style, which convinced me that this is probably the best way to go if your family has any picky eaters. Once my kids understood what they were really looking at, they loaded their up tacos with "ingredients" that they'd never, ever eat on savory tacos.
Beyond April Fools' Day, these sweet impostors would make a fun addition to a Cinco de Mayo party or other festive gathering. I know we're all looking forward to the day when we can freely gather with friends and extended families again to celebrate life's big and small occasions. In the meantime, stay safe and healthy.
Have some Dessert Tacos to get you through.
Print Recipe
Dessert Tacos
Tacos are the ultimate customizable food! Get creative with other sweet fillings and garnishes!
Ingredients
Cookie Shells

1/2

cup

unbleached all-purpose flour

1/2

cup

granulated sugar

1

teaspoon

cornstarch

1/4

teaspoon

kosher salt

2

large egg whites

3

tablespoons

vegetable oil

2

tablespoons

water

1/2

teaspoon

vanilla extract

¼

teaspoon

almond extract

Strawberry Salsa

2

tablespoons

strawberry jam

1

small lime

juiced

1

pinch

salt

1

pound

strawberries

diced

brown sugar

to taste

2

tablespoons

minced fresh lemon balm or basil

Cream Cheese Frosting

for guacamole and sour cream

8

ounces

cream cheese

softened but still cool

½

cup

butter

softened but still cool

3

cups

confectioners' sugar

1

teaspoon

vanilla extract

1/8

teaspoon

salt

Fillings
gingerbread

(you'll need about half of the cake)

2

4-ounce

white chocolate bars

1

cup

fresh blueberries

1

cup

cape gooseberries

1

bunch fresh lemon balm or basil

Tools

4

silicone baking mats

4

baking sheets

1

dozen 5 ½ -inch paper circles

(feel free making fewer if you feel comfortable transferring them from underneath the silicone mat once you've shaped the batter)

hard taco shells or taco mold
Instructions
To make the taco shells, preheat oven to 325° F. Line four baking sheets with silicone baking mats. Slide paper circles underneath the mats to use as guides for shaping the cookie shells.

Set up taco mold or place hard taco shells upside down on the sides of several loaf pans. Set aside.

Combine flour, sugar, cornstarch, and salt in a medium bowl. In a separate bowl, whisk egg whites, vegetable oil, water, and extracts until frothy. Add dry ingredients to the eggs and stir until the batter is smooth.

Spoon just under 2 tablespoons of batter in the center of each circle on a prepared baking sheets. Use the back of a spoon to smooth the batter evenly to cover each circle (it will be thin).

Bake the cookies for 8 minutes on the lower rack of the oven. While the shells bake, prepare another baking sheet with batter. After 8 minutes, shift the lower baking sheet to the top rack and place the second baking sheet on the lower rack. Bake for 8 more minutes, or until the shells on the top rack are lightly browned around the edges. Remove finished shells from the oven quickly and reshuffle the baking sheets in your oven to continue the baking process.

Working quickly and carefully while the shells are hot, slide a spatula under one of the shells and ease it off the silicone mat. Taking care not to burn your fingers, place the shell bottom-side up over a mold or taco shell, pressing it into shape as necessary. If it resists holding the proper shape, slide another taco shell over the top to hold it in place while you continue working. Repeat with remaining shells.

Continue baking shells until you've used all the batter.

Once the shells have set, remove them from the molds. Store cooled cookie shells in an airtight container until ready to use (they keep well for several days).

For the strawberry salsa, whisk together lime juice, jam, and salt in a medium bowl. Add strawberries and toss to combine. Add brown sugar to taste and toss to combine. Just before serving, mix in chopped herbs.

To prepare the cream cheese frosting, combine cream cheese and butter in the bowl of a standing electric mixer. Beat with the paddle attachment until smooth. Add confectioners' sugar, vanilla, and salt. Mix on the lowest speed until combined. Increase speed to high and beat until smooth and creamy.

Divide the frosting between two bowls, leaving one bowl white for sour cream. To the other half, add several drops of green food coloring, as well as a small amount of brown and yellow food coloring to achieve the proper shade of green. Mix well. If the color looks too dark, add in some of the white frosting to lighten the color.

To prepare the taco meat, slice the gingerbread in half. Reserve one half. Working over a bowl, crumble one half of the gingerbread into irregularly-sized chunks. Depending on the amount of "meat" used to fill the tacos, you may need to crumble some of the remaining gingerbread.

To prepare the cheese, place a bar of white chocolate in the microwave. Heat in 5 to 10-second bursts until it warms enough to feel slightly flexible but not melted. Grate the chocolate carefully. If it crumbles as you work, give it some additional time in the microwave. Add the chunky end pieces that become difficult to grate into guacamole frosting. Repeat with remaining bar. If you want more texture in the guacamole, add some of the shredded cheese as well.

Slice the blueberries and cape gooseberries in half. Slice herbs into strips that look like shredded lettuce (these

scissors

work great for this).

To assemble tacos, layer the filling ingredients into the taco shells, starting with a generous portion of crumbled gingerbread.

The shells will soften once they are filled, so be sure to prepare them close to serving time. Alternatively, set up a self-service impostor taco bar and let people customize their tacos.
Some of the links in this post are affiliate links. If you click through and make a purchase, I earn a small commission for my referral at no additional cost to you. Thank you for supporting Flour Arrangements.
YOU MIGHT ALSO LIKE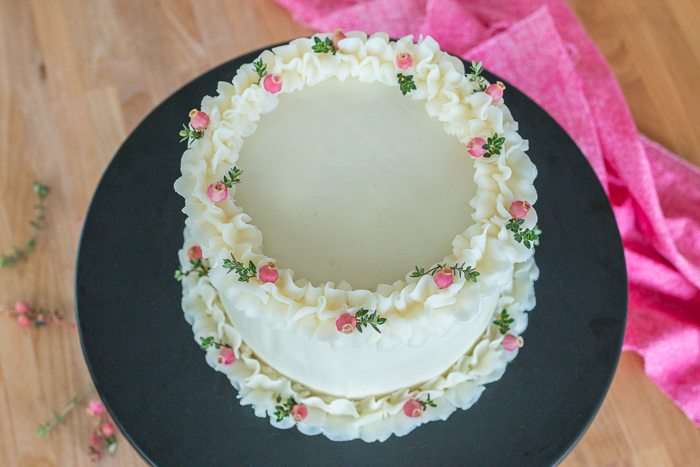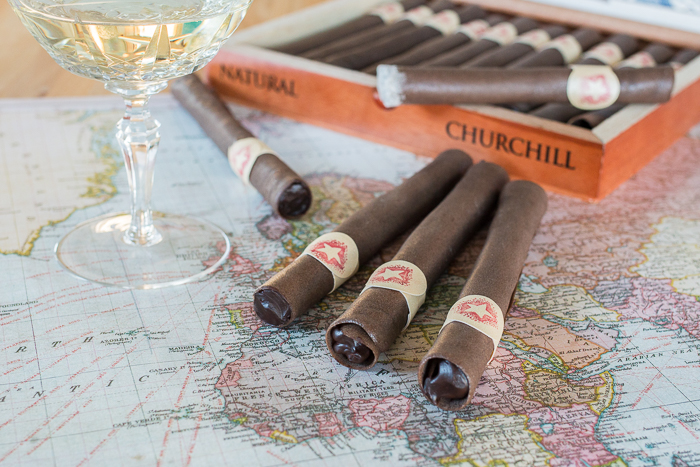 Chocolate Tuile Cigars with Whisky Ganache