Flaky buttermilk biscuits meet comforting, savory filling in Mini Turkey Pot Pies. They're a perfect way to give new life to leftover Thanksgiving turkey.

Thanksgiving dinner has always been one of my favorite meals. I love the hustle and bustle and jostling for space in the kitchen as one person chops vegetables for crudités, another preps mashed potatoes, and someone else works on green bean casserole.
And there's always entertainment when the unexpected happens — oven mitts catching on fire, drains clogging from the glut of potato peels, casserole dishes hitting the floor in a mess of broken glass and stuffing.
Despite the inevitable surprises, when everyone finally sits down to dinner with a glass of wine, the meal feels well-earned and completely satisfying. And then, if you've planned properly, loads of leftovers remain.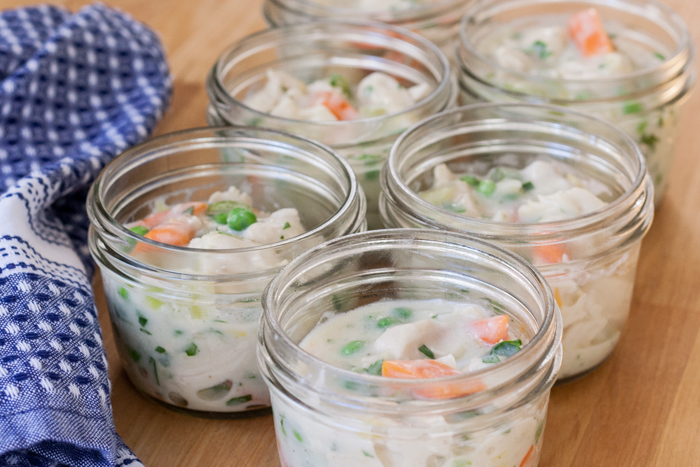 I can't be the only one who fills up a plate with all the fixings and pops it in the microwave for breakfast the next day, can I? And I love a day-after-Thanksgiving turkey sandwich loaded onto a leftover dinner roll with lots of stuffing and cranberry sauce.
But usually by Saturday, I feel the need to get creative, turning the leftovers into creamed turkey and waffles, turkey enchiladas, or turkey pot pie.
I recently shared a recipe for Chicken Pot Pie, and this recipe works just as well with leftover Thanksgiving turkey. I usually make it in a casserole dish or two pie pans, but I have a new variation to share: mini pot pies.
The recipe divides perfectly between 12 mini mason jars; pretty darned convenient when this buttermilk biscuit recipe makes 12 biscuits. Those light, flaky buttermilk biscuits meet comforting savory pot pie filling in the most adorable packaging ever.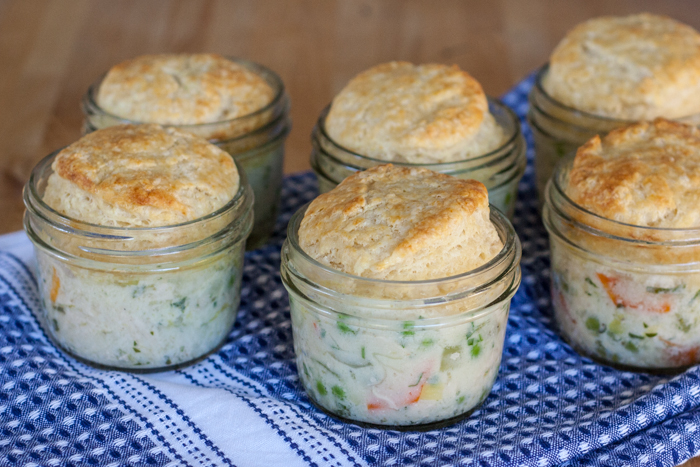 Holding on to leftover turkey for these comforting little pies is well worth it, so don't get too crazy with the turkey sandwiches. You'll thank me later. Happy Thanksgiving!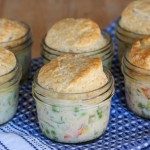 Print Recipe
Mini Turkey Pot Pies
Serves 8-12
Ingredients
6

tablespoons

butter

divided

2

medium leeks

white part only, chopped

4

medium celery stalks

chopped ¼-inch thick

4

medium carrots

peeled and sliced in ¼-inch rounds

4

tablespoons

unsalted butter

1

garlic clove

minced or pressed

1/3

cup

unbleached all-purpose flour

2

cups

chicken broth

1½

cups

whole milk

1

bay leaf

3-4

fresh thyme sprigs

5

cups

chopped turkey or chicken

(about 1½ pounds)

1

cup

frozen peas

¼

cup

minced parsley

¼

cup

dry sherry or white wine

salt

to taste

pepper

to taste

1

teaspoon

fresh lemon juice

1

recipe buttermilk biscuits
Instructions
Heat 2 tablespoons of the butter in a large skillet over medium-high heat until the foam begins to subside. Add leeks, carrots, and celery and cook, stirring often, until vegetables are barely tender, about 5 to 7 minutes. Set aside.

Warm remaining 4 tablespoons butter and the garlic in a large sauce pan over medium-low heat. Once the butter has melted, add the flour all at once and whisk constantly for one minute.

Add chicken broth and whisk until smooth, scraping down the sides with a spatula if needed. Increase heat to medium and add the milk, bay leaf, and thyme sprigs, whisking to incorporate the milk.

Increase heat to medium-high and, whisking frequently, bring mixture to a simmer. Once the mixture begins to bubble, whisk constantly until it thickens, about one or two minutes more.

Stir in turkey (or chicken), sauteed vegetables, and sherry, cooking for an additional minute or two. Stir in the peas, parsley, salt, pepper, and lemon juice. Remove thyme sprigs and bay leaf. Set aside.

Preheat oven to 400º F while preparing buttermilk biscuits as directed.

Divide filling between 12 eight-ounce mason jars. Top filling with biscuits and brush them with egg beaten with 2 tablespoons milk (if not baking immediately, refrigerate biscuits in a separate container to add right before baking).

Bake in the bottom third of the oven until the filling is bubbly and the biscuits are golden brown, 20 to 30 minutes. If the biscuits brown too quickly, slip a baking sheet on the top shelf of the oven to diffuse the heat. Let sit for 10 minutes before serving.
Pin Mini Turkey Pot Pies for Later

You might also like
Creamed Turkey & Waffles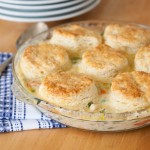 Chicken Pot Pie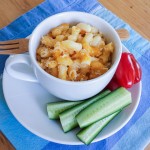 Macaroni & Cheese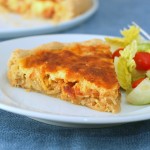 Candied Bacon & Onion Tart