With cocoa nibs, cocoa powder, and chocolate chips, this Bittersweet Chocolate and Cherry Granola delivers deep chocolate flavor with bursts of tart cherry sweetness. Since it's mostly oats, we're calling it breakfast!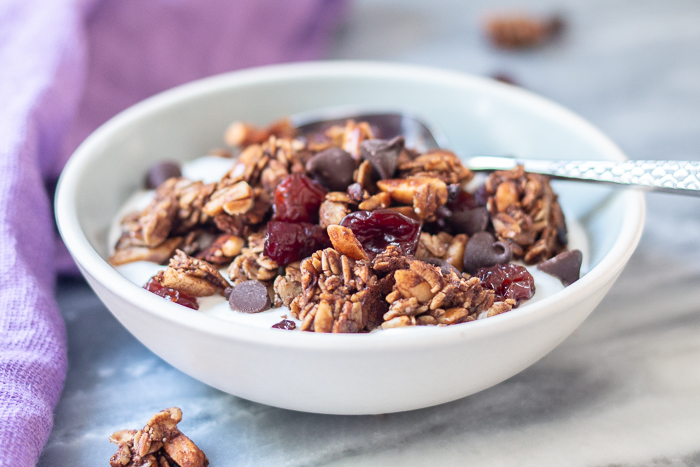 I'm slow to wake up in the morning, so I love breakfast that doesn't require much thinking. It's enough for me to grab a bowl, scoop in some yogurt, and top it with granola.
Granola is such an easy make-ahead breakfast, and, like many things, it always tastes better homemade. For the longest time, I've been baking my favorite Cashew, Almond, and Ginger Granola at least once a week to get my mornings off to an easy, satisfying start.
Recently, I decided to mix up my granola routine for a little variety. As I rummaged through the cupboard trying to come up with ideas, I pulled out some cocoa nibs.
Cocoa nibs — fermented, dried, and roasted cacao beans — are the stuff from which chocolate is made. On their own, nibs are crunchy yet tender, and they impart an almost coffee-like roasted-chocolate sophistication to baked goods.
As I nibbled a handful, I felt pretty sure that they would taste amazing in granola. To round out the flavors, I grabbed some dried cherries for sweetness and slivered almonds for nuttiness.
Holding back the cherries to mix in after baking, I stirred the almonds and cocoa nibs in with rolled oats and then added some cocoa powder for good measure.
With both nibs and cocoa in the mix, it didn't take me long to decide I that needed to add some chocolate chips after I finished baking the granola to complete the cocoa triumvirate.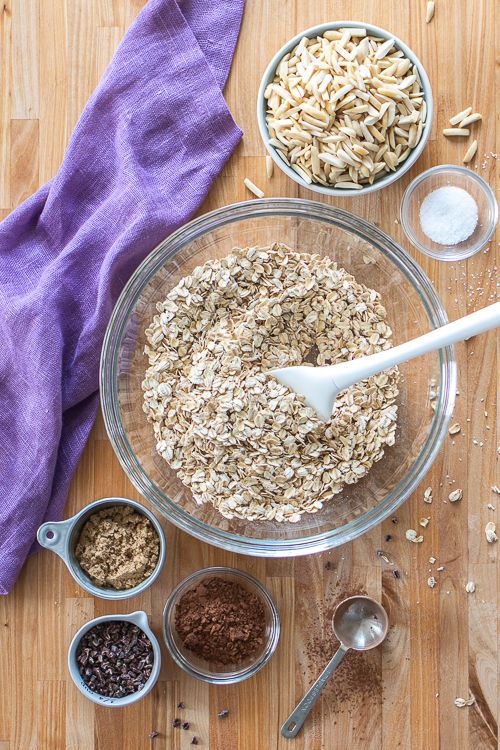 Olive oil, brown sugar, and maple syrup add richness and sweetness to this granola. Kosher salt and vanilla extract heighten the flavors in the mix.
I always stir in a lightly beaten egg white to bind the granola together and keep it chunky. If you're not a fan of chunky granola, leave out the egg white and stir the mixture several times during baking.
For this easy, make-ahead breakfast recipe, you need only a bowl, a spatula, measuring cups and spoons, and a rimmed baking sheet.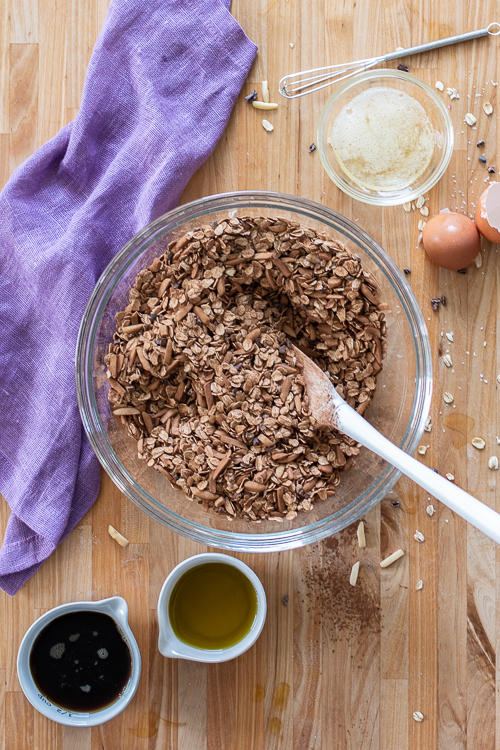 After mixing the ingredients well, spread them on the baking pan and cook until dry to the touch and fragrant, about 45 minutes. Your kitchen will smell like you're baking a chocolate cake.
Once cool, the granola will firm up enough that you can break it up with your hands into whatever size pieces you like.
When you've got it just the way you like it, stir in dried cherries and chocolate chips (if you prefer to have the chocolate chips melt into the granola, scatter them over the top of the pan when it comes out of the oven).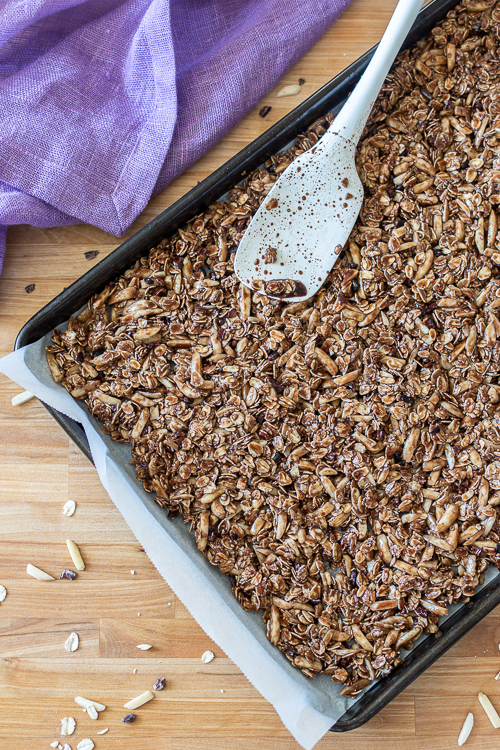 This Bittersweet Chocolate and Cherry Granola has added some serious decadence to my simple breakfast spread.
The cocoa nibs and cocoa powder impart a deep, bitter chocolate flavor, while chocolate chips add luxurious smoothness. Dried cherries add bright tartness while slivered almonds add nutty crunch. It tastes even better than I imagined it would — especially with chocolate chips!
My husband says this granola feels almost like Cherry-Chocolate Oatmeal Cookies in super crunchy form. I'm pretty sure I've never had Cherry-Chocolate Oatmeal cookies, but I now feel compelled to bake some.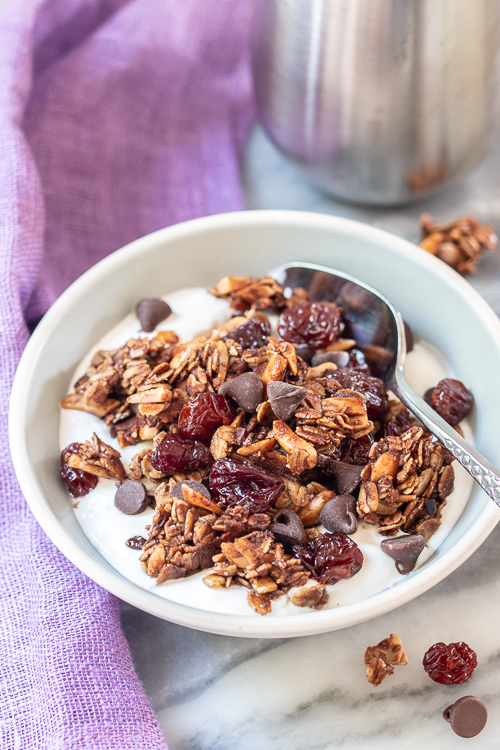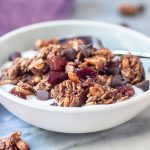 Print Recipe
Bittersweet Chocolate and Cherry Granola
Makes about 8 cups. If you prefer to have the chocolate chips melt into the granola, scatter them over the top of the pan when it comes out of the oven.  
Ingredients
3

cups

old fashioned rolled oats

1 1/2

cups

slivered almonds

1/4

cup

cocoa nibs

3

tablespoons

unsweetened cocoa powder

3

tablespoons

brown sugar

1

teaspoon

kosher salt

1

teaspoon

vanilla extract

1/2

cup

maple syrup

1/3

cup

olive oil

1

egg white

whisked until frothy

1

cup

dried cherries

1

cup

chocolate chips
Instructions
Preheat oven to 300º F.

Line a rimmed baking sheet with parchment paper. Set aside.

Mix together oats, almonds, cocoa nibs, cocoa powder, brown sugar, and salt a large bowl.

Add maple syrup, olive oil, vanilla extract, and egg white to the dry ingredients. Stir well to combine.

Spread the mixture on the prepared baking sheet and bake without stirring until deep golden brown and fragrant, about 45 to 50 minutes.

Allow the granola to cool completely in the pan -- it will crisp up as it cools.

Break the cooled granola into chunks with your fingers and mix in dried cherries and chocolate chips.

Store in an airtight container.
Some of the links in this post are affiliate links. If you click through and make a purchase, I earn a small commission for my referral at no additional cost to you. Thank you for supporting Flour Arrangements.
YOU MIGHT ALSO LIKE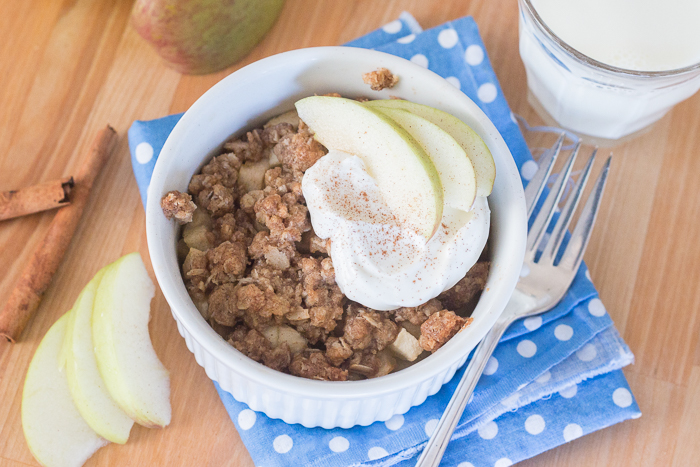 Quick and Easy Single Serving Breakfast Crisp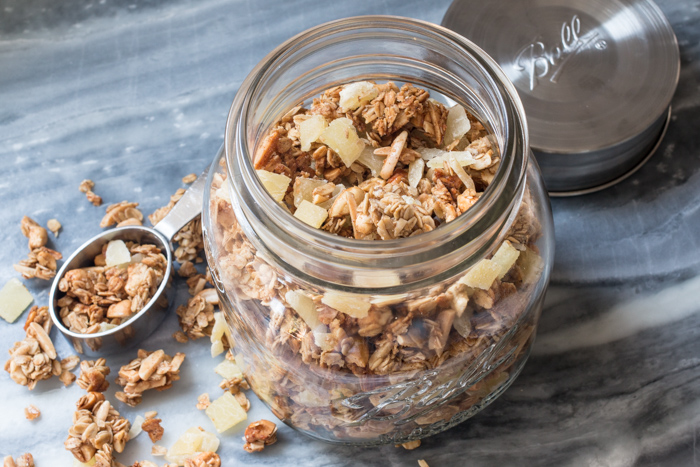 Cashew, Almond and Ginger Granola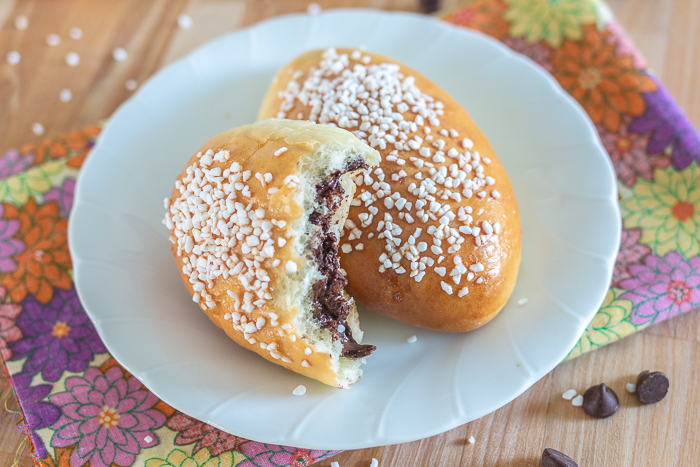 Chocolate-Stuffed Buns