Chocolate-Stuffed Buns combine tender, rich dough and warm, luscious chocolate in a satisfying, not-too-sweet treat.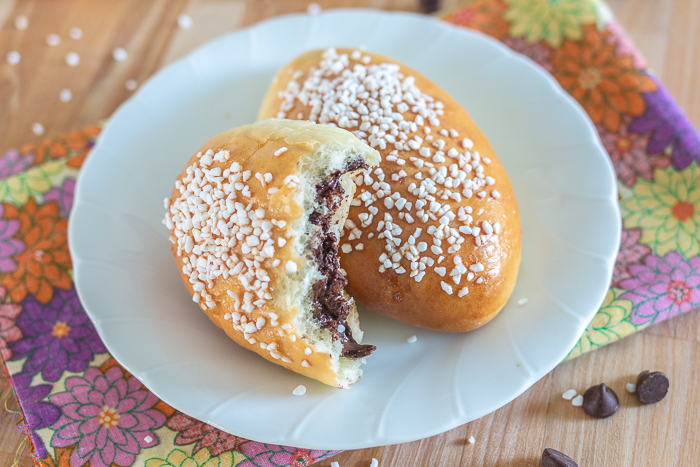 My husband looked on with anticipation the first time I made these Chocolate-Stuffed Buns.
As I tried to pack in as many chocolate chips as possible into the spherical buns — about a teaspoon — he mused that it didn't seem like enough chocolate.
He also pointed out that the dough would be quite thick on the bottom and thin on the top since the dough bunches up as you seal the edges together on round rolls.
He was right, of course. The buns tasted great, but they needed way more chocolate distributed evenly throughout each bun.
Fortunately, the solution — a cool trick I stumbled on while making Turkey Cranberry Runzas — solved both problems and simplified shaping the buns as well.
Tucking flattened rounds of dough into a small bowl creates a convenient pocket for layering in filling. I managed to pack a generous tablespoon of chocolate chips into each bun with this method.
Pinching the sides together around the filling creates an oval shape that ensures an even distribution of chocolate and dough throughout each bun.
Using as little flour as possible with this tacky dough helps create a long seam with limited overlap. Because seam is more or less a straight line, the dough doesn't bunch up as much as it does on a round bun.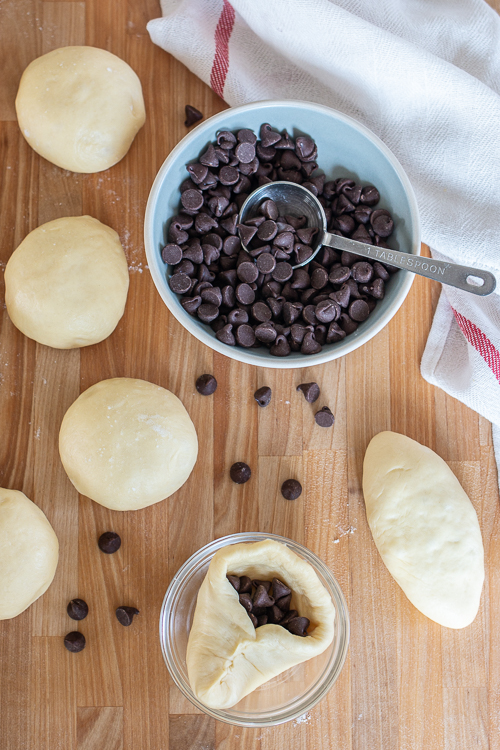 Warm from the oven, these little chocolate bombs are irresistible. The tender, rich, but not-too-sweet dough provides the perfect vehicle for warm, luscious chocolate. A sprinkling of Swedish pearl sugar adds a pleasant, sweet crunch as well as cool visual appeal.
My friend Heather turned me on to Swedish pearl sugar a few years ago. She practically cheered when she saw this fancy sugar on the shelf at a cooking store. Since she's usually so mellow, I knew I should stop and take notice.
She convinced me that it was perfect for sweet baked goods since it doesn't brown in the oven. I bought some on the spot, and it's been tucked in my cupboard since then.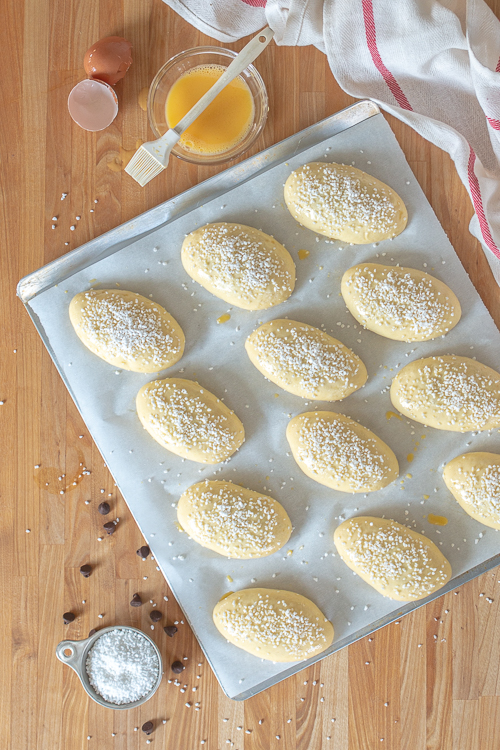 While these Chocolate-Stuffed Buns make an awesome addition to breakfast or brunch, I'm not a fan of waking up several hours early to make yeasted buns for breakfast — even ones filled with chocolate.
If you're like me, never fear — you can prep and shape these rolls the evening before and let them rise, covered, in the refrigerator overnight.
In the morning, let them rest at room temperature for about half an hour before adding the egg wash and sprinkling them with pearl sugar. After baking, be sure to let the buns cool for about 10 minutes before digging in as the chocolate inside will be quite hot.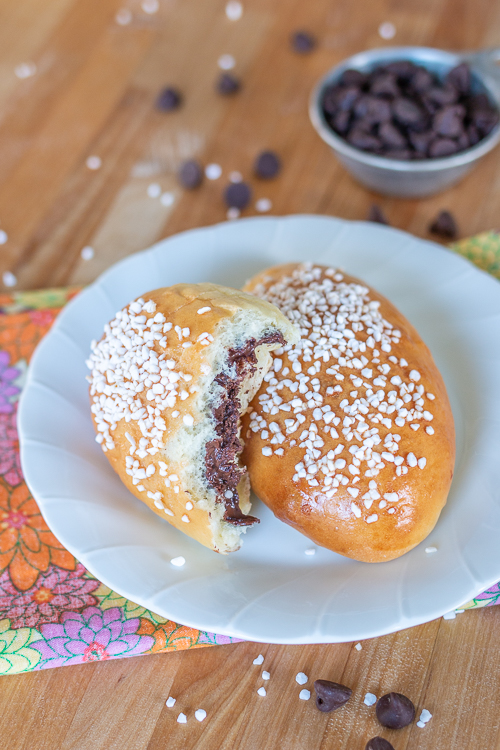 Prepping the buns ahead makes for a lovely, relaxing morning, especially if you can convince someone else to bake them. Saying "I'll make some Chocolate-Stuffed Buns for breakfast tomorrow if you'll just put them in the oven in the morning" usually meets with enthusiasm at my house.
Despite the generous quantity of filling in these Chocolate-Stuffed Buns, my chocolate-addict husband likes to dip them in Hot Fudge Sauce. For some people, there's just never enough chocolate.
I'll not argue, especially since he's always willing to bake them in the morning for our family.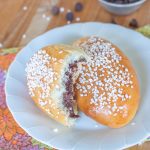 Print Recipe
Chocolate-Stuffed Buns
Chocolate-Stuffed Buns combine tender, rich dough and warm, luscious chocolate in a satisfying, not too-sweet-treat. These buns taste best oven-warm, but any leftover buns reheat nicely in the microwave. If desired, prep and shape the buns the evening before and let them rise in the refrigerator overnight. Makes 12.
Ingredients
Dough
2

tablespoons

warm water

1 1/2

teaspoons

active dry yeast

2

tablespoons + a pinch

granulated sugar

3

tablespoons

unsalted butter

1/2

cup

milk

3/4

teaspoons

kosher salt

1

large egg

2

cups

unbleached all-purpose flour

plus more for shaping
Shaping and Preparation
1

cup

semi-sweet chocolate chips

1

egg

2

teaspoons

cold water

1

pinch

salt

Swedish pearl sugar

for sprinkling
Instructions
Dough
Add water to the bowl of a standing electric mixer. Scatter yeast and a pinch of the sugar over the water's surface. Stir to combine. Let stand until bubbly, about 5 minutes.

Meanwhile, melt the butter in a saucepan over medium-low heat. Remove from heat and add milk, the remaining 2 tablespoons sugar, and the salt. Stir to combine. Add egg and mix well.

Add contents of the saucepan to the yeast mixture along with 1 cup of the flour. Mix by hand or beat with the paddle attachment of a stand mixer until well combined. Add remaining flour, about 1/4 cup at a time, until a smooth but sticky dough forms.

Let the dough rest for 20 minutes. Using stand mixer's dough hook, knead until smooth and slightly tacky, for 3 to 5 minutes.

Transfer the dough into a lightly oiled bowl, flipping it to coat the entire surface with oil. Cover with plastic wrap and let rise until doubled in size, about 1 hour.
Shaping and Preparation
Grease or parchment-line a baking sheet.

Turn the risen dough out on an lightly floured surface and divide it into 12 equal pieces. Using just enough flour to prevent sticking, roll each piece into a small ball.

Flatten one of the balls into 3 1/2 to 4-inch circle. Set the circle in a small bowl and spoon a rounded tablespoon of chocolate chips in the center of the dough. Pull the sides together around the chocolate, pinching well to create a good seal.

Turn the sealed bun into your hands and set the oval seam-side down on the prepared baking sheet. Repeat with the remaining dough and filling, spacing the buns several inches apart.

Cover the shaped buns with plastic wrap and let them rise until they're quite puffy, about 30 to 45 minutes. Alternatively, spritz the shaped buns with cooking spray, cover with plastic wrap, and let them rise in the refrigerator overnight. Before baking, let them rest at room temperature for about 30 minutes before proceeding.

For the egg wash, whisk together the egg, water, and a pinch of salt. Right before baking, brush the tops lightly with the egg wash and sprinkle generously with Swedish pearl sugar.

Bake the rolls until golden brown, about 15 minutes. Let cool for at least 10 minutes before eating.
Some of the links in this post are affiliate links. If you click through and make a purchase, I earn a small commission for my referral at no additional cost to you. Thank you for supporting Flour Arrangements.
YOU MIGHT ALSO LIKE
Peanut Butter Chocolate Chip Muffins
Molten Chocolate-Raspberry Cakes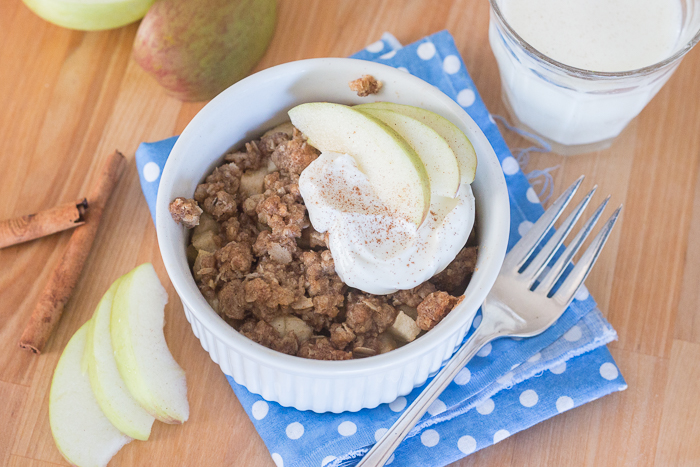 Single-Serving Breakfast Crisp