Loaded with pecans, almonds, dried cranberries, and plenty of pumpkin, this spiced Pumpkin Granola delivers delicious fall flavors with a satisfying crunch!
Since granola has been my go-to breakfast for some time, I feel the need to mix things up every now and then.
With fall in the air and leftover pumpkin puree in my fridge from baking Pumpkin Cinnamon Buns, I couldn't help but experiment with Pumpkin Granola!
This awesome mix of pumpkin, nuts, spices, and dried cranberries tastes like pumpkin pie in granola form. It's my new favorite!
I've mixed pecan halves and slivered almonds into this granola because I like a variety of nuts. I have also made it with pumpkin seeds, which, with their pale green hue, add nice color to the granola.
Use your favorite combination of nuts to get your Pumpkin Granola just the way you like it!
Pumpkin Granola Tricks and Tips
When I make granola, I usually combine the oats, nuts, and spices before adding the liquid ingredients. With this recipe, my standard order of operations was not ideal.
The pumpkin puree's thick texture needed lots of stirring to incorporate it evenly into the oat-nut mixture. As I mixed and mixed, the oats started to break down, which didn't look super appetizing.
On my next try, I combined the wet ingredients with the sweeteners and spices first, which made it easier to blend everything together. Once I added the oats, the granola required less mixing, which keep them intact.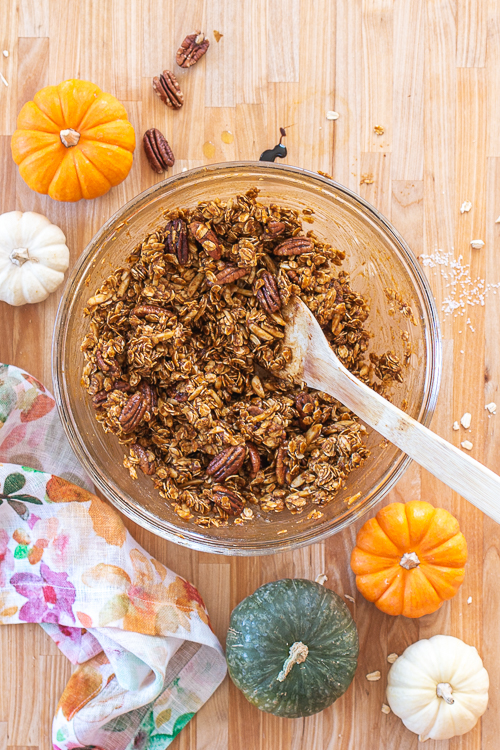 It also took a little doing to get the proportions right for this recipe because, despite its thick texture, pumpkin puree contains quite a bit of moisture. The first time I baked the granola, it didn't crisp up as it should once it cooled!
Trading out maple syrup — usually my granola sweetener of choice — for brown sugar was a step in the right direction. It was much drier than my previous attempt, but it still didn't get crunchy during baking.
I broke the damp granola into clusters and put it back in the oven for more baking time, which gave it a satisfying, crispy texture.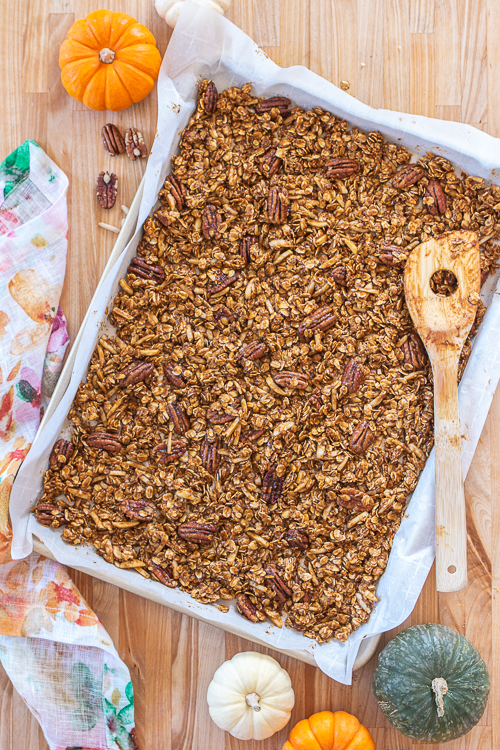 While this worked well, a two-step baking process felt a bit onerous. On my next try, I added time up front, and this did the trick!
As an added bonus, the extended baking time adds extra toastiness to the nuts, which gives them deep, rich flavor. I may well start baking my other granola recipes for longer as well!
After breaking up the granola, it's time to mix in dried cranberries, which add tartness to the spiced pumpkin goodness. Dried cherries or freeze-dried apples would work really well, too.
Pumpkin Granola Serving Ideas
I usually enjoy Pumpkin Granola with yogurt, but I also love snacking on it as is.
It tastes great on ice cream, too, though my family thinks that makes dessert feel like breakfast. Don't listen to them!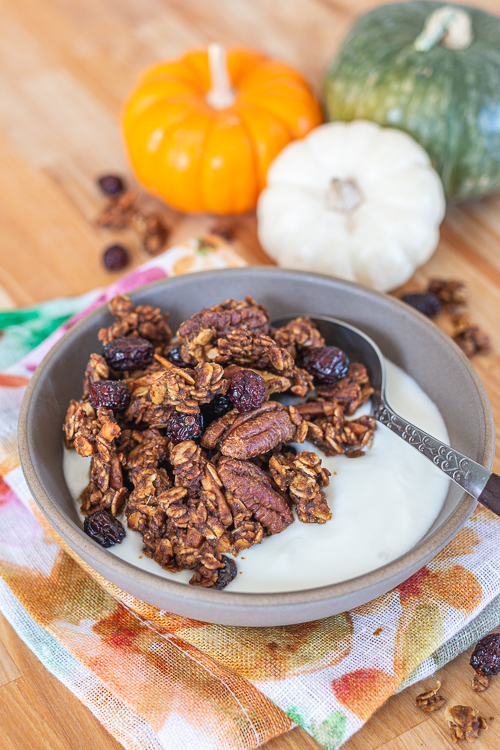 This recipe will definitely put you in a fall mood. While it's baking, it fills the house with an irresistible sweet, spicy aroma that will have you anticipating your first bite!
You'll love this granola's awesome pumpkin spice flavor and satisfying, crunchy texture!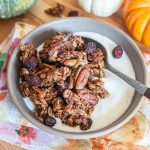 Print Recipe
Pumpkin Granola
Loaded with pecans, almonds, and dried cranberries, this spiced Pumpkin Granola delivers delicious fall flavors with a satisfying crunch! Makes about 8 cups.
Ingredients
3/4

cups

pumpkin puree

1/2

cup

packed brown sugar

1/3

cup

olive oil

1

tablespoon

molasses

1

teaspoon

kosher salt

1

teaspoon

ground cinnamon

1/2

teaspoon

ground cardamom

1/2

teaspoon

ground ginger

1/4

teaspoon

ground cloves

3

cups

old fashioned rolled oats

3/4

cups

raw pecan halves

3/4

cups

raw sliced almonds

1

large

egg white

whisked until frothy

1

cup

dried cranberries
Instructions
Line a large rimmed baking sheet with parchment paper. Set aside.

Whisk together pumpkin puree, brown sugar, olive oil, molasses, salt, cinnamon, cardamom, ginger, and cloves in a large bowl.

Add oats and nuts. Mix to combine.

Spread the mixture on the prepared baking sheet and bake without stirring until deep golden brown and fragrant, about an hour and 10 minutes. 

Allow the granola to cool completely in the pan -- it will crisp up as it cools. 

Once cool, break the granola into chunks with your fingers (if it does not feel crisp, return the pan to the oven and heat for 10 to 15 minutes longer at 300º F). Mix in dried cranberries.

Store the granola in an airtight container. 
YOU MIGHT ALSO LIKE
Pumpkin Cinnamon Buns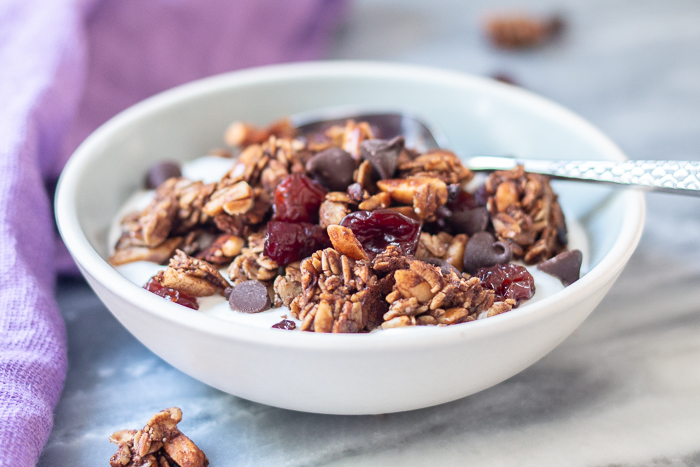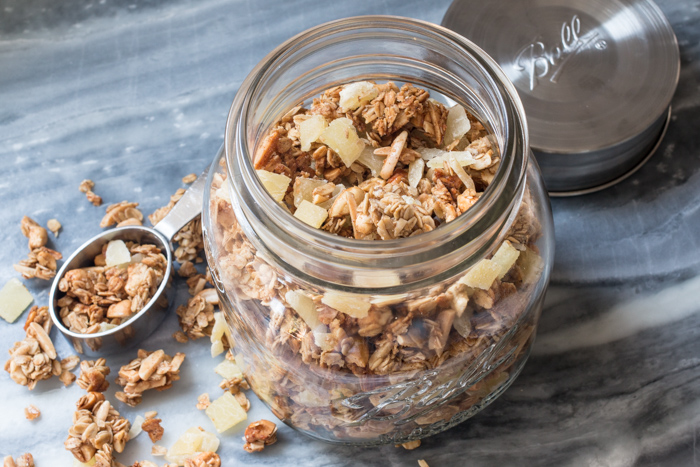 Chunky Cashew, Almond and Ginger Granola