With pumpkin dough and a crisp, cinnamon-sugar coating, these squash-shaped Pumpkin Cinnamon Buns add sweetness and fun to fall festivities!
Ever since I shared a recipe for pumpkin-shaped dinner rolls, I imagined creating a sweet version of these pale orange rolls. Yeasted dough made with pumpkin just calls out for sugar and spice!
When I first experimented with the recipe, I failed miserably. I rolled cinnamon-sugar inside ropes of pumpkin dough and tied them into knots.
It seemed like such a good idea, but during baking, the dough split apart and the knots unfurled. The sugar caramelized and burned, leaving an inside-out mess in my oven.
It was such a disaster that I couldn't bring myself to try again — for seven whole years!
This fall, I finally felt brave enough to circle back to these Pumpkin Cinnamon Buns!
This time around, I dipped the rolls — after shaping — in butter and dredged them in cinnamon-sugar before baking. The sweet, spiced coating crisps up in the oven, giving these buns a crackly exterior that adds satisfying texture to the soft, tender rolls.
Interestingly, if you have leftover buns the next day, the sugar loses its crunch, making them more like sticky buns. It turns out that some people at my house prefer them that way!
In any case, I definitely recommend reheating leftover buns to enjoy them warm. About 10 to 15 minutes in an oven preheated to 300° F does the trick perfectly!
Pumpkin Cinnamon Bun Yeasted Dough
In addition to adding pumpkin puree to the dough for these buns, I decided to mix in another fall ingredient — apple cider! I loved how tender these Apple Cider Rolls turned out, so I've been looking for an opportunity to use cider in other yeasted dough recipes.
While they don't taste like apple, these buns bake up incredibly light and fluffy — just like the Apple Cider Rolls. After his first bite, my husband, eyes wide, described these little pumpkins as having a doughnut-like texture.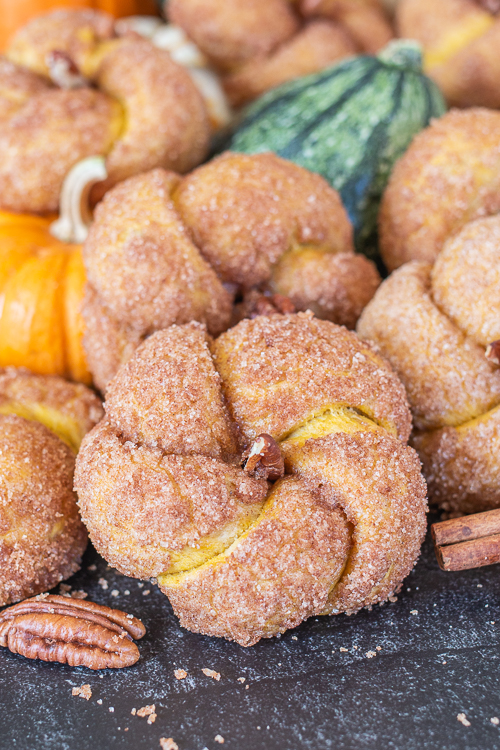 This fall-inspired yeasted dough also includes cinnamon, cloves, and freshly grated nutmeg, as well as maple syrup for sweetening. It's so delicious! I can't wait to try baking some loaves, monkey bread, or stuffed rolls with it.
Shaping Pumpkin Cinnamon Buns
Because of its soft, tacky texture, this dough is much easier to work with when it's cold. I usually prepare it the night before and let it rise in the refrigerator overnight.
If you don't have the time or inclination to wait that long, let the dough rise at room temperature for about two hours before shaping. I have done it this way, and it's totally doable — just stickier! You'll need to use a bit more flour than you would with chilled dough.
While these buns may look complicated, creating the pumpkin shape just involves tying some dough ropes in knots (see the recipe below for visual instructions). It's actually quite a satisfying process once you get the hang of it!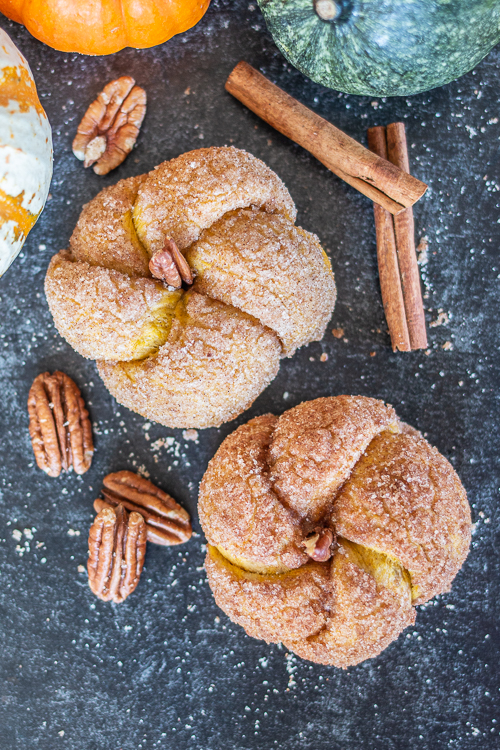 Once you've shaped the rolls, dip them in butter and dredge them in cinnamon-sugar! Slice some pecans in half lengthwise to use for stems and insert them in the buns' centers.
Baking Pumpkin Cinnamon Buns
After a rest at room temperature, bake the rolls in an oven preheated to 375° F for 20 to 25 minutes.
Since these buns are so soft, it can be hard to tell when they're done baking. I totally undercooked them the first time I made them!
The easiest way to tell when they're ready is to insert the probe of an instant-read thermometer into one of the buns. They're done baking when the internal temperature reaches between 190 and 200° F.
Let the buns cool for about 20 minutes before digging in — if you can wait.
Pumpkin Cinnamon Bun Serving Ideas
These sweet treats make a great special occasion breakfast or brunch addition. They're also awesome for snacking on in the afternoon!
While we're not having any Halloween parties this year due to shelter-in-place, you can bet that I'll bake these pumpkin-shaped buns for future fall festivities once life gets back to normal again.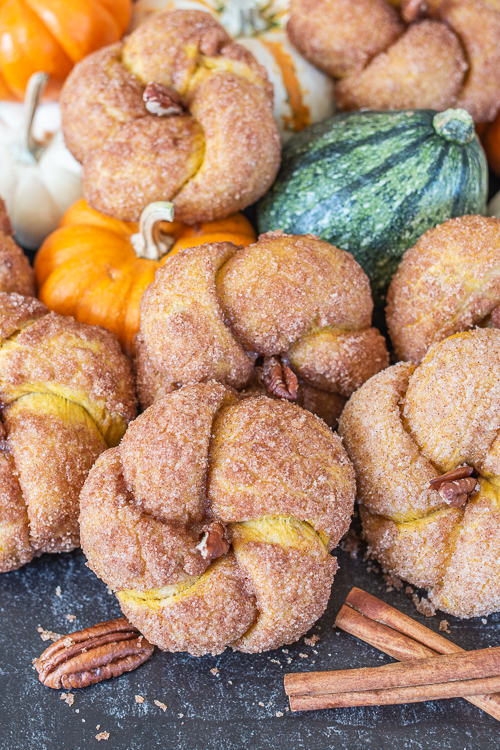 In the meantime, since this recipe feels a bit large for a family of four, I've been delivering little pumpkins to neighbors to spread some fall cheer!
They're really best the day they're made, so it seems only right to share! Happy fall!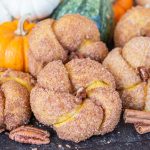 Print Recipe
Pumpkin Cinnamon Buns
With pumpkin dough and a crisp, cinnamon-sugar coating, these squash-shaped Pumpkin Cinnamon Buns add sweetness and fun to fall festivities! Makes 24 3-inch buns.
Ingredients
Sweet Pumpkin Dough
2

tablespoons

warm water (105-115°F)

3

tablespoons

granulated sugar

plus a pinch, divided

2 1/4

teaspoons

active dry yeast

3

tablespoons

maple syrup

6

tablespoons

unsalted butter

1/2

cup

apple cider

1

teaspoon

kosher salt

1

cup

pumpkin puree

1

large

egg

1/2

teaspoon

ground cinnamon

1/4

teaspoon

ground cloves

pinch

freshly grated nutmeg

4 1/4

cups

unbleached all-purpose flour

plus more for shaping
Assembly
1/2

cup

unsalted butter

melted

1 1/2

cups

granulated sugar

1 1/2

tablespoons

ground cinnamon

12

large

pecans

sliced in half lengthwise
Instructions
Sweet Pumpkin Dough
Add warm water and a pinch of granulated sugar to the bowl of a standing electric mixer. Sprinkle the yeast over the water's surface and stir to dissolve. Set aside.

Melt the butter in a medium saucepan over low heat. Add apple cider, maple syrup, sugar, and salt. Stir over low heat until the sugar dissolves. Remove from heat. 

Add pumpkin puree and egg to the butter mixture. Whisk to combine. 

In the bowl with the activated yeast (which should be bubbly), combine wet ingredients from the saucepan, the spices, and two cups of the flour. Stir to combine with a wooden spoon or the mixer's paddle attachment.  

Add the remaining flour, about 1/4 cup at a time, allowing it to incorporate before adding more. Let the dough rest for 20 minutes before continuing. 

Switch to the dough hook and knead until the soft dough looks smooth, about 7 to 10 minutes.  

Scrape the soft, tacky dough into a greased bowl, flipping it once to coat the dough with oil. Cover the bowl with plastic wrap and let the dough rise over night in the refrigerator. Alternatively, let the dough rise at room temperature for about two hours.
Assembly
Pour melted butter into a wide, shallow bowl and set aside. Mix granulated sugar and cinnamon in small bowl. Pour about 1/3 of the sugar mixture into a wide, shallow bowl. Set aside. Grease or parchment-line two baking sheets.

Turn the dough out on a lightly floured surface and divide it into 24 evenly-sized pieces (if you did not refrigerate the dough, you might need more than a light dusting of flour).

Working one at a time, roll each piece of dough into a 10 to 12-inch rope, using just enough flour to prevent sticking. Before shaping, lightly dust the rope with flour, and then, with floured hands, turn it into a pumpkin. 

Create a small loop in the rope with a long tail on one side and a short tail on the other. 

Wrap the long tail around the edge of the loop 2 to 3 times.

Hold the remaining end of the long tail on the bottom-side of the loop with a finger to keep it from unraveling as you to work. 

Wrap the other tail around the edge of the loop, tucking it through the center of the loop and pinch the two ends together where they meet on the bottom side.

If you're not happy with the look of any of the rolls, simply set them aside for about 15 minutes and reshape. 

Working one at a time, dip the shaped buns into the melted butter, turning for even coverage. Dredge the buns in the sugar mixture to coat them completely, jostling gently to work some of the sugar under the folds of dough.

Transfer the sugar-coated buns to the prepared baking sheets.

As needed, add more cinnamon-sugar to the wide, shallow work bowl, whisking to combine and break up buttery clumps.   

Insert a sliced pecan into the center of each roll, pressing so the pecan touches the pan. 

Cover the rolls with lightly oiled plastic wrap and let them rest at room temperature for 20 to 30 minutes. In the meantime, preheat oven to 375°F. 

Bake the rolls until they have an internal temperature between 190 and 200°F, about 20 to 25 minutes.

Let the rolls rest for 15 to 20 minutes before eating.

To reheat, set rolls in an oven preheated to 300° F oven for about 10 to 15 minutes.
Some of the links in this post are affiliate links. If you click through and make a purchase, I earn a small commission for my referral at no additional cost to you. Thank you for supporting Flour Arrangements.
YOU MIGHT ALSO LIKE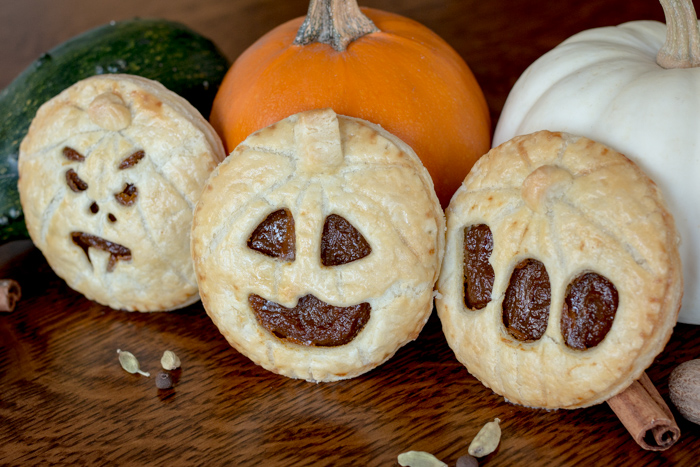 Pumpkin Hand Pies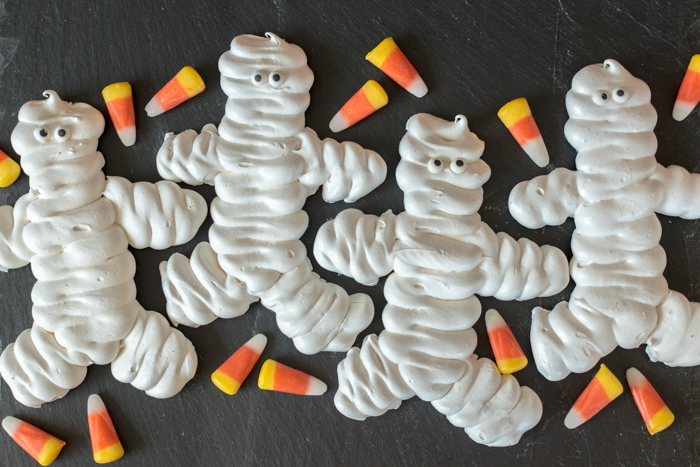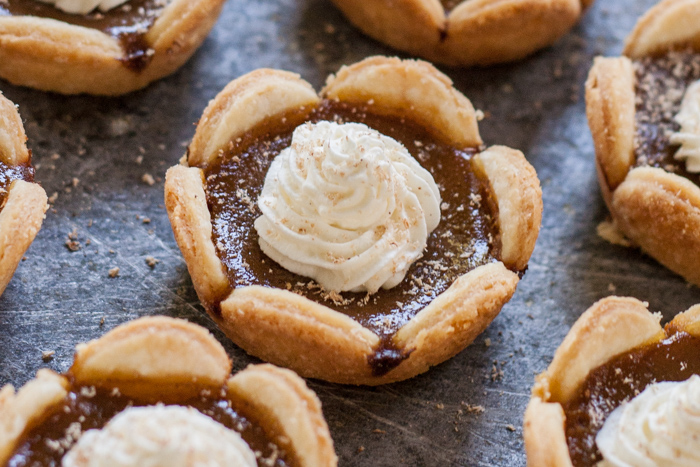 Mini Pumpkin Pies