These easy-to-serve Mini Butterscotch Cream Pies feature chocolate cookie cups loaded with rich, creamy butterscotch pudding.
When I set out to make Mini Butterscotch Cream Pies, I wanted to simplify the crazy-involved full-sized Butterscotch Cream Pie recipe I shared years ago.
While this rich, decadent dessert tastes amazing, it requires just about every pan and kitchen implement that I own to prepare. It's definitely worth the effort, but I knew I could come up with an equally delicious recipe that would be easier to make.
These Mini Butterscotch Cream Pies turned out even better than I imagined. They may be small, but they pack some seriously big flavor. I can't stop eating them!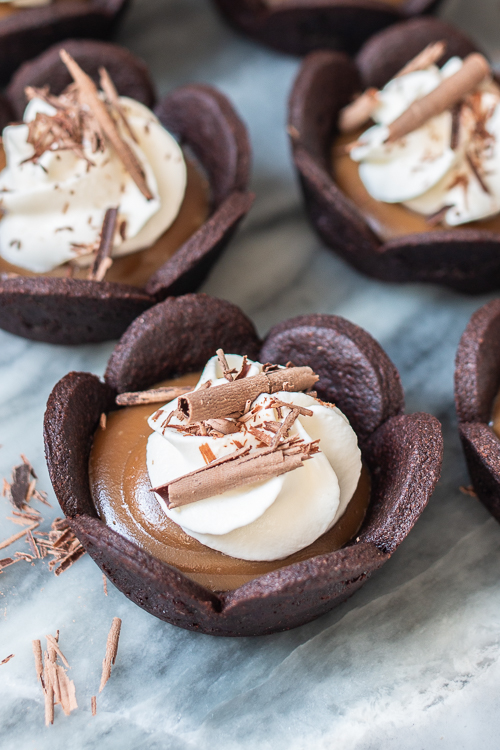 Scaled Down & Simplified Recipe
The original pie included a layer of chocolate ganache between bottom crust and butterscotch pudding.
While I'm usually not one to say no to chocolate, I decided to skip the ganache in these little pies. The chocolate cookie cups' bold flavor didn't really need an extra chocolate boost.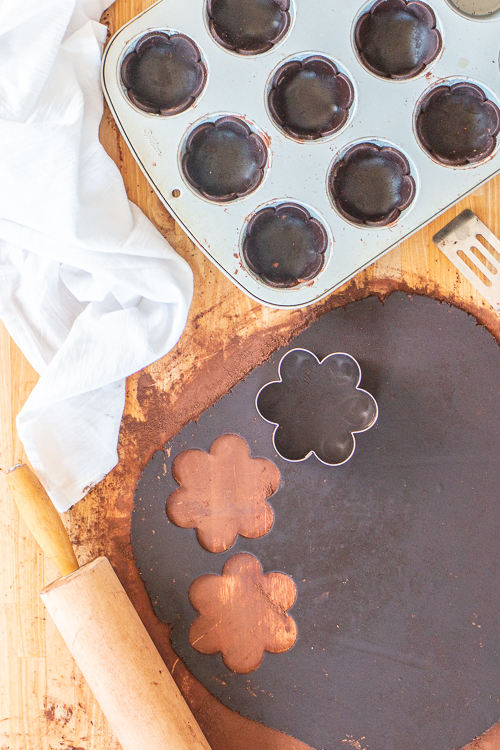 Also, since the cups are small, including ganache would mean less room for butterscotch pudding, the star of this dessert.
The butterscotch pudding for the full-size pie required two saucepans to make. For this mini version, I streamlined the recipe so it comes together in just one pan.
Hooray for fewer steps and less mess!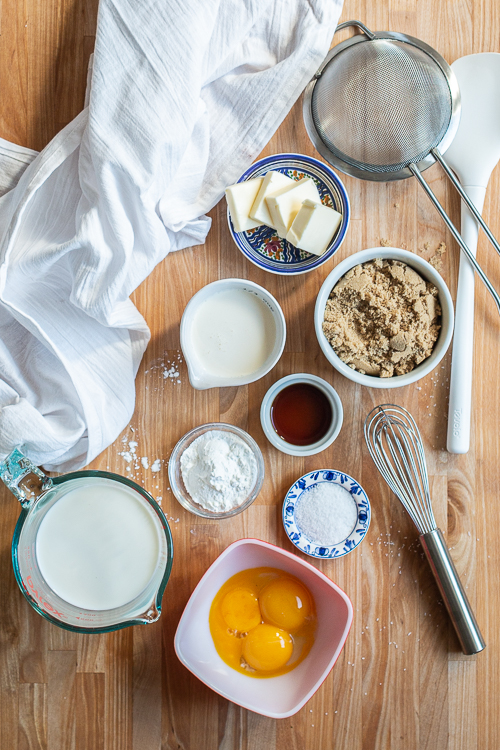 My family raved over my new filling recipe, which is rich, creamy, and full of intense butterscotch flavor. With the crisp chocolate cookie cups and a dollop of whipped cream, it's pure perfection.
I love these miniature pies, not only because they're cute, but because they're easier to serve and enjoy. There's no slicing involved, and you can eat them by hand rather than with a fork. Finger food is the best!
These Miniature Butterscotch Cream Pies are also ready to enjoy sooner than the full-size pie. Their small size means that they chill quickly, so they're ready in a matter of hours rather than half a day.
I think the quicker chilling time is my family's favorite part about this new recipe. That and the fact that they're much easier to steal from the fridge.
Mini Butterscotch Cream Pie Serving Suggestions
The pies taste best the day they're made, but you can prepare them up to a day ahead to make things easier on yourself.
Right before serving, top them with lightly sweetened whipped cream, which adds extra smoothness and enhances the rich butterscotch and deep chocolate flavors. Chocolate sprinkles or shavings give these pies a finished, elegant look.
Chocolate sprinkles are obviously the easiest to use for garnishing, but chocolate shavings are fun to make, and they taste better, too!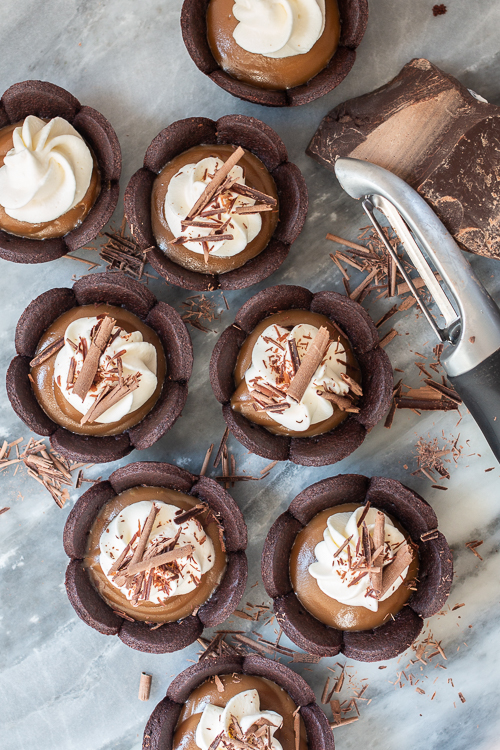 To create chocolate shavings, scrape a vegetable peeler along the edge of a large block of chocolate. If the chocolate crumbles into tiny pieces, microwave the bar in short bursts until it's warm enough to create nice curls with the peeler.
I like to shave a bunch of curls over a plate and add them to the pies with a spoon. This works especially well because you can prep the chocolate ahead of time.
These tiny pies are perfect for parties because they're so easy to serve and eat. With their incredible combination of flavors and textures, they are guaranteed to disappear quickly.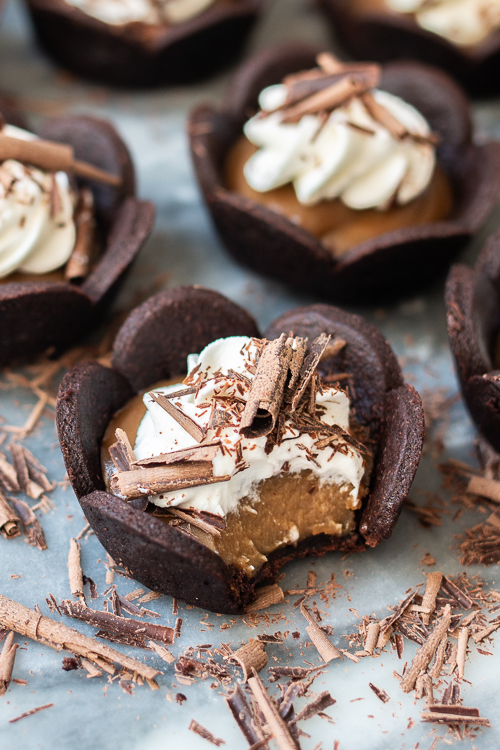 Until the day that we can actually have gatherings again, I've been delivering pies to friends. This recipe makes more than enough to share; if I don't spread a little pie love, I'm in danger of eating them all myself.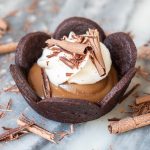 Print Recipe
Mini Butterscotch Cream Pies
These easy-to-serve Mini Butterscotch Cream Pies feature crisp chocolate cookie cups loaded with rich, creamy butterscotch pudding. Makes 18 to 24 2 1/2-inch pies, depending on how much pudding you like in your cookie cups.
Ingredients
Chocolate Cookie Cups
1 1/2

cups

unbleached all-purpose flour

1/2

cup

unsweetened cocoa powder

plus more for rolling out the dough

1/2

teaspoon

kosher salt

3/4

cups

unsalted butter

softened but still cool

1

cup

granulated sugar

1

large

egg

2

teaspoons

vanilla extract
Butterscotch Pudding
1/4

cup

unsalted butter

2/3

cup

packed brown sugar

1/3

cup

heavy cream

2 1/2

tablespoons

cornstarch

1/2

teaspoon

kosher salt

1 1/3

cups

whole milk

3

large

egg yolks

2

teaspoons

vanilla extract
Topping
1/2

cup

heavy cream

1

tablespoon

confectioners' sugar

1/4

teaspoon

vanilla extract

chocolate sprinkles or shavings
Instructions
Chocolate Cookie Cups
Mix flour, cocoa powder, and salt in a small bowl. Set aside.

Combine butter and sugar in the bowl of a standing mixture on medium speed with the paddle attachment. Beat until light and fluffy. Add egg and vanilla extract and beat until well combined. Add flour mixture and stir on low speed until the dough comes together, about 1 minute. Turn the dough out onto a lightly floured surface and knead 2 or 3 times. Flatten into a disk, wrap in plastic, and chill until firm, about 30 to 40 minutes.

Preheat oven to 350° F. Lightly grease 24 standard-size muffin tin wells.

Roll out the chilled dough to about 1/8-inch thickness on a counter generously dusted with cocoa powder.

Using a 3 3/4-to 4-inch flower-shaped cookie cutter, stamp out as many flowers as possible, rerolling the scraps as necessary to make 24 flowers. Gently transfer the dough to the greased muffin tins, tucking each flower carefully into one of the cups.

With a toothpick or sharp skewer, prick holes in the dough around the edge of the cup, about 1/8 to 1/4 inch apart, adding a few holes in the center as well. Gather the scraps, re roll, and stamp out additional cookies to fill the remaining cups.

Bake in the preheated oven for about 10 minutes, until just set, shifting the baking sheets halfway through for even baking.

Let the cookies cool in the muffin tins for 5 to 10 minutes before running a thin metal spatula around the outside edge of each cup. Leave cups in the pan to cool completely before removing carefully.
Butterscotch Pudding
Set a fine mesh strainer over a spouted measuring cup that holds 3 to 4 cups. Set aside.

Melt butter in a medium, heavy saucepan over medium-high heat. Mix in brown sugar. Cook, stirring constantly as the mixture bubbles and foams, becomes smooth, and begins to darken, about 5 minutes. Just as it begins to smell caramelized, remove the mixture from heat and stir in the heavy cream, taking care as it will bubble and steam quite a bit. If the mixture seizes up, warm it over low heat, stirring until smooth. Set aside to cool slightly.

Combine milk, egg yolks, cornstarch, and salt in spouted glass measuring cup that holds at least 2 cups. Whisk well to combine.

Slowly pour the milk mixture into the pan with the butterscotch mixture, stirring with a wooden spoon or silicone spatula to combine. It's okay if there are some undissolved patches of butterscotch.

Warm the pan over medium heat, whisking constantly. Once it begins to thicken and simmer, continue whisking vigorously for 1 minute. Remove from heat and whisk in vanilla extract.

Strain the mixture into the prepared measuring cup. Pour or spoon the filling into the cookie cups. If you want to pipe the filling, cool it in a water bath, whisking frequently, until just warm to the touch. Transfer it to a pastry bag and pipe the pudding into the cookie cups. Chill the filled cups, uncovered, for 2 to 3 hours.
Topping
Just before serving, beat heavy cream with confectioners' sugar and vanilla extract until it just holds stiff peaks.

Spoon or pipe whipped cream on top of each pie.

Garnish with chocolate sprinkles or shavings.
Some of the links in this post are affiliate links. If you click through and make a purchase, I earn a small commission for my referral at no additional cost to you. Thank you for supporting Flour Arrangements.
YOU MIGHT ALSO LIKE
Little Lime Tarts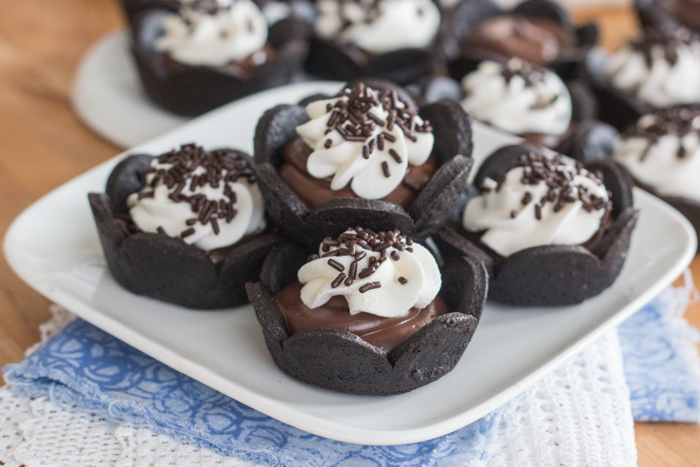 Mini Chocolate Cream Pies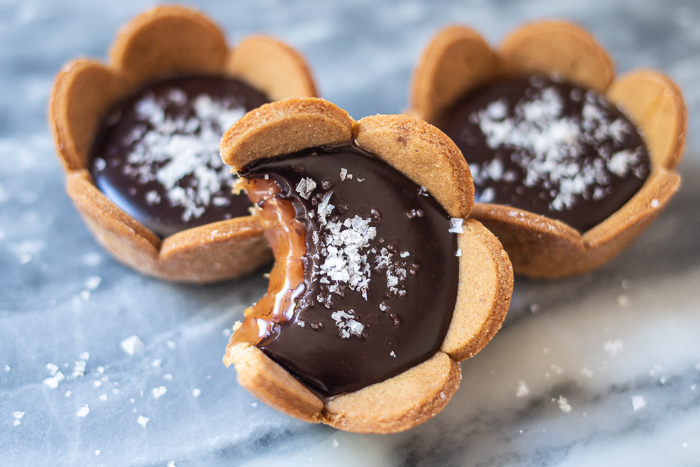 Mini Salted Caramel Chocolate Tarts