These irresistible Chocolate Peanut Butter Bars include a thick layer of lightly sweetened nutty peanut butter filling sandwiched between dark chocolate shortbread and decadent chocolate ganache.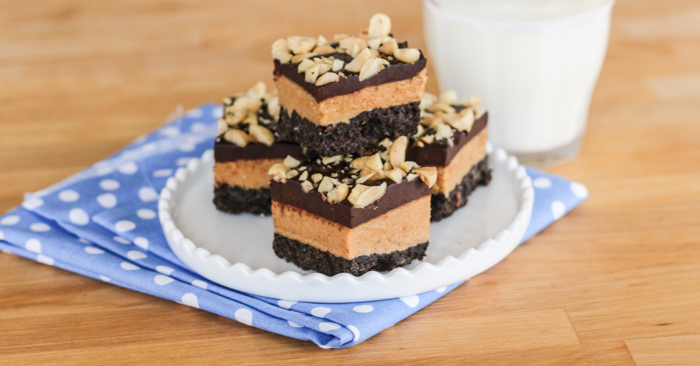 When I set out to organize my refrigerator the other day, I found four open jars of peanut butter. Four! Since we can't pack peanut butter and jelly sandwiches in my kids' school any more, I needed a quick and easy way to reduce this ridiculous supply.
It was time to make some indulgent, peanut buttery dessert in the form of Chocolate Peanut Butter Bars.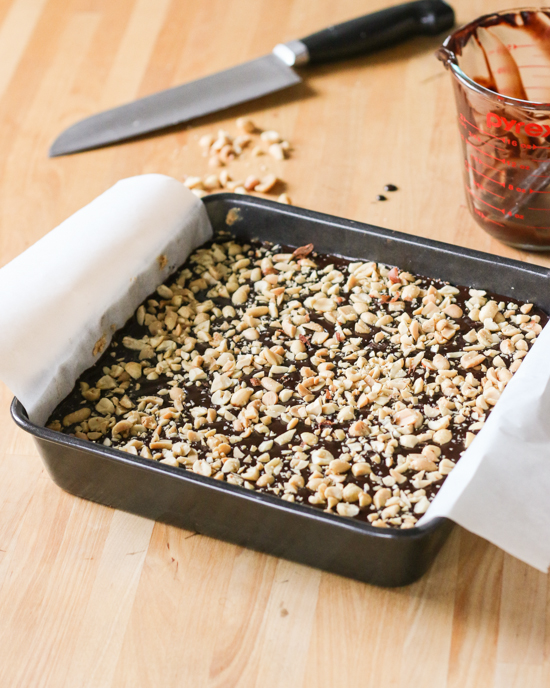 I'd long wanted to turn my Peanut Butter Chocolate Tart recipe into finger food, so this surplus gave me the excuse I needed to go for it. The bars include the same amazing taste in a much less fancy packaging. They'd be perfect for a picnic or party where you don't really want to plate up dessert.
To give the bars more stability, I reduced the amount of cream in the filling, which did the trick: these bars hold up as well at room temperature as they do chilled, and you can serve them either way. Cool, the the filling is firmer and more refreshing, if it's even possible to say that about a peanut butter dessert. At room temperature, the flavors are bigger and feel much richer.
These sweet treats include a thick layer peanut butter filling sandwiched between dark chocolate shortbread and decadent chocolate ganache. They're rich and chocolatey without being overly sweet, and the combination of flavors and textures makes them completely irresistible — however you decide to eat them!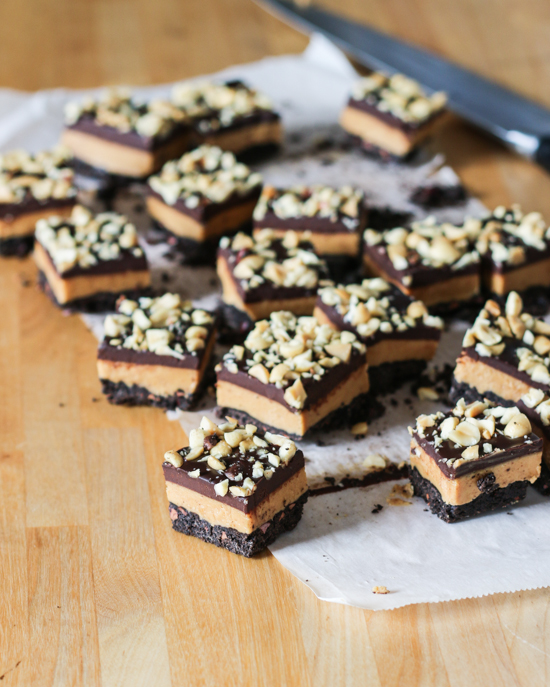 Print Recipe
Chocolate Peanut Butter Bars
Makes 3 dozen 1 1/2-inch bars.
Ingredients
Chocolate Shortbread

8

tablespoons (1 stick)

unsalted butter

melted and cooled

¼

cup

cocoa nibs

¼

cup

cocoa powder

¼

cup

granulated sugar

½

teaspoon

salt

1

teaspoon

vanilla extract

1

cup

unbleached all-purpose flour

Peanut Butter Filling

1¼

cups

creamy peanut butter

5

tablespoons

unsalted butter

softened

½

teaspoon

vanilla extract

¼

teaspoon

salt

1¼

cups

confectioners' sugar

2

tablespoons

cup heavy cream

Ganache Topping

6

ounces

bittersweet chocolate

finely chopped

¾

cups

heavy cream

½

cup

lightly salted peanuts

coarsely chopped
Instructions
Butter a 9-inch square metal baking pan. Add a layer of parchment paper, leaving the edges long enough to lift the bars out of the pan for easier slicing.  Butter the parchment paper, pressing it to adhere smoothly to the pan.

To make the chocolate shortbread, mix butter, cocoa, nibs, sugar, salt, and vanilla in a medium bowl. Add flour and mix until blended. Press the dough into an even layer over the bottom of the prepared pan. Generously prick the dough with the tines of a fork. Place in the lower third of an oven preheated to 350° F and bake until the crust feels firm to the touch, about 20 to 25 minutes. Cool completely.

For the filling, cream together peanut butter, butter, vanilla, and salt. Blend in confectioners' sugar, mixing well to combine. Add the cream and beat until the filling is smooth and spreadable.

Scrape the filling into the cooled pan and spread it evenly to the edges, smoothing the top with an offset spatula.

To prepare the ganache, place chopped chocolate in a measuring glass with a pour spout; set aside. Bring cream to a boil over medium heat. Pour hot cream over the chocolate. Without stirring, let the cream-chocolate mixture sit for 2 minutes. After 2 minutes, stir slowly with a rubber spatula until the mixture is smooth and glossy.

Acting quickly, pour ganache over the peanut butter filling. Tilt and rotate the pan to spread the ganache to the edges. Sprinkle chopped peanuts over the top.

Refrigerate uncovered for several hours before slicing. Serve cold or at room temperature.
PIN CHOCOLATE PEANUT BUTTER BARS FOR LATER

You might also like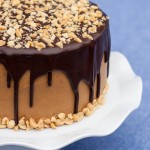 Peanut Butter Chocolate Cake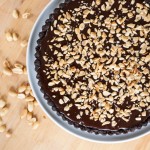 Peanut Butter Chocolate Tart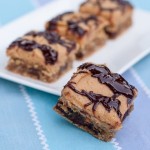 Peanut Butter Chocolate Chunk Brownies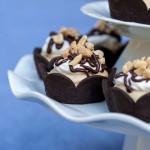 Mini Peanut Butter Pies