Simple, yet addictive, these Rosemary and Spice Candied Pecans are sweet and salty and full of bold flavor.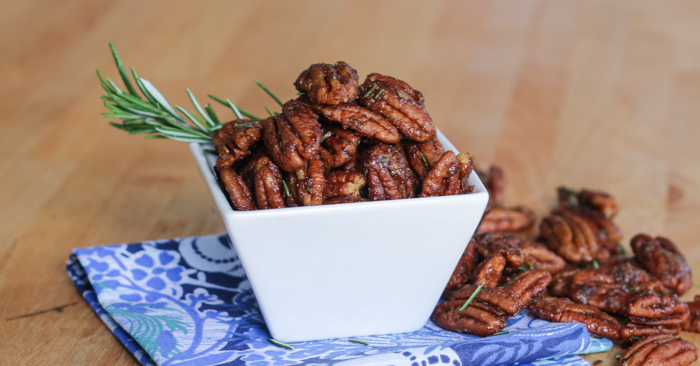 Pan-roasting pecans takes their rich, nutty flavor to the next level. I love them fresh from the skillet when they're almost too hot to eat. Chopped coarsely, they're delicious sprinkled on salad, hot fudge sundaes, or even oatmeal.
The other day after preparing a handful for Tessa, who'd asked for roasted pecans for a snack, I decided to get fancy by adding seasoning to the nuts. I tossed butter, brown sugar, salt, cardamom, cayenne, and chopped fresh rosemary into the skillet, which added a flavorful backdrop to the pecan's roasted nuttiness.
They disappeared in no time, and I needed more — right away — but I couldn't repeat my spontaneous creation.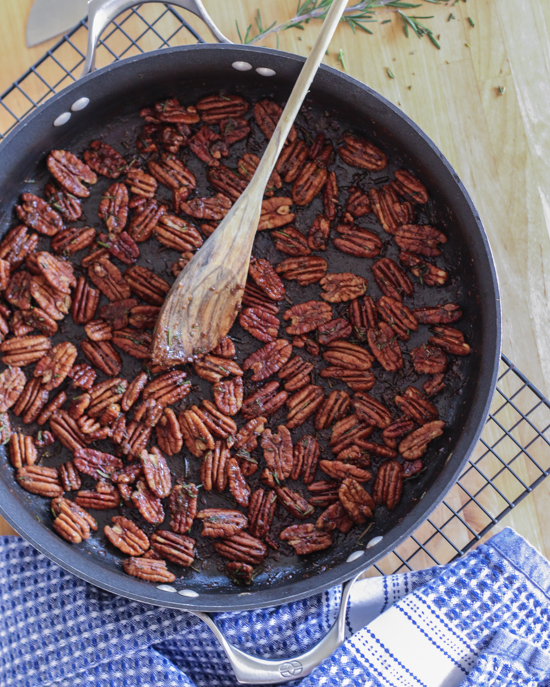 Each new batch that I prepared was fine, but none of them satisfied my craving. It took at least four tries, one trip to Costco for more pecans, and handful after handful of nuts consumed or pawned off on friends for me to finally recreate the addictiveness of that first haphazard try.
After toasting the pecans in a dry skillet, adding butter, sugar, and spices creates a sticky gooey mess that attaches to the nuts in large sweet clumps. Once the sugar is hot and molten, a splash of water in the skillet thins the thick sugary mixture so it coats the nuts more evenly.
The chopped rosemary — tossed in at the last minute — adds a hint of aromatic flavor to your deeply toasted, deliciously sweet, and perfectly spiced pecans. If you're using a non stick pan, you can turn off the heat and let the pecans cool right in the pan. The whole thing is so simple it's hard to believe it took me so long to get it right.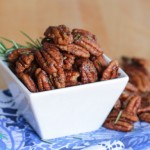 Print Recipe
Rosemary & Spice Candied Pecans
Makes 2 cups.
Ingredients
2

cups

pecan halves

3

tablespoons

unsalted butter

1/4

cup

brown sugar

1

teaspoon

salt

1

teaspoon

cardamom

1/8

teaspoon

cayenne pepper

or to taste

2

tablespoons

water

1 1/2

tablespoons

coarsely chopped fresh rosemary
Instructions
Toast pecans in a large, dry skillet over medium-high heat until browned and fragrant, about 5 minutes.

Add butter, sugar, salt, cardamom, and cayenne to the skillet. Stirring constantly, continue cooking until the butter-sugar mixture is melted and bubbly.

Increase heat to high and add water, stirring carefully until moisture evaporates.

Toss in rosemary, mix to combine, and remove from heat.

If using a non-stick pan, spread the nuts in a single layer and cool right in the pan. If not, spread nuts in single layer on a parchment-lined baking pan.

Store cooled nuts in an air-tight container.
YOU MIGHT ALSO LIKE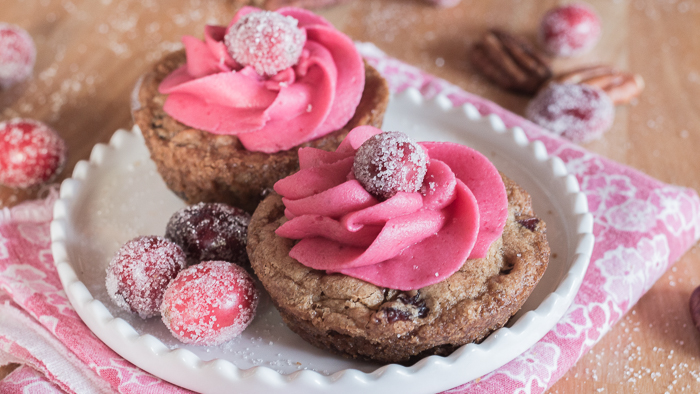 Muffin Tin Cranberry-Pecan Blondies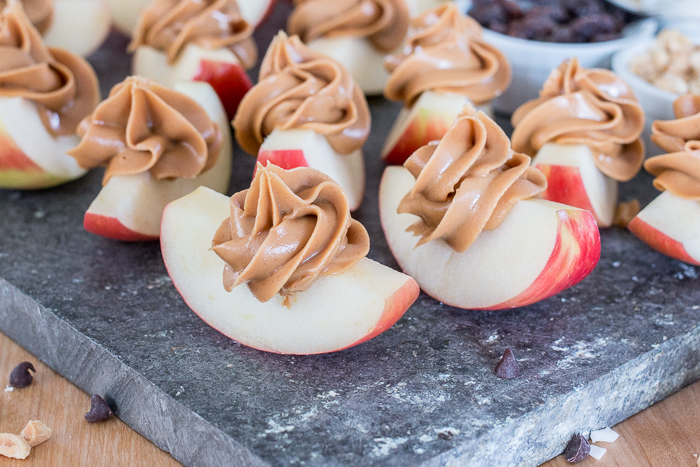 Peanut Butter Apple Slices
PIN CANDIED PECANS FOR LATER