This indulgent Peanut Butter Chocolate Tart features creamy, rich peanut butter filling tucked between a chocolate crust and chocolate ganache.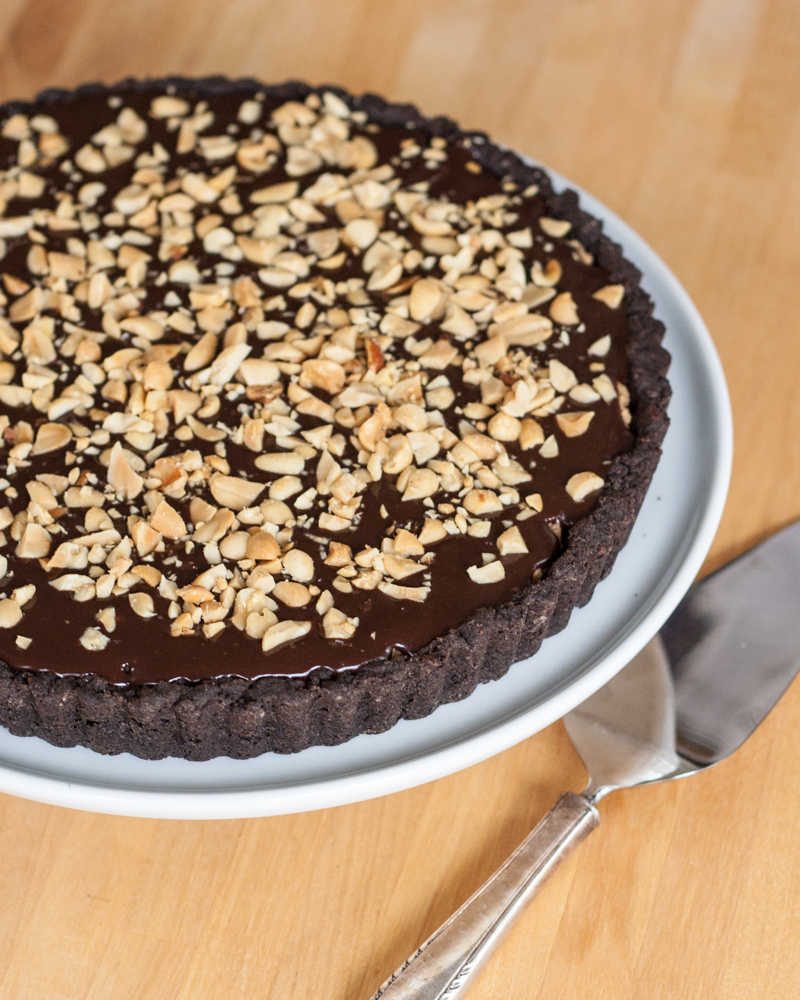 I'm on a mission to combine chocolate and peanut butter in as many different ways as I can.  You've got to have goals, right?
So far, I've shared recipes for Peanut Butter Chocolate Cake, Mini Peanut Butter Pies, Peanut Butter Chocolate Chip Cookies, and Peanut Butter Chocolate Chunk Brownies. In case you're wondering, the end is nowhere in sight.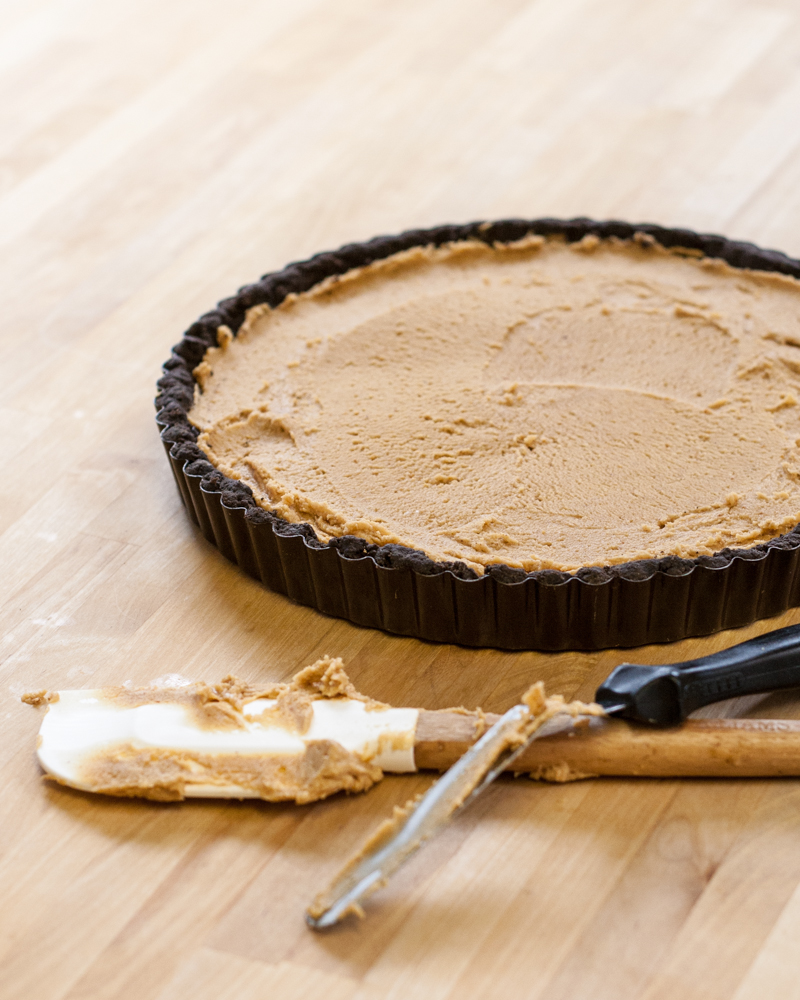 Here's the great thing about this goal.  It's almost impossible to go wrong.  I mean, when a simple spoonful of peanut butter dipped in chocolate can knock your socks off, you're not going to run up against many failures along the way.  I like to aim high.
For those times when you need more than a quick spoonful of peanut butter dipped in chocolate chips — or chocolate fondue even —  this Peanut Butter Chocolate Tart will do nicely.  It wraps up the delicious indulgence of these two great flavors in a classy presentation destined to wow all the peanut butter lovers in your life.
Layering peanut and chocolate throughout this dessert adds texture and richness. Here's the bottom-up break-down of this chocolate-peanut-chocolate-peanut tart:
Start with a simple chocolate pat-in-the-pan crust studded with cocoa nibs.  Bursts of raw chocolate add a deep, dark goodness that offsets the sweet peanut butter filling.
Whirl the filling ingredients in the bowl of standing electric mixer. Since we're serving up peanut butter as dessert, we're obviously giving it a makeover before we spread it over the cooled crust:  butter, confectioner's sugar, vanilla, a bit of salt, and some heavy cream make it smooth and sweet and totally irresistible.
Next up, combine hot cream with chopped chocolate to make a rich, pourable ganache to layer over the peanut butter filling.
Finally, sprinkle on the finishing touch — coarsely chopped peanuts to hint about all that peanut butter hidden beneath the rich layer of chocolate.
Two layers of chocolate, two layers of peanut.
Done and done.  You're going to love it.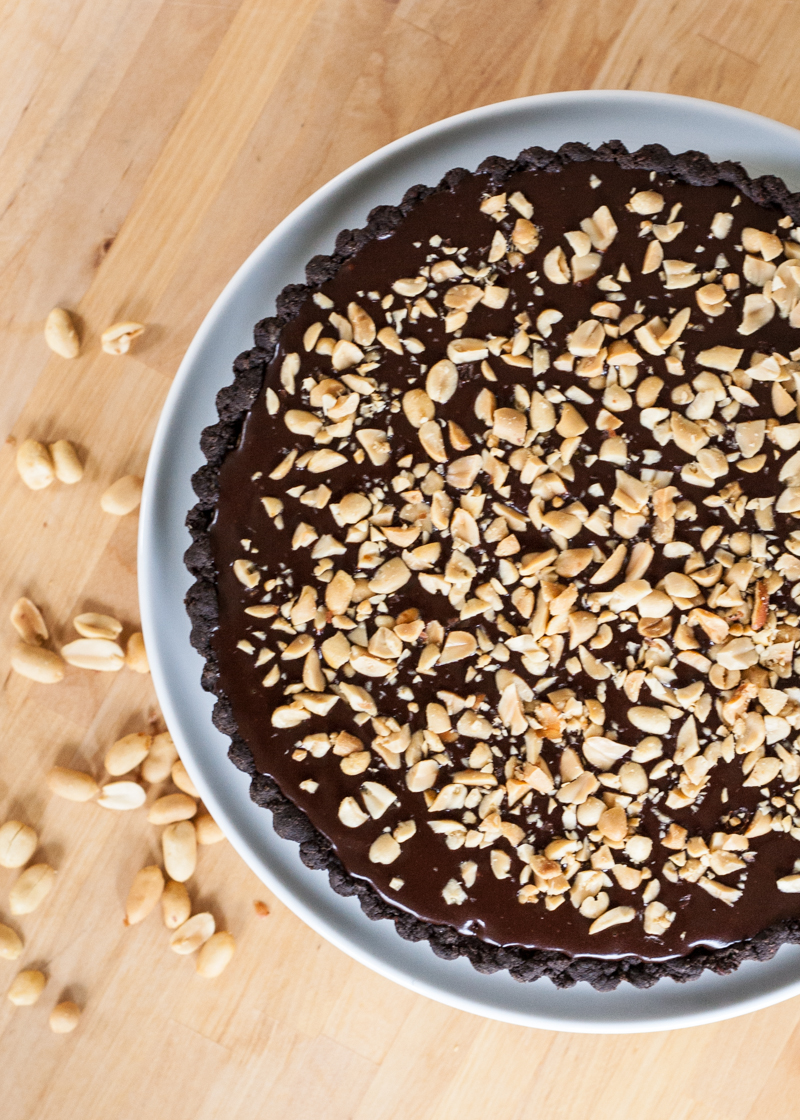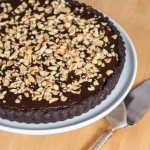 Print Recipe
Peanut Butter Chocolate Tart
Ingredients
Chocolate Crust

8

tablespoons

unsalted butter

melted and cooled

1/4

cup

cocoa nibs

1/4

cup

cocoa powder

1/4

cup

granulated sugar

1/2

teaspoon

salt

1

teaspoon

vanilla extract

1

cup

unbleached all-purpose flour

Peanut Butter Filling

1 1/4

cups

creamy peanut butter

5

tablespoons

unsalted butter

softened

1/2

teaspoon

vanilla extract

1 1/4

cups

confectioners' sugar

1/4

teaspoon

salt

1/4

cup

plus 2 tablespoons cup heavy cream

Topping

6

ounces

bittersweet chocolate

finely chopped

3/4

cups

heavy cream

1/2

cup

lightly salted peanuts

coarsely chopped
Instructions
To make the crust, mix butter, cocoa, nibs, sugar, salt, and vanilla in a medium bowl. Add flour and mix until blended. Press the dough evenly over the bottom and up the sides of a 10 or 11-inch tart pan with a removable bottom. Generously prick the bottom and sides of the crust with the tines of a fork. Place in the lower third of an oven preheated to 350° F and bake until the crust feels firm to the touch, about 20 to 25 minutes. Cool completely.

For the filling, cream together peanut butter, butter, vanilla, and salt. Blend in confectioners sugar, mixing well to combine. Add the cream and beat until the filling is smooth and spreadable.

Scrape the filling into the cooled tart crust and spread it evenly to the edges, smoothing the top with an offset spatula.

To prepare the ganache, place chopped chocolate in a measuring glass with a pour spout; set aside. Bring cream to a boil over medium heat. Pour hot cream over the chocolate. Without stirring, let the cream-chocolate mixture sit for 2 minutes. After 2 minutes, stir slowly with a rubber spatula until the mixture is smooth and glossy.

Acting quickly, pour ganache over the peanut butter filling. Carefully pick up the tart pan, tilting and rotating to spread the ganache to the tart's edges as needed. Sprinkle chopped peanuts over the ganache.

Refrigerate uncovered until set, about 30 minutes. Served chilled or at room temperature.
Pin Peanut Butter Chocolate Tart for Later

You might also like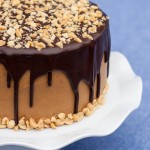 Peanut Butter Chocolate Cake
Peanut Butter Chocolate Chip Muffins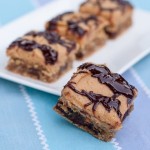 Peanut Butter Chocolate Chunk Brownies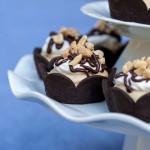 Mini Peanut Butter Pies