These Cheesy Muffin Tin Popovers are perfect for breakfast or snack-time. Since they're so quick to prepare, they're also a great addition at dinner-time alongside a steaming bowl of soup.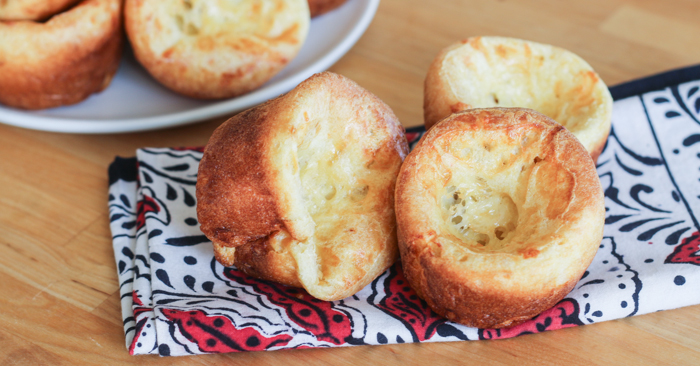 On one especially cold and rainy day recently, I treated my kids to warm popovers after school.
They usually like to make popovers themselves, but on this dark, drab day, they didn't mind that I'd baked them instead. They wolfed down nearly a dozen in nothing flat, and they've been asking me to make them almost daily now.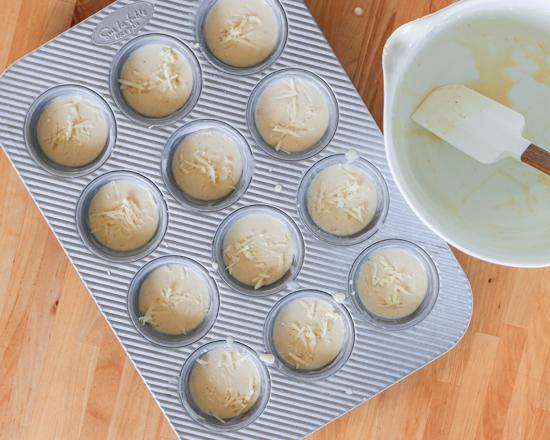 Since popovers are so simple to make, I've started playing around with the recipe as I prepare them, stirring in different additions to keep things interesting. So far, the best variation — Cheesy Muffin Tin Popovers — features Gruyere cheese and a bit of smoked paprika.
These rich, cheesy popovers deliver a delicately crisp exterior with a light and fluffy interior. Steamy and oven-warm, they're are a sure bet for warming up a cold afternoon.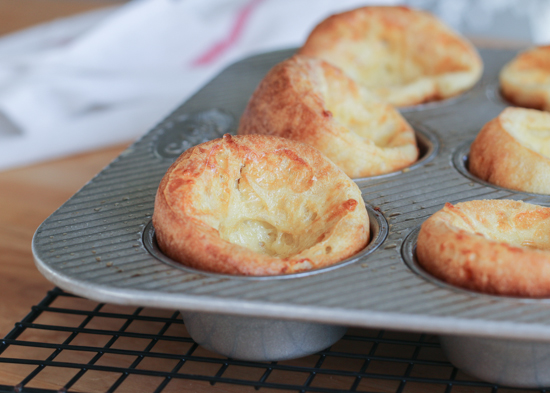 Since they're loaded with cheese, eggs, and milk, they're a great way to get a little protein into my kids to help keep them cheerful until dinner time.
While they're an easy, warm snack to prepare on the fly, these popovers aren't just for snack-time. We've started making this version for breakfast on the weekends when we have more time in the morning, and they're also perfect to serve with dinner — especially with tomato soup.
If your kids like to help in the kitchen, this recipe is one that they can easily prepare from start to finish. If your little bakers come up with any interesting variations, let me know!
I'm sure it won't be long before Eliza adds some cinnamon to her popover batter.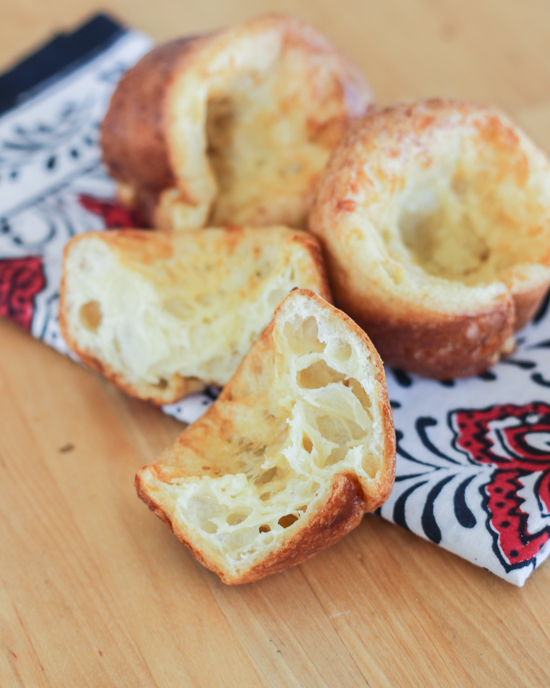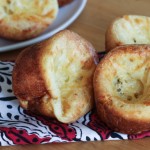 Print Recipe
Cheesy Muffin Tin Popovers
Ingredients
2

tablespoons

butter

2

large eggs

1

cup

milk

1

cup

finely shredded Gruyere

divided

1/4

teaspoon

salt

1/8

teaspoon

smoked paprika

1

cup

unbleached all-purpose flour
Instructions
Preheat oven to 375º F. In the microwave, melt butter in a small glass measuring cup with a pour spout. Pour a bit of butter into each well of a standard-sized 12-cup muffin tin. Brush the butter up the sides and around the top edge of each muffin cup (if your pan is not non-stick, you may want to use a little extra butter to prevent sticking).

Whisk eggs, milk, all but 2 tablespoons of the cheese, salt, and paprika in a mixing bowl with a pour spout (a bowl with a pour spout is not strictly necessary, but it makes it much easier and tidier and to add batter to the muffin cups). Whisk until well combined. Add the flour and whisk until blended.

Pour batter into the prepared muffin cups, filling each cup about half full. Sprinkle the remaining cheese over the batter in each cup.

Bake popovers in preheated oven for 30 minutes without opening the oven.

Remove popovers from the oven and prick each one with a fork or skewer to let the steam escape. Serve warm.
Some of the links in this post are affiliate links. If you click through and make a purchase, I earn a small commission for my referral at no additional cost to you. Thank you for supporting Flour Arrangements.
PIN CHEESY MUFFIN TIN POPOVERS FOR LATER

You might also like
Muffin Tin Popovers
Cheese-Stuffed Dinner Rolls
Cheese-Stuffed Monkey Bread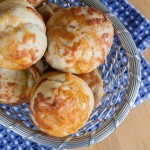 Pizza Rolls