Mini Mandarin Tarts feature sweet, creamy mandarin curd layered into crisp gingerbread cookie cups.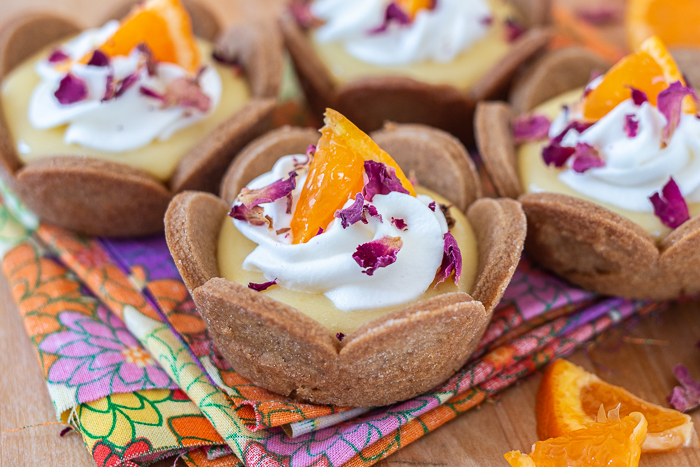 My inlaws surprised us with a gorgeous box of satsuma mandarins the other day, and I couldn't get over the tangy sweetness of these bright, addictive globes!
Because of the mandarins' pure, unadulterated perfection, it seemed a shame to bake with them, but I couldn't help myself.
I'm almost sorry, especially since they're nearly gone, but not really, since these Mini Mandarin Tarts definitely feel worthy of the sacrifice!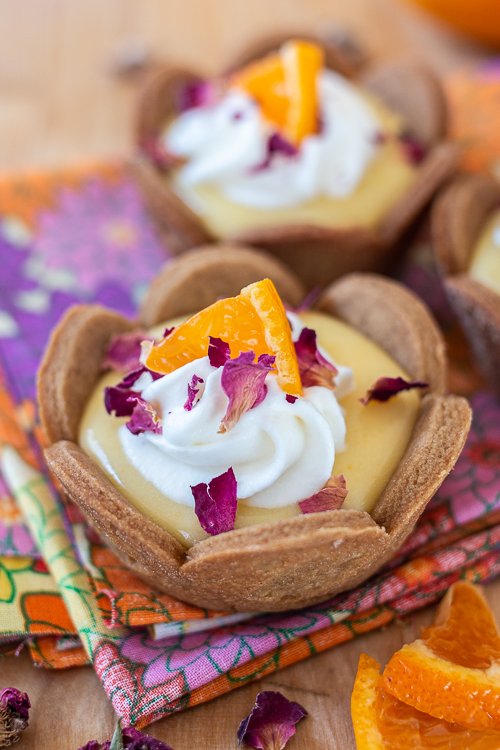 Rich, creamy mandarin curd layered into gingerbread cookie cups delivers bright, sunny flavor with a holiday twist. The tangy citrus pairs surprisingly well with sweet, crisp gingerbread.
I usually include zest when I make citrus curd, but since these mandarins practically peel themselves, their loose skin presented serious zesting challenges.
It made me realize how dull my microplate grater is. I'm really hoping I'll find one in my Christmas stocking this year!
I took a chance and made the curd without zest this time around, and I didn't miss it at all! The filling delivers vibrant, mandarin flavor in a smooth, satisfying curd.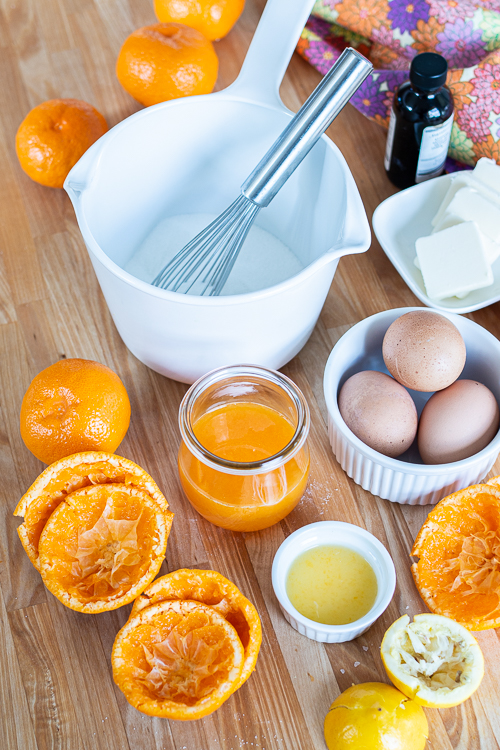 Using a flower-shaped cookie cutter makes it a breeze to prepare cookie cups with a pretty, decorative edge.
The flower shape enables the cookie dough to tuck conveniently into muffin wells without bunching up excess dough around the top edge.
Because this dough doesn't contain egg, it can be a little delicate. If it starts to tear as you work with it, just gather it up and knead it back together. It bakes up quite well even after being rerolled several times.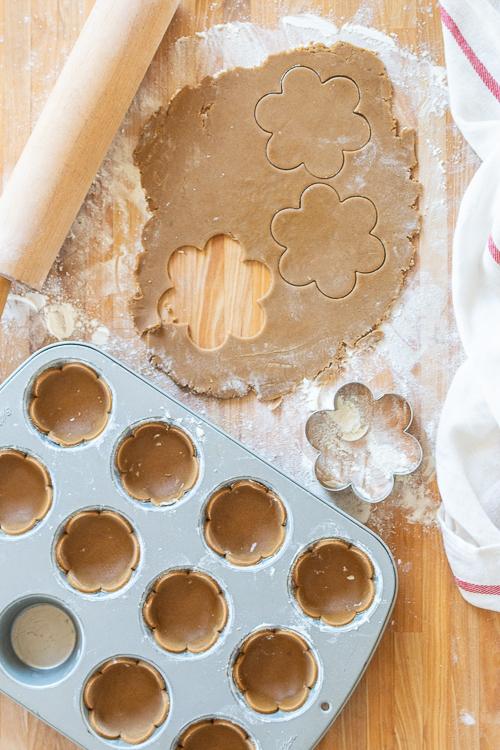 Mini Mandarin Tart Timing
Both the curd and the dough need cooling time, so while this recipe takes some advance planning, the overall active time is relatively minimal.
After cooking, the curd needs to cool completely before you can add it into the gingerbread cups. Let it come to room temperature, and then chill it for at least two hours (and up to two days) so it will set up properly.
Since it needs plenty of time to rest, there's no need to rush mixing the gingerbread dough. It needs to chill for at least an hour (and up to two days) before you can roll it out, cut out shapes, and bake them.
While it has multiple steps, this recipe give you plenty of freedom to spread the process out as much as you like.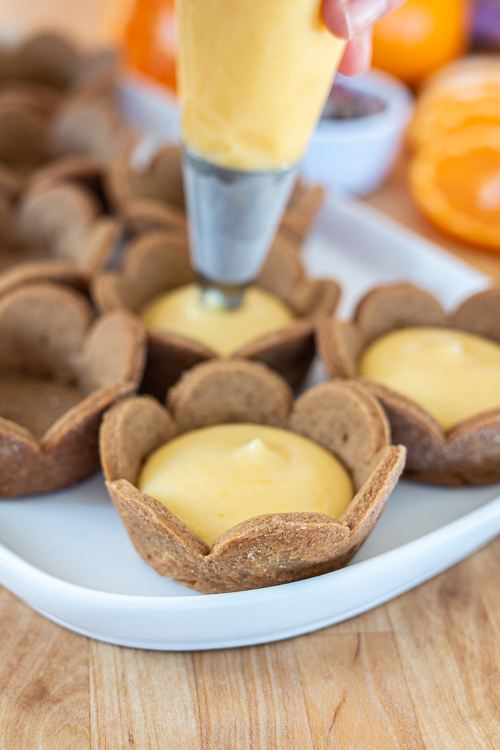 Once both the curd and cups are completely cool, assemble the tarts by spooning or piping the curd into the gingerbread cups. You can serve them right away or chill the tarts uncovered until you're ready to enjoy them.
Serving Suggestions
These little tarts taste incredible on their own, but a dollop of lightly sweetened whipped cream sets off their bold flavors.
If desired, garnish with small mandarin wedges or candied orange slices. A sprinkling of rose petals adds lovely color and subtle floral hints.
Enjoy!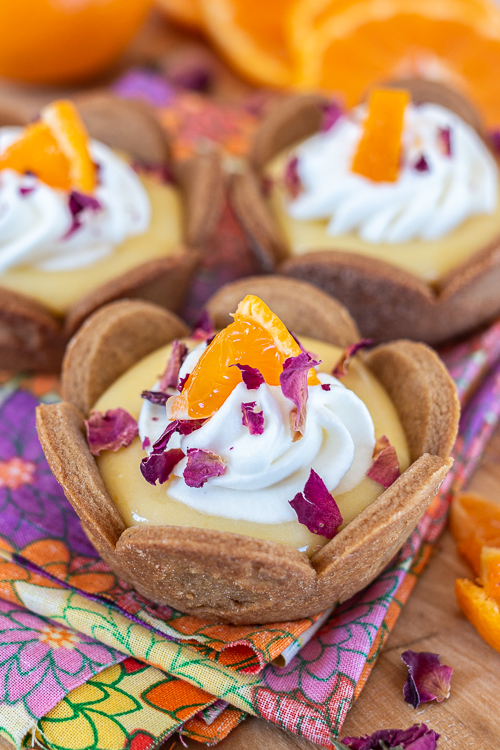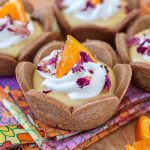 Print Recipe
Mini Mandarin Tarts in Gingerbread Cookie Cups
Mini Mandarin Tarts feature sweet, creamy mandarin curd layered into crisp gingerbread cookie cups. The tangy citrus pairs so well with gingerbread, delivering a bright, sunny flavor with a holiday twist. Makes 18 small tarts.
Ingredients
Mandarin Curd
2/3

cup

granulated sugar

3

large eggs

pinch

salt

1/2

cup

freshly squeezed mandarin juice

(about 3 large mandarins)

1

tablespoon

freshly squeezed lemon juice

(about half of a small a lemon)

1/2

teaspoon

vanilla extract

14

tablespoons

unsalted butter

sliced into 14 pieces
Gingerbread Cookie Cups
1 3/4

cups

unbleached all purpose flour

1/4

teaspoon

kosher salt

4

teaspoons

ground ginger

1/2

teaspoon

ground cinnamon

1/8

teaspoon

ground cardamom

11

tablespoons

butter

1/2

cup

packed brown sugar

3

tablespoons

honey

1

tablespoon

molasses
Assembly
1/2

cup

heavy cream

1

tablespoon

confectioners' sugar

1/2

teaspoon

vanilla extract

candied orange slices or fresh mandarin sections

for garnish

dried rose petals

for garnish
Instructions
Mandarin Curd
Whisk together sugar and eggs in a small to medium saucepan. Add citrus juices and salt, whisking until smooth.

Cook over low heat, stirring constantly, until mixture thickens to the consistency of loose pudding, about 10 to 12 minutes.

Remove from heat and whisk in the vanilla extract. Add butter, a couple of slices at a time, whisking constantly until completely melted and smooth.

Pour mixture through a fine strainer into a small clean bowl and let it cool to room temperature. Place plastic wrap directly on the surface of the mandarin curd and refrigerate until well chilled, at least two hours and up to two days.
Gingerbread Cookie Cups
Whisk flour, salt, and spices in a bowl. Set aside.

In the bowl of a standing electric mixer, combine butter and brown sugar with the paddle attachment, beating until light and fluffy. Add honey and molasses and mix until fully incorporated.

Add the dry ingredients to the butter mixture in three additions, mixing until the dough comes together.

Form the dough into a flat disk and wrap it tightly with plastic. Refrigerate the dough for at least an hour (or up to two days) before continuing. Let the dough sit for a a few minutes at room temperature before rolling.

Preheat oven to 350º F. Lightly grease 18 wells in standard-sized muffin tins.

On a generously floured surface, roll dough to a thickness between 1/8 and 1/4 inch. Using a 3¾-to 4-inch flower-shaped cookie cutter, stamp out 18 flowers (re-roll scraps if needed).

Gently transfer the dough to muffin tins, tucking each flower into one of the cups. With a toothpick or sharp skewer, prick holes in the dough around the bottom edge of the cup, about 1/8 to 1/4 inch apart, adding a few holes in the center as well.

Bake until the cookies feel just set and begin to brown around top edge, about 10 to 12 minutes.

Remove from oven and let cool in the muffin pans for about 5 minutes. Loosen the cups with a thin metal spatula before allowing them to cool completely in the muffin pans.
Assembly
Once the cups have cooled completely, pipe or spoon prepared mandarin curd into them and chill uncovered until ready to serve.

Just before serving, beat heavy cream with confectioners' sugar and vanilla until it just holds stiff peaks.

Pipe or spoon the whipped cream on top of each tart. Garnish with candied orange wedges or fresh mandarin sections and sprinkle with dried rose petals, if desired.
Some of the links in this post are affiliate links. If you click through and make a purchase, I earn a small commission for my referral at no additional cost to you. Thank you for supporting Flour Arrangements.
YOU MIGHT ALSO LIKE
Little Lime Tarts in Graham Cracker Cups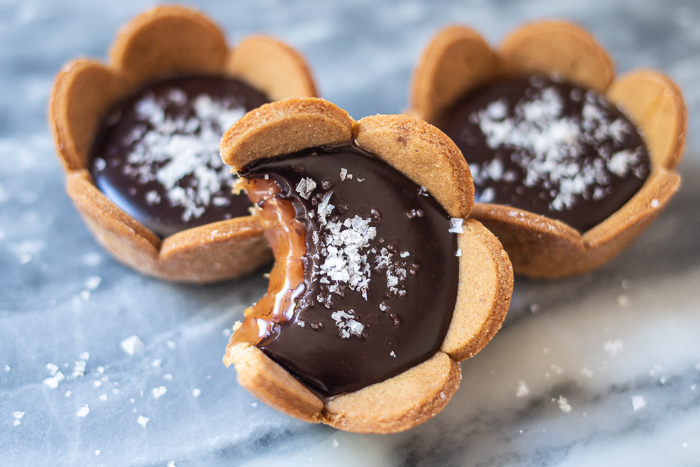 Mini Salted Caramel Chocolate Tarts in Gingerbread Cookie Cups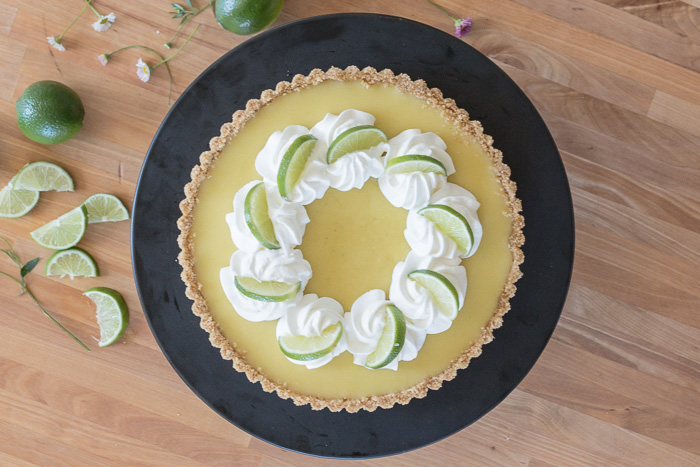 Margarita Tart with Tortilla Chip Crust