Light and crunchy, these grapefruit meringues have all the sweetness of a ruby red grapefruit without its bitter edge. They taste spectacular on their own or as crisp accompaniment to a bowl of ice cream or fresh berries and cream.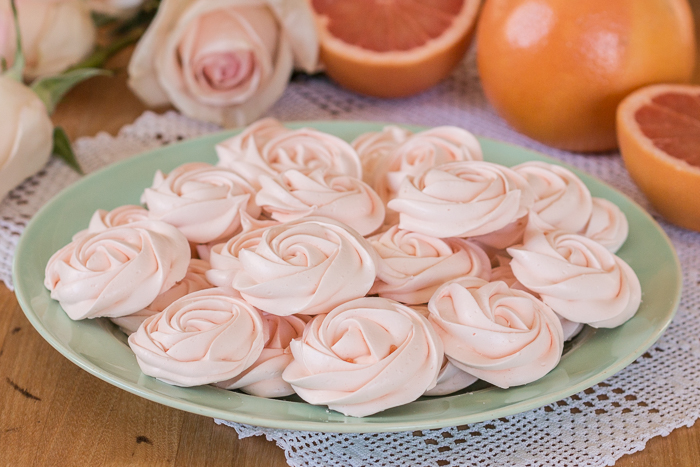 A friend once told me that the best time to plant fruit trees is 10 years ago. This simple wisdom has stuck with me ever since.
When we bought our house four years ago, the first thing we did was start planting fruit trees. In addition to an apple tree, we've planted eight citrus trees.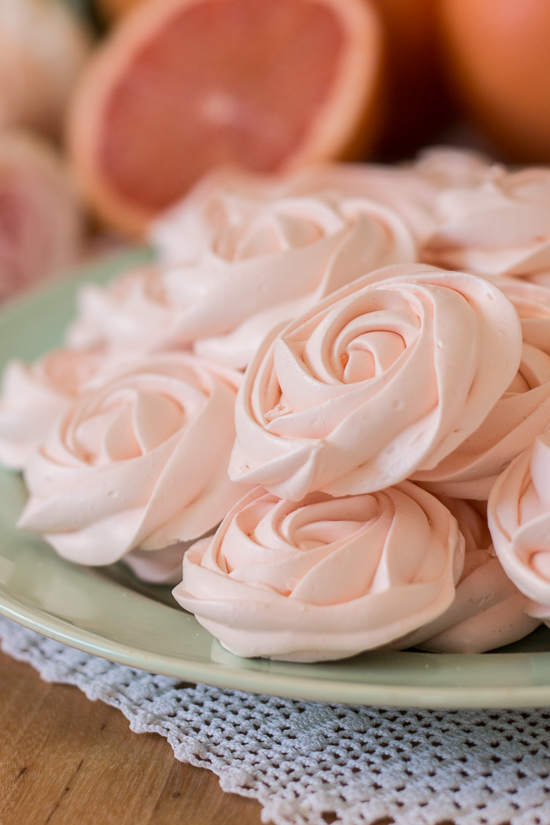 We have a tiny yard, so this tells you something about our love for citrus. Most of these we started from young, tiny trees, so our citrus — two kinds of lemon, lime, mandarin, tangelo, mandarinquat, kumquat, and grapefruit — have some growing to do before they start producing.
We planted the grapefruit tree for Tessa, who would gladly eat a whole grapefruit for breakfast every day. Hopefully we'll enjoy the fruits of our labors before 10 years pass since Tessa will be practically grown up by then.
Recently our grapefruit-loving girl asked if I would make some kind of grapefruit dessert, so I zested one and mixed its fragrant skin it into some billowy white meringue.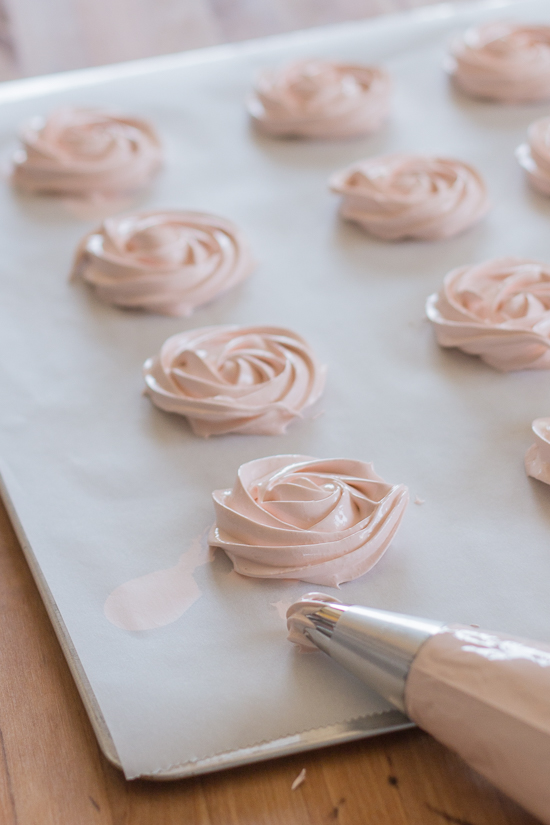 I added a few drops of color to match the pale pinky-orange of the grapefruit and piped small roses since they're Tessa's favorite flower. With their peachy hue, they turned out so pretty and feminine. I could totally picture them as an edible wedding or bridal shower decoration.
While they looked lovely, my first pass at grapefruit meringues tasted way too bitter for me. Tessa and others loved them, assuring me that — since grapefruit is known for bitterness — they were perfect.
While I agree that grapefruit has a bitter edge, I wanted the finish of these meringues to focus on the awesome sweetness of a perfect ruby red grapefruit rather than the fruit's harsh flavor.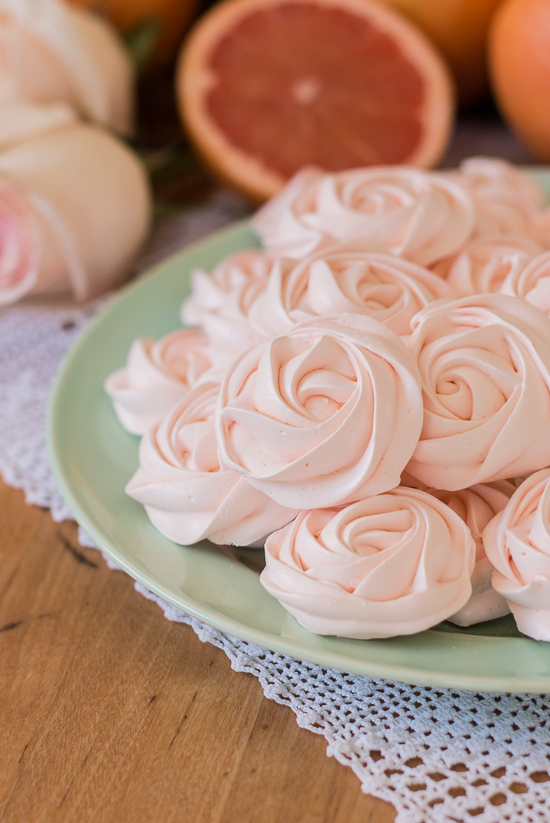 After a few experiments, I found that I could eliminate the most of the bitterness by combining the zest with a bit of grapefruit juice and mashing it all together to extract the fragrant oils from the skin. Separating the zest and adding just the liquid to the meringue left the bitter peel behind.
Finally I felt happy about them.
I love crunching into to the light, fruity meringues all by themselves, but they're equally delicious as a sweet accompaniment to a bowl of ice cream or fresh berries and lightly whipped cream.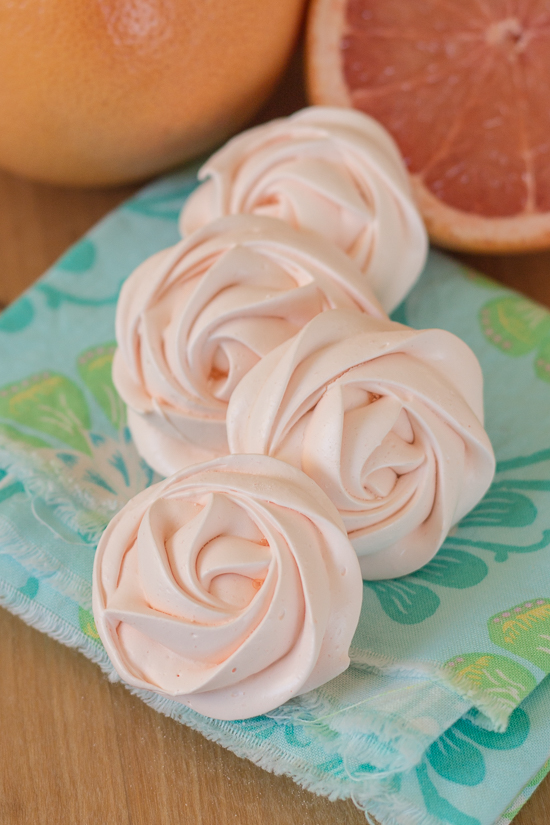 This recipe requires only four ingredients, some gentle heat, a standing electric mixer, and patience.
Piping the grapefruit meringues as roses gives them an elegant feel, but they would also be lovely spooned in dollops on a baking sheet if you don't have piping bags or tips.
They're simple, really, and fun to make. In fact, I can't wait to prepare them again with Tessa, who proved an expert strawberry meringue heart-maker this past Valentine's Day.
Happy baking!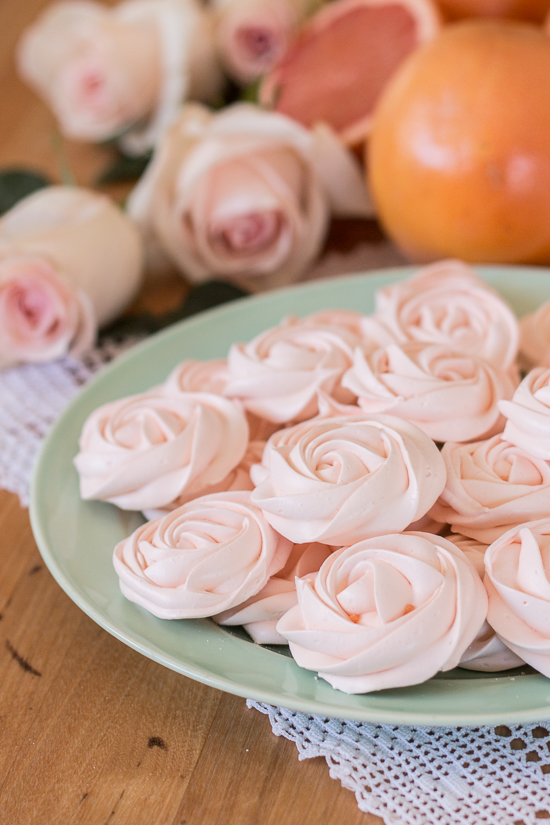 Print Recipe
Grapefruit Meringues
For best results, use an organic or pesticide free grapefruit that smell fragrant and sweet. Be sure to wash the fruit before zesting.
Ingredients
1/2

cup

egg whites

(from 3 to 4 eggs)

1

cup + 1 tablespoon

granulated sugar

1

large grapefruit

1 to 2

drops

pink and orange food coloring

if desired
Instructions
Preheat oven to 200º F. Line two baking sheets with parchment paper.

Add egg whites and sugar to the bowl of a standing electric mixer. Whisk to combine. Set bowl over a saucepan filled with just enough simmering water to heat the egg mixture without touching the bottom of the bowl. Stir constantly with a silicone spatula, scraping down the sides frequently until the sugar melts and the mixture reaches 140º F (once the mixture begins to lose its grittiness, check frequently with an instant-read thermometer).

Carefully transfer the hot bowl to a mixer fitted with the whisk attachment. Whisk on high speed until the meringue is fluffy and has cooled to room temperature (this will take some time).

In the meantime, zest the grapefruit into a small bowl, working carefully to remove the topmost layer. Once finished, slice grapefruit in half and squeeze 2 teaspoons of the juice into the bowl with the zest. Mix well and mash with the side of a silicone spatula.

Once the meringue has cooled, press the grapefruit solids to one side of the bowl. Reduce mixer speed and pour the liquid into the meringue (it's okay if a few stray bits of zest pour in with the liquid). Add food coloring, if using. Whisk on high speed until evenly combined.

Fit a pastry bag with a large star tip (Wilton

1M

or

2D

work great) and fill the bag with the meringue. Remove parchment paper from the baking sheets and add a dab of the remaining meringue on the spatula or whisk to the four corners of each baking sheet (this will help the parchment stick to the baking sheets during piping). Replace parchment paper and smooth it down over the sticky meringue.

To pipe roses, begin piping in a spiral outward from a central point. After completing about 1 1/2 rotations, begin releasing the pressure slowly as you continue dragging the tip in a circular motion.

Bake meringues in preheated oven until crisp but not browned, about 2 to 3 hours. Let meringues cool completely in the oven with the heat turned off. Store in an airtight container for up to a week.
Some of the links in this post are affiliate links. If you click through and make a purchase, I earn a small commission for my referral at no additional cost to you. Thank you for supporting Flour Arrangements.
PIN GRAPEFRUIT MERINGUES FOR LATER

YOU MIGHT ALSO LIKE
Cactus Meringues
Strawberry Meringue Hearts