Crunchy and salty, with bursts of garlic, onion, sesame, and poppy seeds, this Everything Popcorn is the best thing since sliced everything bagels. Give your next batch of popcorn some serious flavor by stirring in homemade everything mix.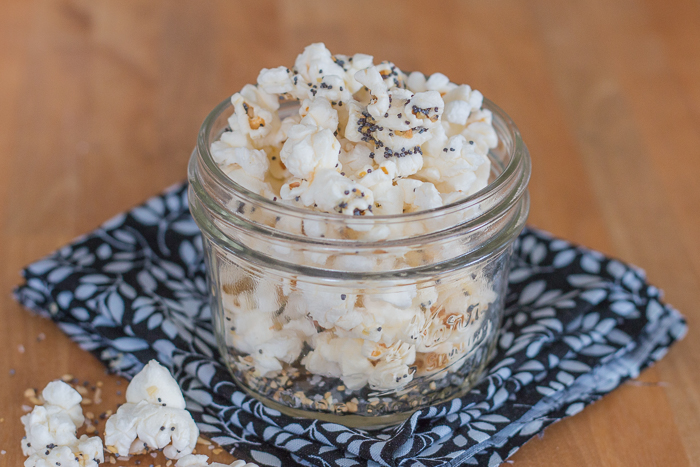 I sometimes wish I had kept track of the sheer quantity of popcorn I've popped over the years.
From popping it for movie nights, for stringing it on Christmas trees, and for devouring with my daughter Eliza when she gets home from school everyday, I've popped no small amount of popcorn.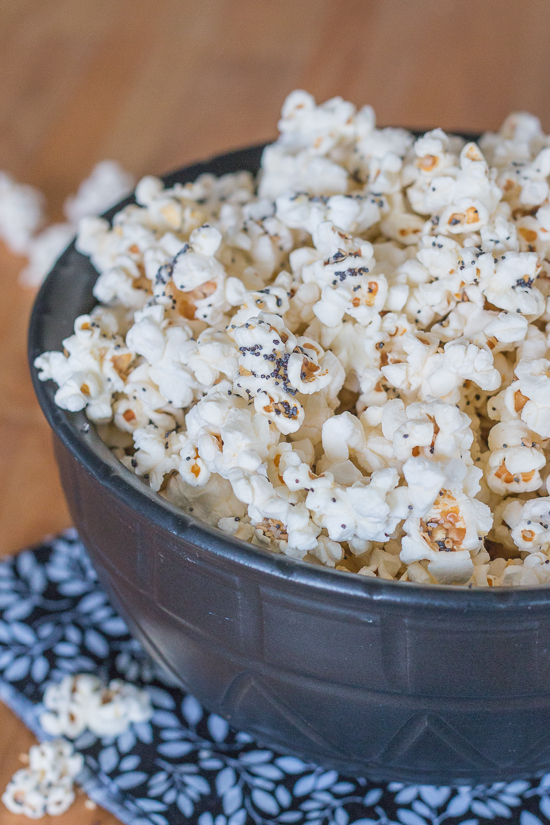 Of course there are plenty of methods for popping popcorn. You can pop it in a paper bag in the microwave or heat it in a pot on the stove. There's even a purpose-built, hand crank popcorn pot for stove-top use out there. If you're super adventurous , you can get all Martha Stewart-y and pop it right off the cob (which totally works, by the way).
I've tried them all, but I always come back to my air popper.
Some close family friends gave me my air popper as a high school graduation present, and, after all these years of hard work, it's still going strong.
Since it's almost June, which means graduation's just around the corner, I couldn't help sharing this fun gift idea. While it's true that I still have a letter opener that I got when I graduated, there's really no other high school graduation gift that I still use nearly 30 years later.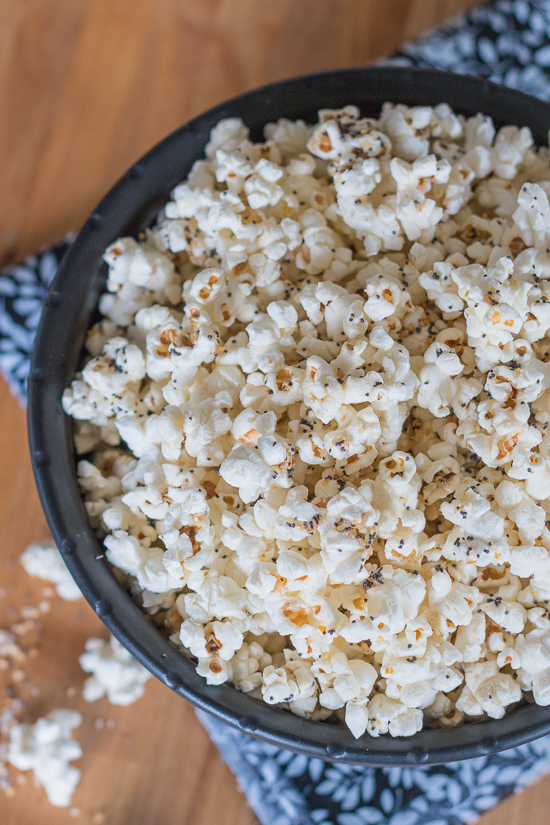 It's the gift that keeps on giving. Whenever I pop popcorn, I always think fondly about the friends who had the sweet (well, okay, savory) idea of giving me an air popper.
Long-term usefulness aside, a popcorn popper is the perfect gift for students heading off to college. Here's why:
Popcorn is an inexpensive snack for cash-strapped students.
Popcorn kernels don't take up much space in a small dorm room, and they don't need refrigeration.
Popcorn is a great late-night study snack.
The smell of popcorn wafting through a dorm full of hungry undergrads has a way of helping new college students make friends.
The ability to prepare this simple, yet gourmet recipe will help your favorite soon-to-be undergrads knock the socks off all their new-found friends.
Everything Popcorn takes the awesome combination of flavors on an everything bagel — poppy seeds, toasted sesame seeds, dried minced garlic, dried minced onion, and salt — and mixes it into freshly popped popcorn.
If you're a fan of the everything bagel, you're going to love this popcorn!
With ingredients from just four spice jars, some salt, and butter or olive oil, you can transform a humble bowl of popcorn into something spectacular.
Actually, this everything spice mixture works well with, well, pretty much everything.
Last night, my daughter sprinkled some on her beef noodle bowl during dinner. After she raved about it, I tossed some in my bowl, too.
Mind blown, people. I totally recommend it.
From now on, it's everything mix on everything, starting with popcorn. Ready, set, go!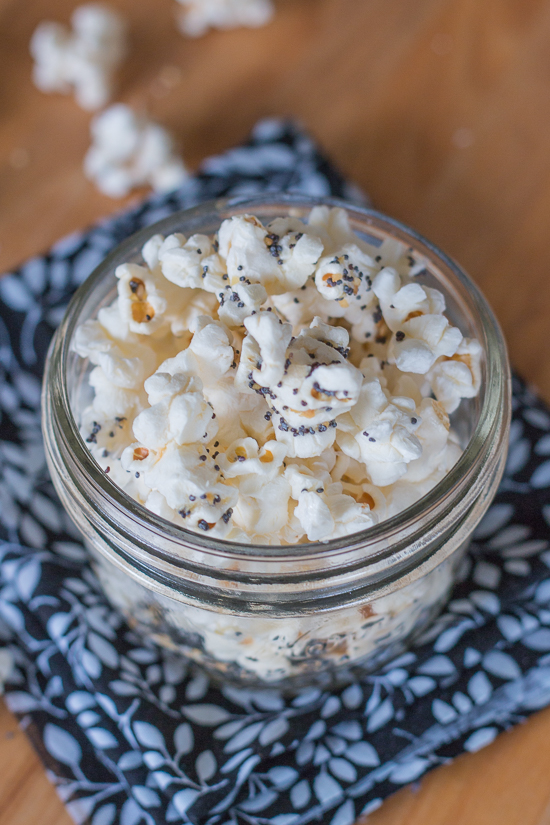 And don't forget to order up popcorn makers for your favorite high school graduates.
When I went to order one for my niece who graduates this weekend, I learned, sadly, that the Wear-Ever Popcorn Pumper I use is no longer made. Fortunately, there are plenty of air poppers available. Here's hoping they last as long as mine has!
Now go make some Everything Popcorn!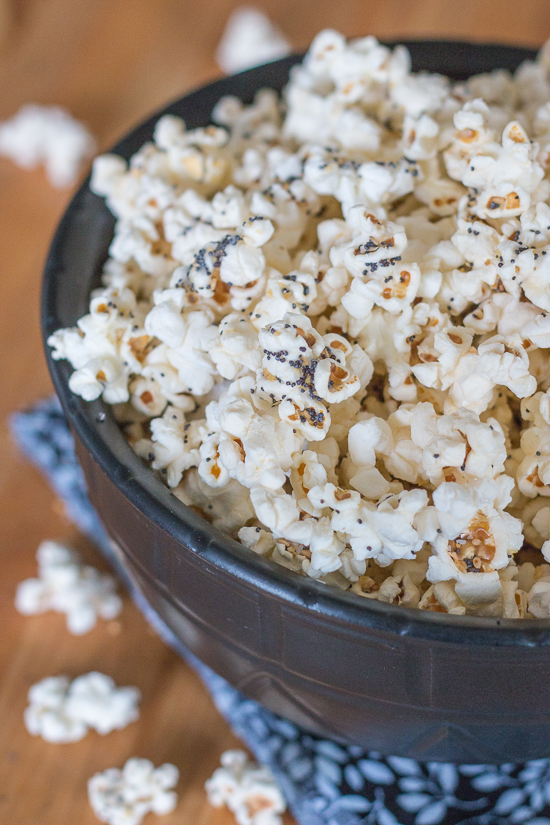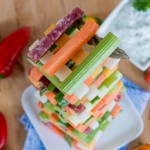 Print Recipe
Everything Popcorn
I recommend sprinkling this everything spice mixture on pretty much anything savory. It's simple to prepare, and it's an easy way to add serious flavor to anything you're eating.
Servings:
4
to 6. Makes about 8 cups.
Ingredients
1/2

cup

popcorn kernels

1/4

cup

butter or olive oil

2

teaspoons

poppy seeds

2

teaspoons

toasted sesame seeds

2

teaspoons

dried minced garlic

2

teaspoons

dried minced onion

1/2

teaspoon

salt
Instructions
Pop popcorn kernels into a large bowl according to popcorn popper's directions.

In the meantime, melt butter (or measure olive oil) and set aside. In a small bowl, combine remaining ingredients.

Once popcorn has popped, combine seed mixture with the butter or oil and immediately pour it over the popcorn (if you let it sit, the garlic and onion absorb too much of the butter/oil, which makes it hard to mix in).

Stir well with a large spoon, scraping up the sticky seed, garlic, and onion mixture from the bottom and wiping it off the spoon (fingers work best) and back into the popcorn as you mix.

Transfer popcorn to serving bowls. Scoop up any of the remaining seed mixture and sprinkle it atop the prepared bowls. Enjoy!
Some of the links in this post are affiliate links. If you click through and make a purchase, I earn a small commission for my referral at no additional cost to you. Thank you for supporting Flour Arrangements.
PIN EVERYTHING POPCORN FOR LATER

You might also like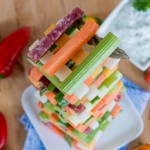 Jenga Veggie Tower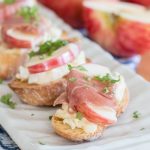 Apple & Cambozola Crostini
Cheese-Stuffed Monkey Bread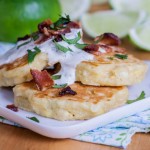 Savory Corn Pancakes