Plenty of roasted garlic, fresh rosemary, and Parmesan cheese make this garlic and rosemary focaccia super flavorful. It's perfect with a bowl of soup, alongside a hearty salad, or served with dinner instead of traditional rolls.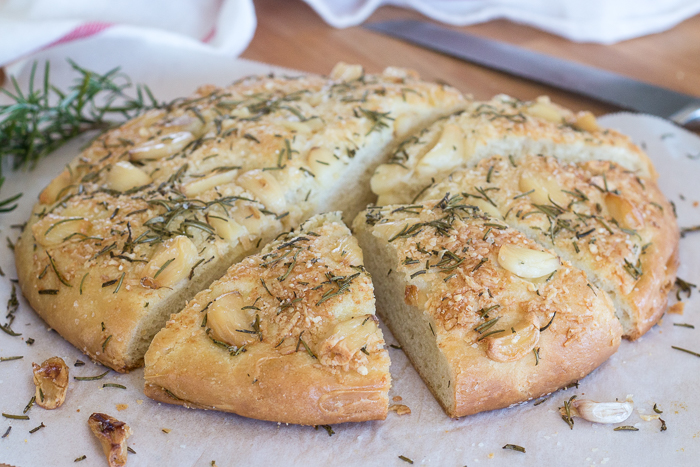 When my kids wanted to bake the other day, I felt the need to distract them from their natural inclination to bake dessert. I don't have anything against dessert, but we always seem to have more than our share at our house.
Since we'd planned to have pasta for dinner, it wasn't hard convincing them that preparing an Italian-style bread was a good idea, so we decided to mix up some focaccia dough.
Once we settled on going savory instead of sweet, we went all the way by roasting two whole heads of garlic for our focaccia. To round out the flavors, Tessa snipped some sprigs of rosemary from our yard, and Eliza grated fresh Parmesan.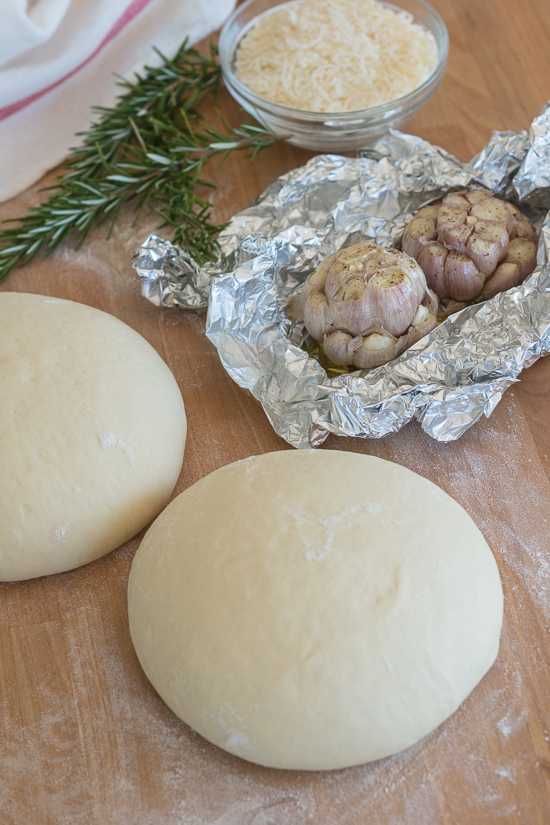 The girls each shaped a round, and they loved poking indentions with their fingertips across the dough's smooth surface before adding the toppings.
Sliced into generous wedges, this tender garlic and rosemary focaccia is a great alternative to traditional dinner rolls. It's light but chewy and works especially well for mopping up pasta sauce.
We found it so addictive that we couldn't help but finish one whole loaf of it with our dinner — between just the four of us.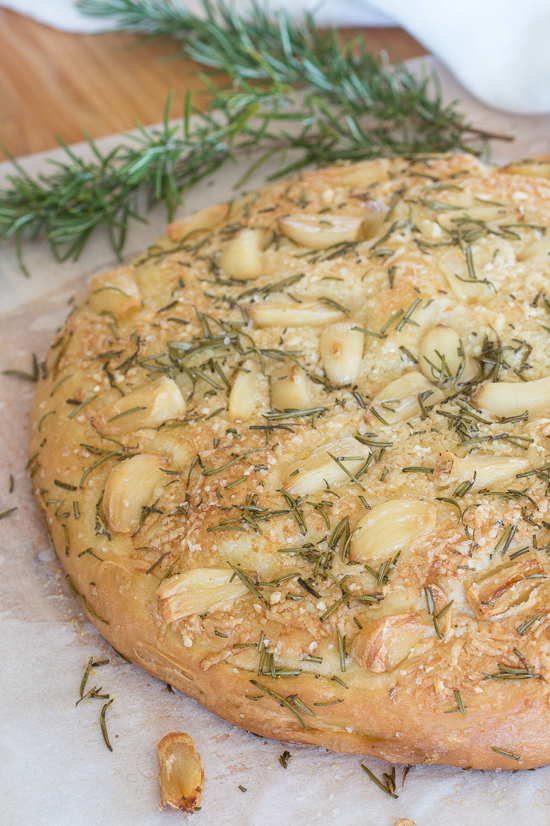 The following day, we turned the remaining foccacia round into a giant sandwich. Slicing the whole thing in half lengthwise and layering a variety of lunch meats, cheeses, and spreads between the two halves turns it into one impressive sandwich. I'd kind of love to see someone pick one of these up and chomp into it, but really, it's best sliced into wedges and shared.
Adding a selection of fillings randomly across the bottom half is an easy, fun way to create a variety of sandwiches for a crowd. Once cut into pie-shaped wedges, each sandwich will include a unique combination of meats, cheeses, and other fixings.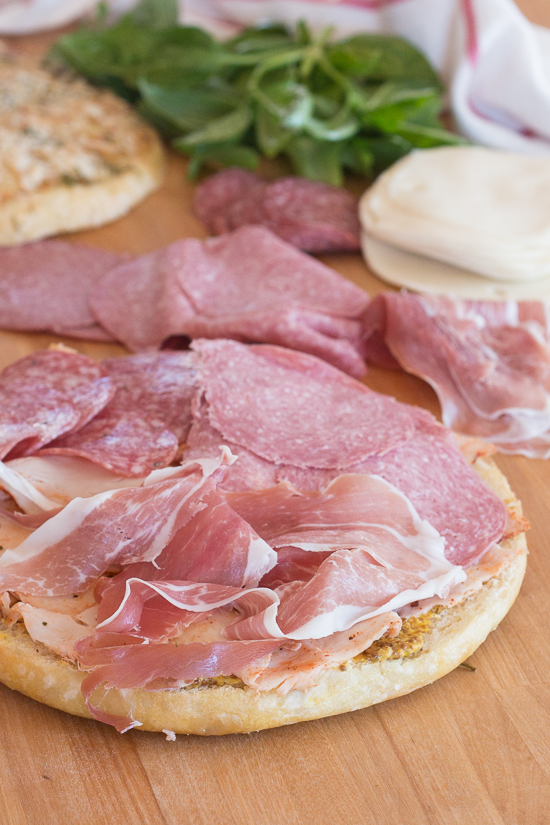 This simple, no fuss sandwich makes packing for picnics a breeze. We actually strapped the whole sandwich to a cutting board with plastic wrap and tucked it in a backpack.
Realizing that serving a large sandwich without a knife would be a problem, we made a cardboard sheath from an old box and packing tape so we could take our serrated knife along.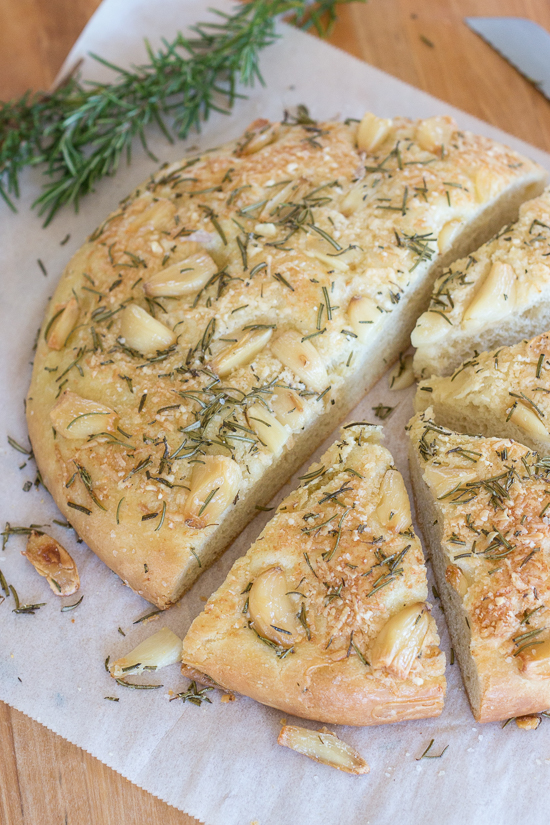 However you decide to enjoy your focaccia rounds, this garlic and rosemary version will not disappoint. And while this combination of toppings tastes especially delicious, I recommend experimenting with with other toppings based on personal taste or what you happen to have on hand at any given time.
If you come up with a perfect combination, let me know! I love trying out new ideas!
Happy baking!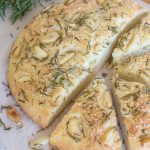 Print Recipe
Garlic and Rosemary Focaccia
Makes two 8 to 9-inch focaccia rounds. Slice in generous wedges to enjoy with dinner or turn the whole loaves into giant sandwiches to serve in wedge-shaped slices for easy picnic or party food.
Ingredients
Dough

1 1/2

cups

warm water

1

tablespoon

active dry yeast

1

teaspoon

sugar

3 1/2 to 4

cups

unbleached all-purpose flour

1

teaspoon

kosher salt

1/4

cup

olive oil

cornmeal

for sprinkling

Toppings

2

heads garlic

1/2-3/4

cups

olive oil

divided

kosher salt

to taste

1

cup

freshly grated Parmesan cheese

1/4

cup

coarsely chopped fresh rosemary
Instructions
Preheat oven to 350º F. Remove outer layer of papery skin from the two garlic heads, leaving the skin intact around individual garlic cloves. Using a sharp knife, cut 1/4 to a 1/2 inch from the tops of the cloves. Place them on a sheet of foil and drizzle about a tablespoon of olive oil over each head. Sprinkle salt over the tops. Wrap the foil around the heads to make a sealed package. Roast for 35 minutes. After removing garlic from oven to cool slightly, increase heat to 400º F.

In the meantime, combine water, yeast, and the sugar in the bowl of a standing electric mixer. Stir to dissolve and let stand until it becomes foamy, about 5 minutes. Add 2 cups of the flour, the salt, and olive oil and mix to combine with a wooden spoon. Add remaining flour, about 1/2 cup at a time, mixing until a thick, sticky dough forms.

Using the mixer's dough hook, knead the dough until smooth and slightly sticky, about five minutes. Scrape the dough into a lightly oiled bowl and let it rest, covered, for about 30 minutes.

Turn the dough out on a lightly floured work surface and divide it in two. Shape each piece into a tight ball and let them rest, covered with plastic wrap, on a floured surface for about 20 minutes.

In the meantime, prepare the toppings. Squeeze garlic cloves from their papery wrappings. They will not feel done, but don't worry -- they'll continue roasting as the foccacia bakes. Slice any especially large cloves. Set aside.

Flatten each ball of dough into an 8 to 9-inch round about 1/2 to 1 inch-thick. Transfer them to parchment-lined baking sheets sprinkled with cornmeal.

Using your fingertips, poke indentions across the surface of each round. Drizzle about 1 tablespoon olive oil over the surface of each one and spread it evenly over the top. Sprinkle cheese over the olive oil before adding garlic and rosemary. Drizzle several tablespoons of olive oil over the surface of each loaf and then sprinkle them generously with kosher salt.

Bake until golden brown on top and bottom, about 30 to 35 minutes. Serve warm.
Pin Garlic and Rosemary Focaccia Recipe For Later
You might also like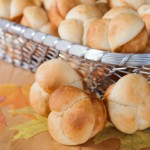 Buttermilk Dinner Rolls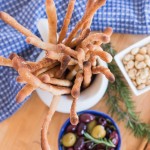 Garlic and Rosemary Grissini
Stuffed Pizza Rolls
Cheese-Stuffed Dinner Rolls