Add some zing to your breakfast routine with these bright and flavorful lemon-lime pancakes. While this simple recipe comes together quickly, it makes breakfast feel like a special occasion.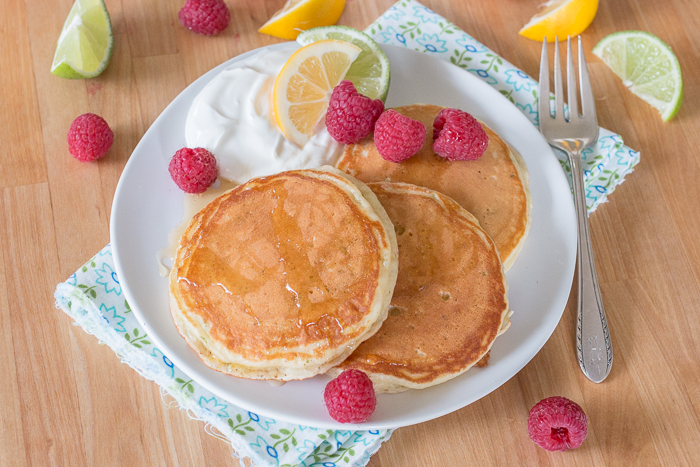 On the weekends, my daughter Tessa loves to make pancakes for breakfast. I'm usually still trying to sleep when she starts talking about recipes with my husband, but somehow, once they start chatting, my ears perk up and I can't help but join them in the kitchen.
Our lemon tree is full of ripe fruit right now, so I loved hearing her mention lemon pancakes the other day. Since we had a bunch of limes in our fruit bowl, too, I suggested that she try making lemon-lime pancakes to blend these two tart citrus flavors together.
The first time Tessa made these pancakes, they turned out light, tender, and full of bright citrus flavor. When I tried to make them again later, they weren't nearly as tasty.
We finally figured out that Tessa had used way more juice and zest than the recipe listed. No wonder!
After increasing the citrus and making a few other adjustments to streamline the recipe, like swapping in Greek yogurt for milk and sour cream, we had a perfect recipe.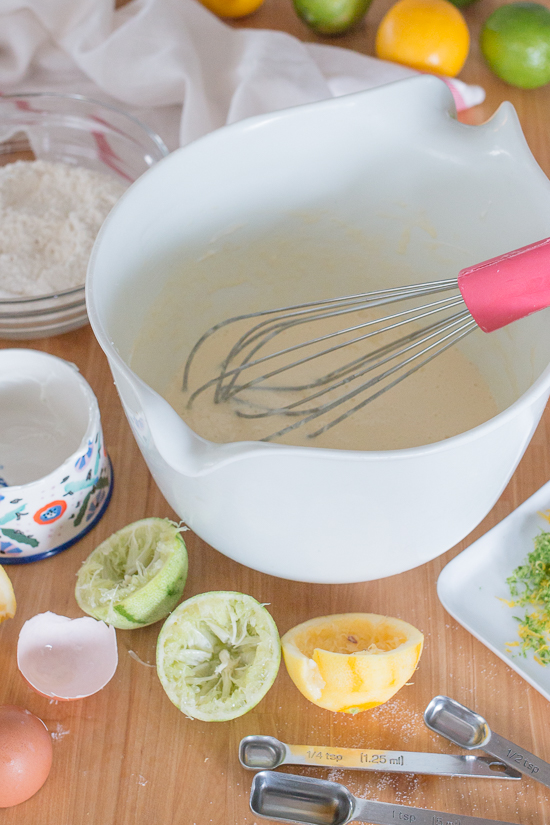 Despite its ease, this quick, simple recipe somehow feels fancier than traditional pancakes. With a heaping spoonful of Greek yogurt, some honey or maple syrup, and a handful of fresh berries, these sweet, tart pancakes will get any morning off to an excellent start.
While we typically mix up pancakes only on the weekend, we always make extra to freeze for busy weekday mornings. With their bold citrus flavor, these lemon-lime pancakes reheat especially well. Just warm them in a toaster oven and serve.
The generous quantity of citrus juice makes this batter bubble up like crazy. It may need an an extra stir or two right before you add it to the griddle, but don't beat it into submission; its frothy texture make the pancakes super light and lovely.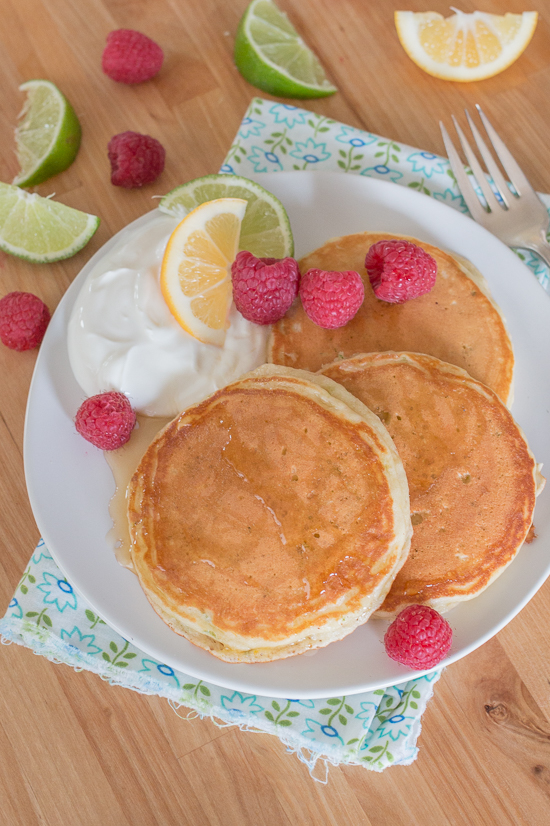 These lemon-lime pancakes — whether freshly made or reheated in the toaster oven — often get eaten before they make it to the plate.
With their sunshiny citrus flavor, they're a great way to brighten up your morning. You're going to love them!
Print Recipe
Lemon-Lime Pancakes
Makes about twelve 4-inch pancakes.
Ingredients
1

cup

Greek yogurt

not non-fat

1/3

cup

granulated sugar

1/3

cup

fresh citrus juice

from about 1 lemon and 2 limes

3

tablespoons

unsalted butter

melted and slightly cooled

1

large egg

1 1/2

teaspoon

vanilla extract

1

cup

all-purpose flour

1 1/2

teaspoon

baking powder

1/2

baking soda

1/4

teaspoon

salt

zest 1 lemon

2 limes
Instructions
Whisk yogurt, sugar, citrus juice, egg, and vanilla extract in a large bowl. In a separate bowl, combine flour, baking powder, baking soda, and salt, whisking to mix well.

Add dry ingredients to the wet, whisking until just combined. Fold in zest. If the batter is too bubbly to work with, give it an extra stir or two before proceeding.

Using a ¼ cup measure, add batter to a lightly greased griddle or skillet preheated to medium-high. Gently nudge the thick batter into rounds.

Cook until you can see steam rising from the pancakes, about 2 to 3 minutes. Flip with a thin, wide spatula and cook until golden brown on the second side, about 2 minutes more.

Serve immediately or keep pancakes warm in an oven heated to 200º F until ready to serve. Top with Greek yogurt, fresh berries, and honey or maple syrup.
Pin Lemon-Lime Pancakes for Later

You might also like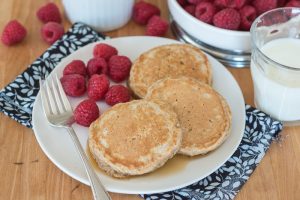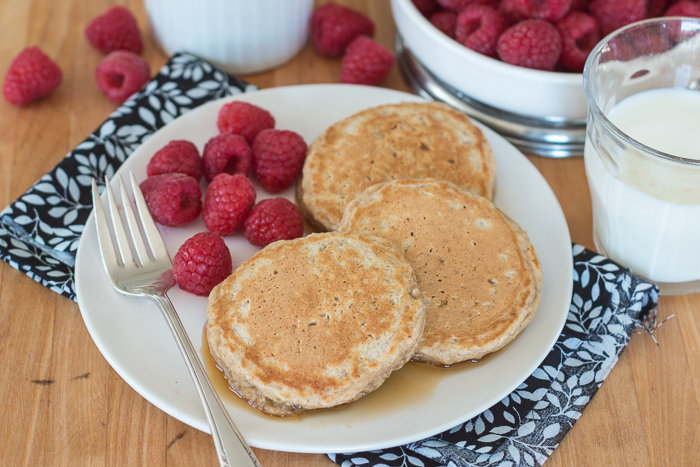 Maple Cinnamon Oatmeal Pancakes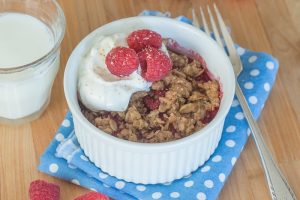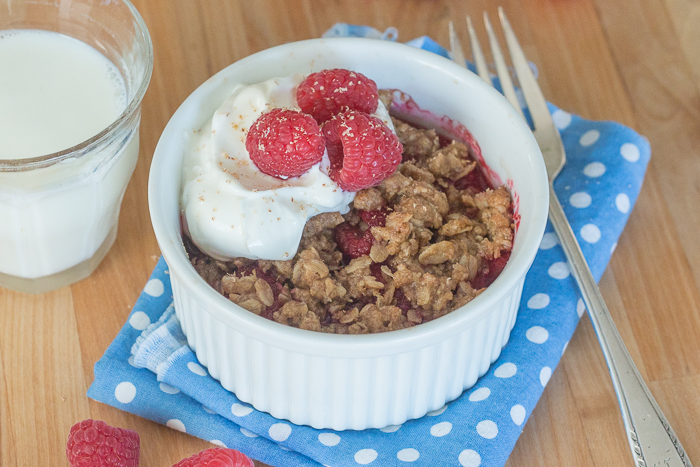 Single-Serving Breakfast Crisp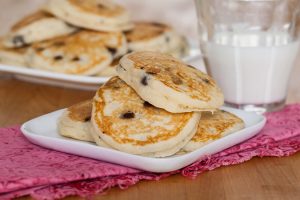 Chocolate Chip Pancakes