Sweet red pears blend perfectly with pungent Gorgonzola and aromatic sage in this flavorful, comforting risotto. Dispensing with the constant stirring typically associated with risotto preparation, this red pear risotto with Gorgonzola and sage recipe comes together easily and efficiently.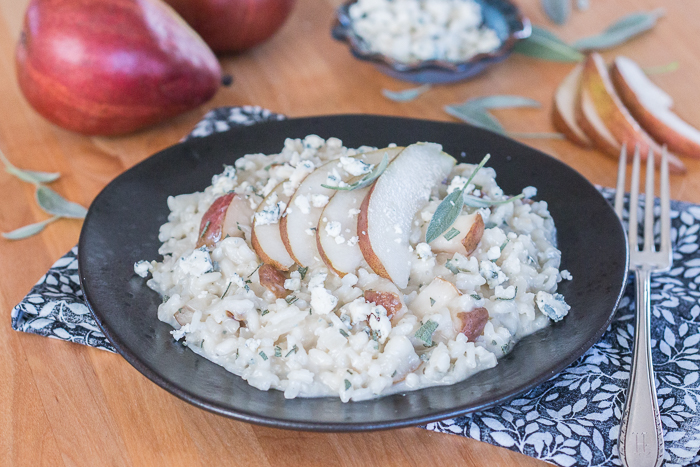 When pears are ripe and in season, my family can't get enough of them. While this sweet, delicate fruit tastes perfect fresh, I can't resist finding ways to use them in the kitchen.
Of course pears taste fantastic baked into sweet breakfasts and desserts, but they shine with sweet bursts of flavor in savory dishes as well.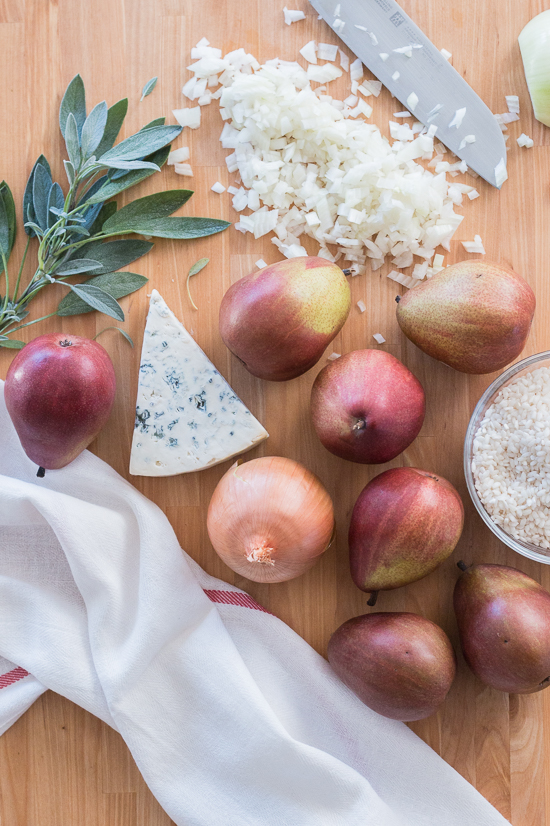 When I brought home some red pears the other day, my husband asked if I planned to make red pear risotto, one of his all time favorite meals. This flavorful risotto features sharp, tangy Gorgonzola cheese and fresh, aromatic sage to offset the pears' sweetness.
Many people associate risotto-making with constant stirring and frequent additions of simmering broth, but ever since a former chef shared his method for preparing risotto at a high end restaurant, I've taken an easier route.
Adding much of the broth to the rice and simmering it under a lid provides a simple, effective work-around to the traditional method of attending continuously to the risotto. Lifting the lid every now and again to give the mixture a quick stir and add more broth, if needed, removes much of the effort from the process.
Why stir constantly if you can prepare just-tender grains of rice in a velvety base without wielding a spoon in front of the stove for 20 minutes?
Use the time instead to prep additions to the risotto. In this case, halve, core, and dice ripe red pears. Crumble some salty, pungent Gorgonzola cheese. Chop fresh leaves of fragrant, woolly sage.
When you've dispensed with the prep work, mix up a quick salad or do the dishes. If you haven't already, pour yourself a generous glass of the wine you opened to prepare the risotto.
Once it's finally time to stir in final ingredients and serve, your kitchen should be relatively clean, and you should feel relaxed and ready to savor a delicious meal.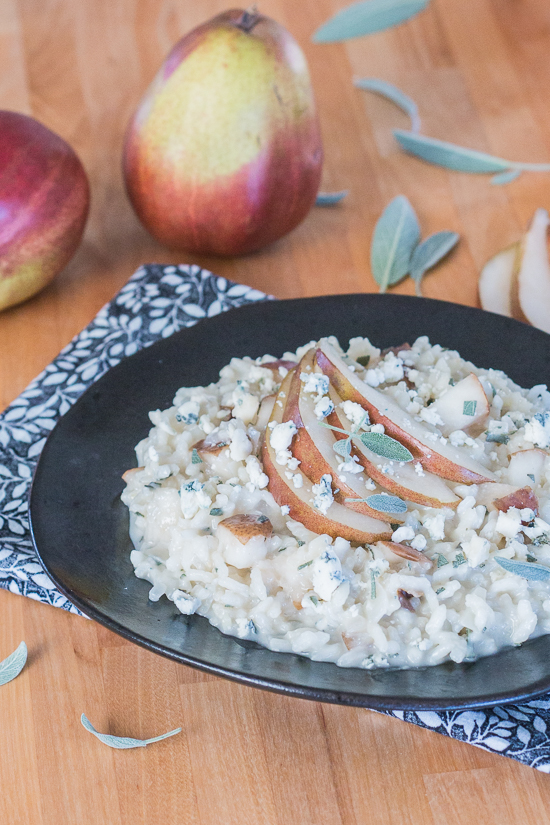 While some people argue that risotto requires constant stirring and incremental additions of steaming broth to achieve a perfect texture and silky smoothness, I am not one of them. This efficient method works just right, and I won't stick to tradition without good reason.
Bon appetite!
Pin Red Pear Risotto with Gorgonzola and Sage for Later

You might also like