Lightly crisped on the outside, tender and delicate on inside, these rich, buttery Stovetop Biscuits make an incredible addition to almost any meal.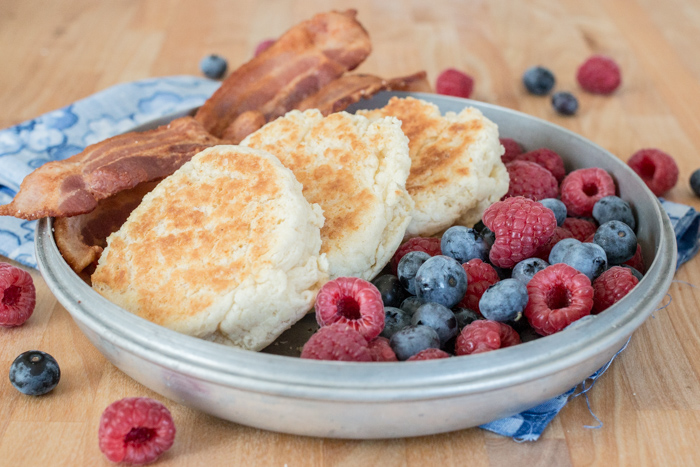 Breakfast always tastes better around a campfire, especially when it includes Stovetop Biscuits. These simple skillet biscuits don't require rolling and cutting, which makes them perfect for cooking outdoors.
At home or by the campfire, I can't understand how a recipe with just five basic ingredients — flour, baking powder, salt, butter, and milk — can taste so delicious.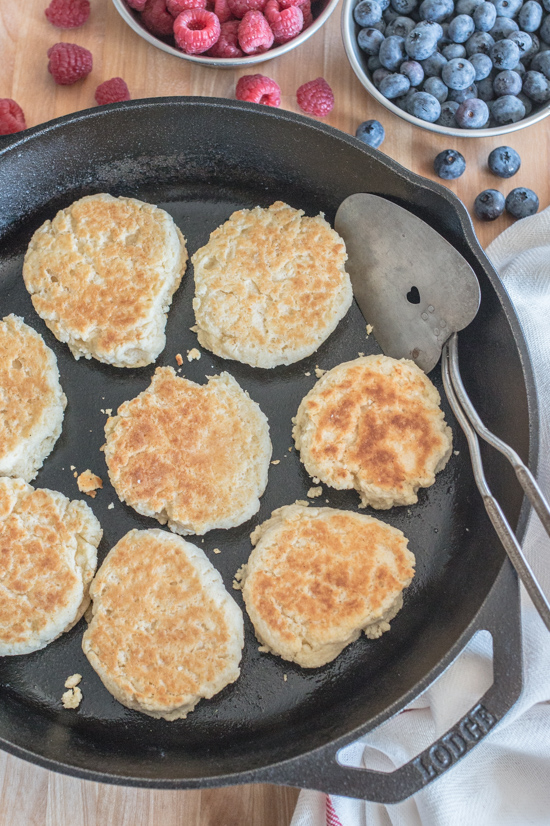 Cooking in a skillet greased with butter (or better yet, bacon drippings) gives the biscuits a lightly crisped exterior with just enough bite to sink your teeth into as you meet their delicate, tender interior.
Impossibly addictive, they deliver a luxurious buttery experience without feeling too rich or unctuous.
While this recipe is simple enough to make at the campsite, I usually prep the dry ingredients and mix in the butter at home. The mixture keeps well in a zip-lock bag tucked into a cooler for several days.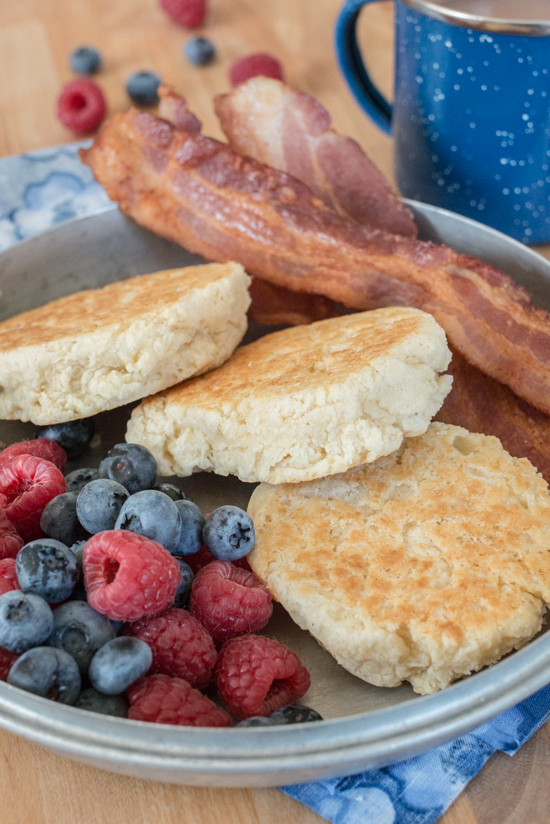 When it's time to cook the biscuits, transfer the mixture to a bowl, drizzle milk over the top, and toss the ingredients until just combined. You definitely want to use a light hand — the more you mix, the less tender and fluffy your biscuits will be.
I always bring along my 1/4-cup cookie scoop, which makes it easy to size the biscuits and drop them in the hot skillet, but a measuring cup works well, too.
Camp stoves are notoriously bad at maintaining a low temperature, which is essential for this recipe. When I first started making these skillet biscuits, I kept burning them!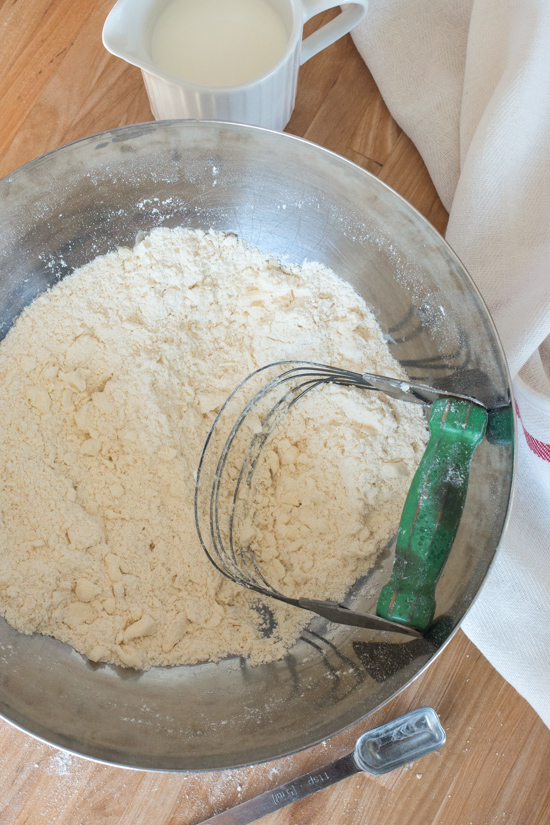 I learned to watch them carefully and turn off the flame if pan gets too hot. Because cast iron holds the heat for some time, the biscuits continue cooking just fine.
We eventually picked up a diffuser to bring along with us, which makes it much easier to prepare these biscuits over a camp stove.
Stovetop Biscuits are one of my family's camping essentials, but we enjoy them at home, too. In addition to serving them for breakfast, they make an ideal accompaniment to lamb stew, chicken noodle soup, or beef brisket.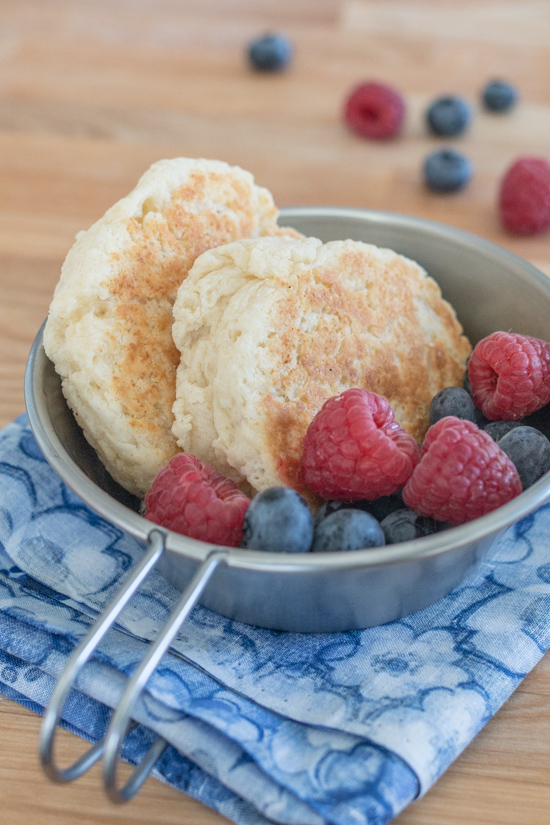 My kids love to make them as a snack after school, which they can do without my help. Since they do such an excellent job preparing Stovetop Biscuits, I think I'll ask them to mix up a few batches for our trip to Yosemite this weekend.
That'll give me more time to bake brownies, which we need for brownie s'mores, obviously.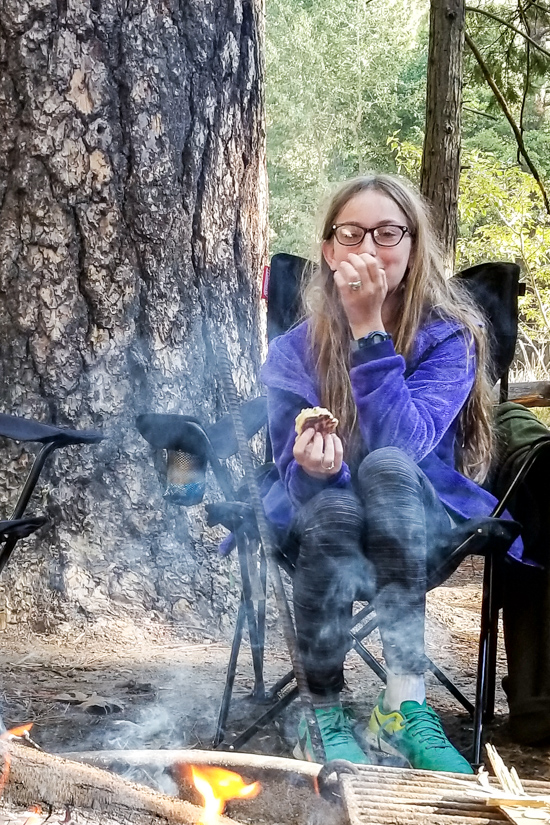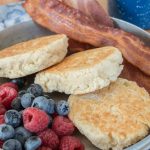 Print Recipe
Stovetop Biscuits
If preparing biscuits on a camp stove, turn the flame as low as you possibly can without letting it go out. Check the biscuits frequently; if they seem to be cooking too quickly, turn off the burner and continue cooking on the cast iron surface, which will hold its heat for some time. Makes 8 biscuits.
Ingredients
1½

cups

unbleached all-purpose flour

2

teaspoons

baking powder

1

teaspoon

coarse kosher salt

1/2

cup

cold, unsalted butter

plus more for cooking

¾

cup

whole milk
Instructions
Set a large cast iron skillet or griddle over low heat.

Measure flour, baking powder, and salt into a large bowl; whisk to combine.

Chop the butter into 1/4-inch pieces and toss them into the dry ingredients to coat with flour. Working quickly with your fingers or a pastry blender, rub or cut the butter into the flour until it resembles coarse meal.

Add milk and stir until a slightly sticky, shaggy dough forms; do not over-mix.

Add a tablespoon or two of butter or bacon grease to the preheated skillet/griddle.

Using a 1/4-cup scoop or measuring cup, transfer 8 evenly-sized mounds of the dough to the hot surface. Butter the bottom of a flat measuring cup and gently flatten the biscuits.

Cook the biscuits over low heat until steam begins to rise from their tops and the cooked side turns golden brown, about 8 to 10 minutes. Flip the biscuits over and continue cooking for an additional 8 to 10 minutes until the remaining side turns golden brown and the biscuits are cooked through.
Some of the links in this post are affiliate links. If you click through and make a purchase, I earn a small commission for my referral at no additional cost to you. Thank you for supporting Flour Arrangements.

YOU MIGHT ALSO LIKE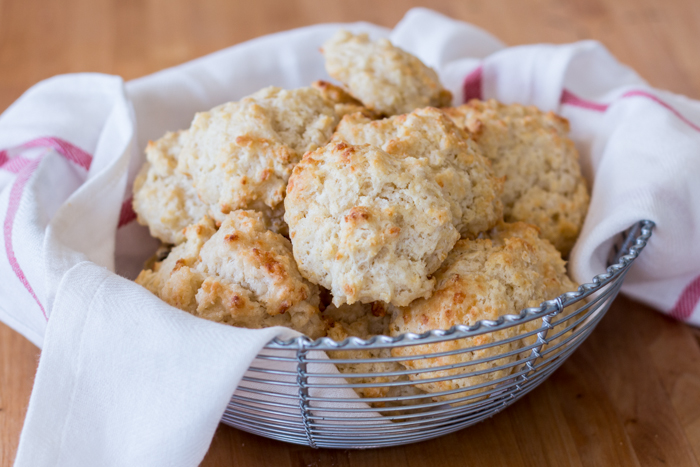 Easy Cheddar Drop Biscuits