Supple and tender, with just enough chewiness, these Homemade Flour Tortillas provide a perfect vehicle for tacos, enchiladas, or quesadillas.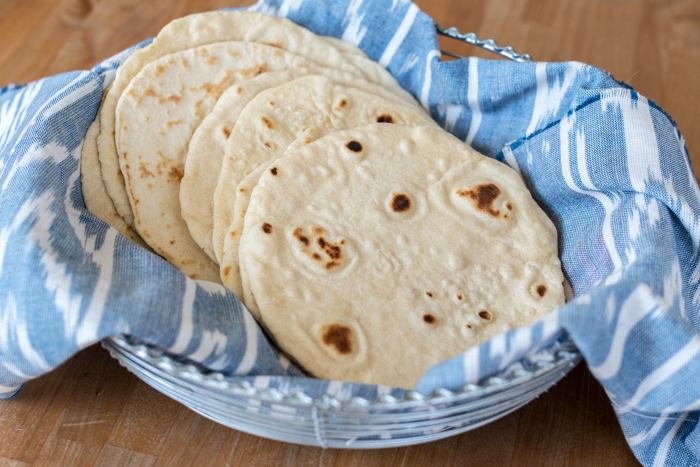 In the lead up to PG&E's massive planned power outage in California last week, I shopped for some simple meals that wouldn't require electricity to prepare.
I'm lucky enough to have a gas stove, which means that even without electricity, our dinner options can include favorites like chili, spaghetti and meatballs, and tacos. As long as I have a match to get the stove going, we should be able to eat well, even in the dark.
Since I'd gotten used to cooking on one small burner while we renovated our kitchen recently, cooking on our new stove with five burners — even without electricity — meant we'd have more possibilities for dinner than we did for most of last year.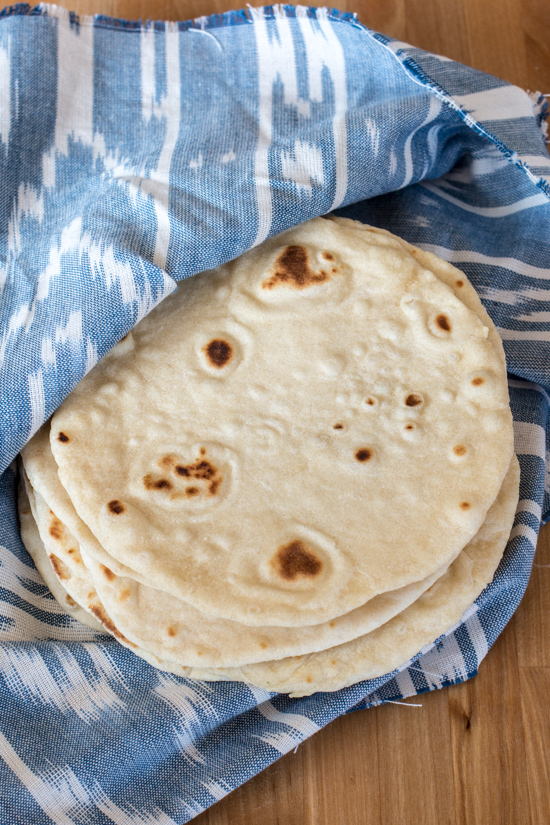 Plenty of burners meant I could make Homemade Flour Tortillas and prepare taco meat at the same time!
There's just no comparison between store-brought tortillas and these fresh, warm rounds of goodness. The minimal effort required to turn five ingredients — flour, salt, baking powder, lard, and water — into tender, supple homemade tortillas is well worth it.
If you're squeamish about using lard, or just don't have it on hand, replace it with vegetable oil. The tortillas work out great with either fat.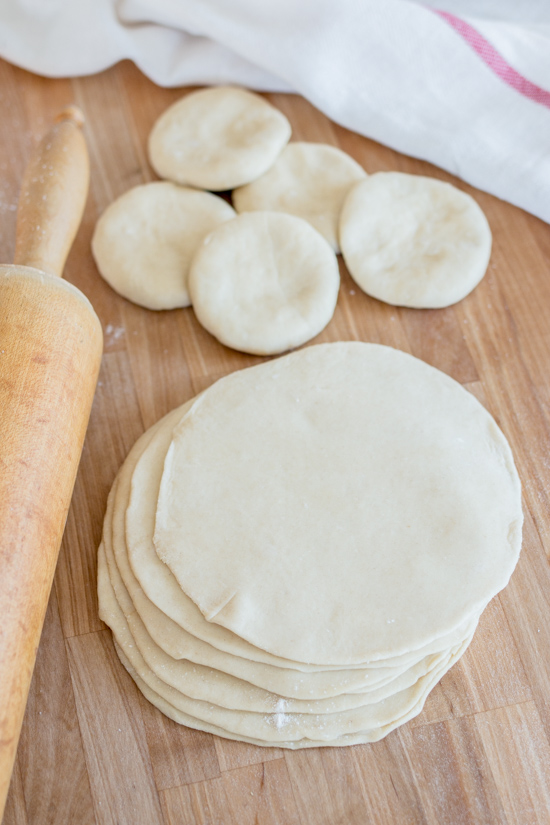 Mix the dry ingredients in a bowl, cut in the lard, drizzle water over the top, stir together until the mixture comes together, and knead it into a smooth dough. No electricity required!
After dividing and rolling the dough into balls, flatten them slightly and let them rest. I recommend letting the dough sit for about 20 minutes, which relaxes the dough and makes it much easier to roll into even rounds.
The thinly rolled dough needs very little time in a hot skillet to cook. I usually use an infrared surface thermometer to check that the pan is hot enough — around 400º F — before starting. I've wasted too much time trying to cook tortillas at lower temperatures. It's agonizing really, waiting for them to finish, especially if you're using a single pan. With a hot pan, they're done in a flash!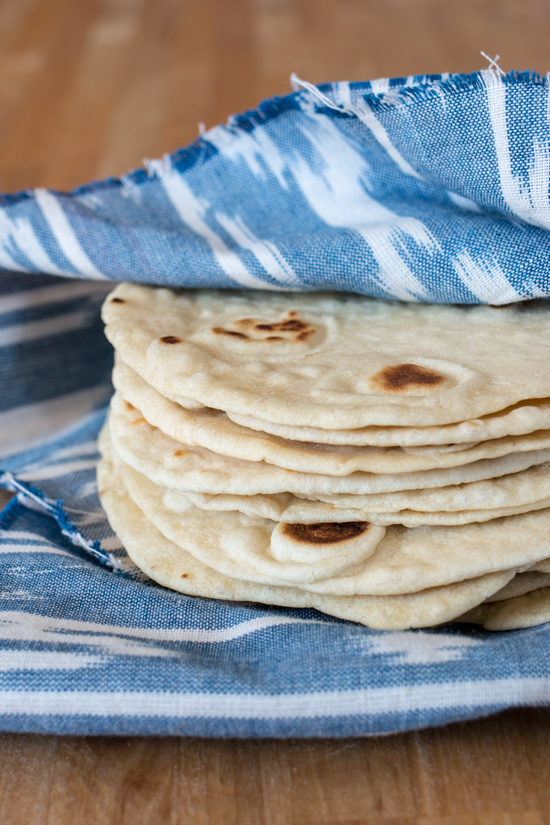 When the freshly rolled tortillas hit the pan, their smooth surface bubbles up in a super satisfying way. After about 30 seconds to 1 minute, they're ready to flip, and done in about another minute. Wrap them in a clean towel or pop them in a tortilla warmer to keep them soft and toasty until you're ready to eat.
These tender Homemade Flour Tortillas have just enough chewiness to keep them from feeling doughy. You'll love them with tacos, quesadillas, enchiladas, wrap sandwiches, or on their own with butter.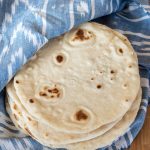 Print Recipe
Easy Homemade Flour Tortillas
Makes 12 6-inch tortillas.
Ingredients
2

cups

unbleached all-purpose flour

1 1/2

teaspoons

baking powder

1/4

teaspoon

kosher salt

2

generous tablespoons lard or vegetable oil

2/3

cup

cold water
Instructions
Toss flour, baking powder, and salt in a medium bowl.

With clean fingers or a pastry blender, rub or cut the lard into the flour until well combined (if using vegetable oil, mix it with the water and add them together).

Drizzle water over the top and stir until dough begins to clump together. Press the mixture together and knead it into a supple dough.

Divide the dough into 12 evenly-sized pieces. Roll each one into a ball and flatten it with your fingers. Cover the balls of dough with plastic wrap and let them rest for about 20 minutes.

In the meantime, heat a skillet or griddle over medium high heat (if you have an

infrared thermometer

, you're looking for around 400º F).

Using just enough flour to prevent sticking, roll rested dough into 6-inch circles with a rolling pin.

Cook tortillas on the preheated pan or griddle until they have deep golden brown spots on each side, about 30 seconds to 1 minute per side.

Cover finished tortillas with a clean towel or place them in a tortilla warmer until ready to serve.
Some of the links in this post are affiliate links. If you click through and make a purchase, I earn a small commission for my referral at no additional cost to you. Thank you for supporting Flour Arrangements.
YOU MIGHT ALSO LIKE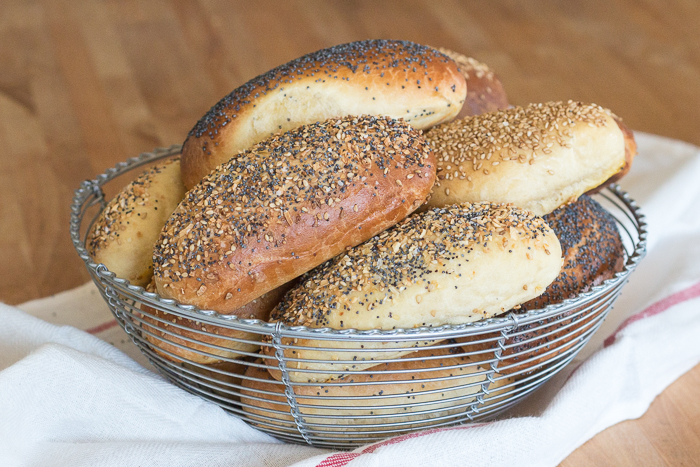 Homemade Hot Dog Buns
Easy Homemade Flatbread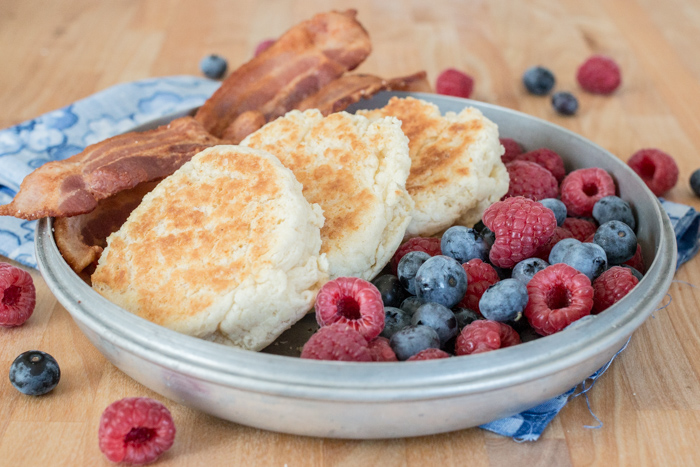 Stovetop Biscuits