Tender and rich with nuggets of fruity flavor, these Raisin Scones are a quick and easy treat. With a drizzle of vanilla glaze for sweetness, they're a perfect accompaniment to a hot mug of coffee or tea.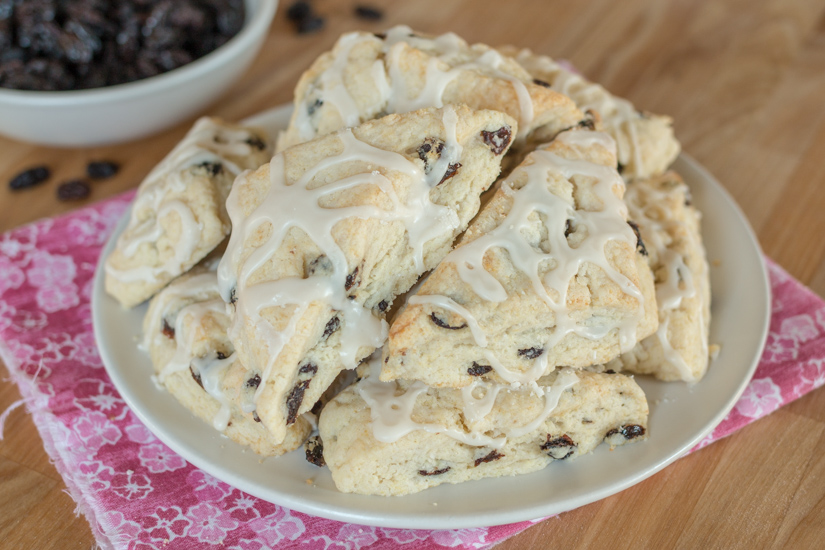 I'm hot and cold about raisins. When they're fresh, I love them.
Plump, chewy, and fruity, raisins taste great on their own or as additions to sweet or savory recipes.
Since they're dried grapes, I know raisins never really qualify as fresh, but whenever I eat a past-its-prime raisin, it puts me off them for awhile.
If you've ever accidentally eaten a handful of raisins that have been in your cupboard for too long, you know what I mean. Once they get dried out and crusty around the wrinkles, raisins take on an unpleasant gritty texture.
Rather than get rid of old raisins (or just put them back in the cupboard like I usually do), you can bake with them!
I often soak dried fruit in hot water or booze before baking with it anyway, so I decided to test plumping up some particularly wizened raisins for scones.
After soaking them in hot water for 10 minutes, the raisins lost their distasteful sandy texture. While they weren't exactly great for snacking, they were perfect for Raisin Scones!
Tender and rich with bursts of fruity flavor, these Raisin Scones are comfort food at its best. With a drizzle of vanilla glaze for sweetness, they're a perfect breakfast or snack-time treat.
I started making these scones a few years ago for my father-in-law after he mentioned that he could no longer find his favorite raisin scones to buy. Whenever we have plans to see him, I try to bake him a batch.
Since I'm always baking these scones to give away, my family hadn't actually had the chance to try them until recently. Tessa gobbled a few from my "old raisin" test batch and loved them. My husband hinted that I needed to test the recipe at least one more time, you know, to be sure I get it right.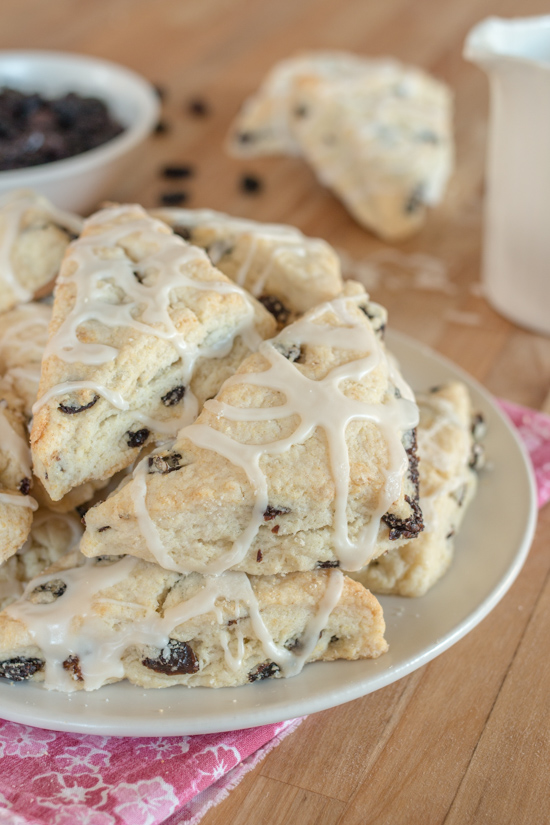 Fortunately, this recipe is easy enough for Tessa or my husband to make on their own.
Simple yet delicious, these scones make everyone happy — with the exception of my daughter Eliza, who won't eat them "because raisins."
Eliza aside, these Raisin Scones are serious crowd pleasers. My father-in-law tells me they freeze up beautifully, which means you can make them last.
Whether you mix in "fresh" or past-their prime raisins, this quick, easy recipe will wow you with its delightful and comforting simplicity.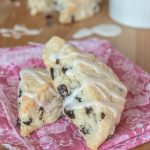 Print Recipe
Raisin Scones
Makes 18 small scones.
Ingredients
Scones

3/4

cup

raisins

1/2

cup

cold, unsalted butter

2

cups

unbleached all-purpose flour

1/4

cup

granulated sugar

1

tablespoon

baking powder

1/2

teaspoon

kosher salt

3/4 to 1

cup

heavy cream

Vanilla Glaze

1

cup

powdered sugar

1

teaspoon

vanilla extract

1

tablespoon

milk

plus more if needed
Instructions
Preheat oven to 425° F. Line a baking sheet with parchment paper.

In a small bowl, combine raisins with enough boiling water to cover. Let soak for 10 to 15 minutes before draining. Turn out well-drained raisins on a paper towel to absorb excess moisture. Set aside.

In the meantime, cut butter into ¼-inch pieces and return it to the refrigerator to keep it cold until needed.

Combine flour, sugar, baking powder, and salt in a large wide bowl. Mix to combine.

Add butter to the dry ingredients and toss it to coat with flour. Working quickly with clean fingers or a pastry blender, rub or cut butter into the flour mixture until it resembles coarse meal.

Add drained raisins to the mixture and toss to coat.

Drizzle the about 3/4 cups of the heavy cream evenly over the mixture. Toss with a fork, scraping up from the bottom until the dough starts to clump together. If needed, add remaining cream.

Knead the mixture together in the bowl until it comes together in a mass. It's okay if there are a few stray bits and dry patches; the most important thing is to avoid overworking the dough.

Turn out the dough on a parchment-lined baking sheet. Press in stray bits gently and shape the dough into a 7 to 8-inch square about 3/4-inch thick. Don't worry if it looks a bit rough and ragged.

Using a knife or bench scraper, divide the square into 9 smaller squares. Divide each square in half diagonally to make 18 small triangles.

Separate the scones carefully to give them room to spread. Bake until pale golden, about 12 to 15 minutes. Let cool at least 10 minutes before glazing.

To make the glaze, mix confectioners' sugar, milk, and vanilla extract in a small bowl until smooth. Drizzle over the scones.
YOU MIGHT ALSO LIKE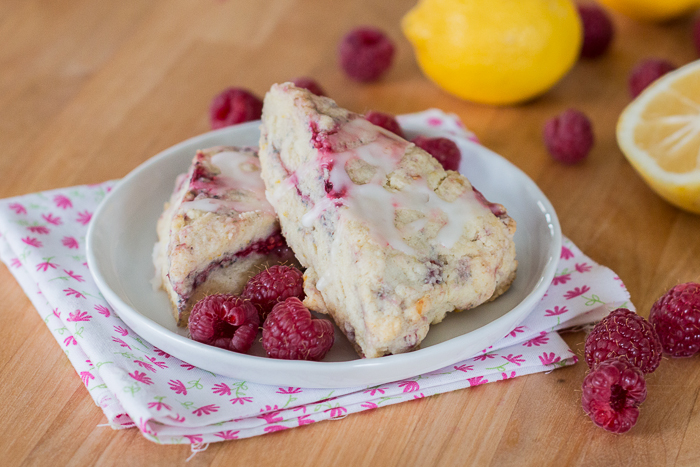 Lemon Raspberry Scones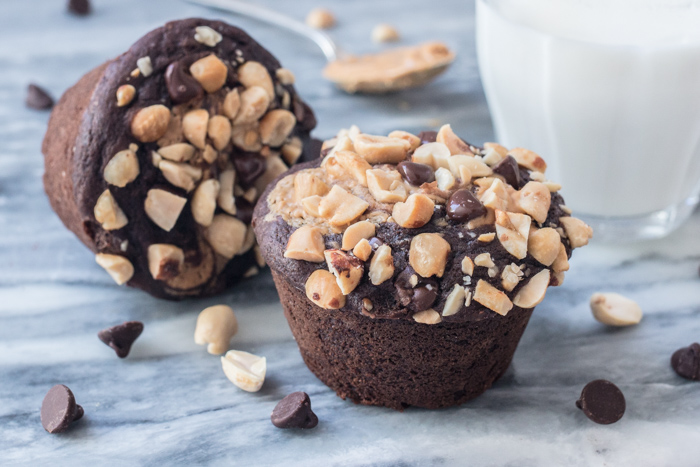 Chocolate Peanut Butter Muffins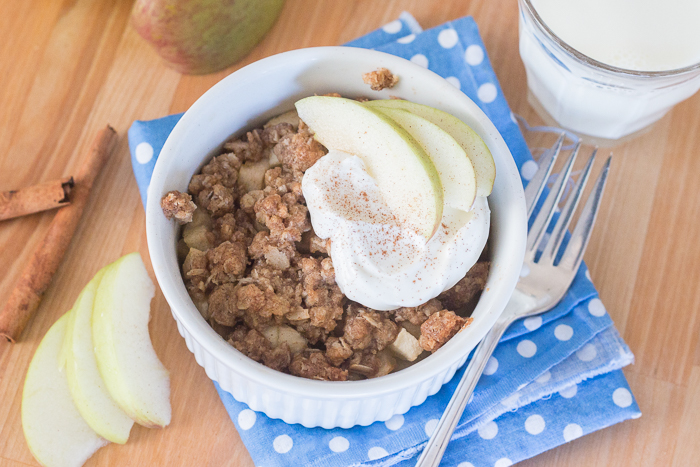 Single-Serving Breakfast Crisp