Surprise your friends and family on April Fools' Day with this comfort-food-gone-fancy Meatloaf Cake. Each slice delivers a perfect serving of savory, flavorful meatloaf covered with smooth, creamy Gruyere mashed potatoes.
My family takes April Fools' Day pranks quite seriously. One year, my older daughter started taking hard-boiled eggs to school for lunch months ahead of time to set up an early morning joke on me.
My husband plans ahead, too, doing things like freezing people's breakfast overnight and swapping See's chocolates for Brussels sprouts.
A couple of years ago at dinner time, I brought the layer cake everyone had been eyeing to the table. I suggested that we have dessert first to celebrate all the awesome jokes we'd managed to pull off for April Fools' Day.
While everyone high-fived, I cut into the cake and served up a slices. My husband asked if I'd baked a new spice cake recipe.
Finally, forks raised, everyone got a close enough look to realize that we weren't having some new spice cake for dinner at all. The layer cake they'd seen as a sweet treat was actually constructed with meatloaf and mashed potatoes rather than cake and frosting.
I still can't believe I managed to fool them for longer than about two seconds once I sliced into the cake. I can only guess that the cake's smoothly iced surface and delicate piping looked so sweet and inviting that they had no reason to question its composition, even on April Fools' Day.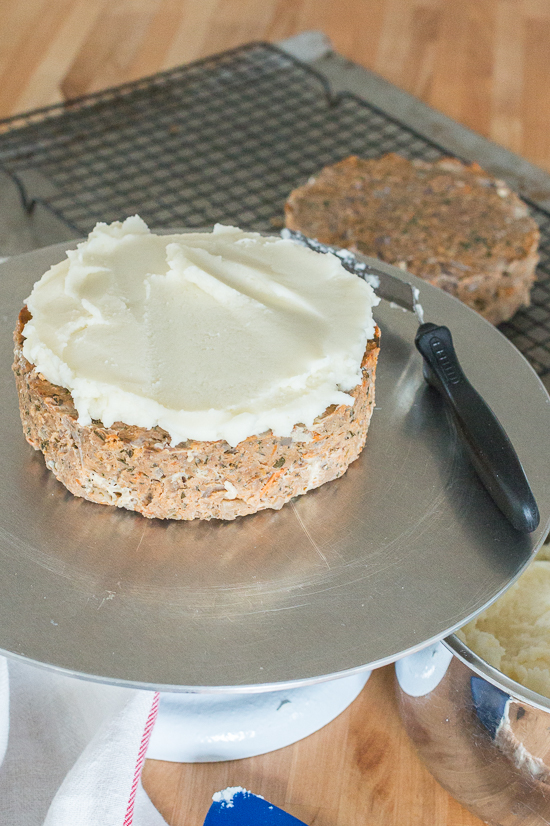 While I'll never manage to pull off this joke at my house again, I'm sharing the recipe for all the April Fools' Day-loving pranksters out there.
Also, I wanted to formalize the directions because we kind of love eating meatloaf this way. Now I can make meatloaf layer cake without trying to remember how many pounds of potatoes will create enough "frosting" to decorate the cake, as well as which cake pan size works best for baking the meatloaf.
This recipe, divided between two six-inch cake pans, produces a layer cake that will generously serve six to eight people. Splitting the filling between two pans means that it bakes more quickly than meatloaf prepared in a standard loaf pan, an added bonus if you're trying to prepare this meal on the sly.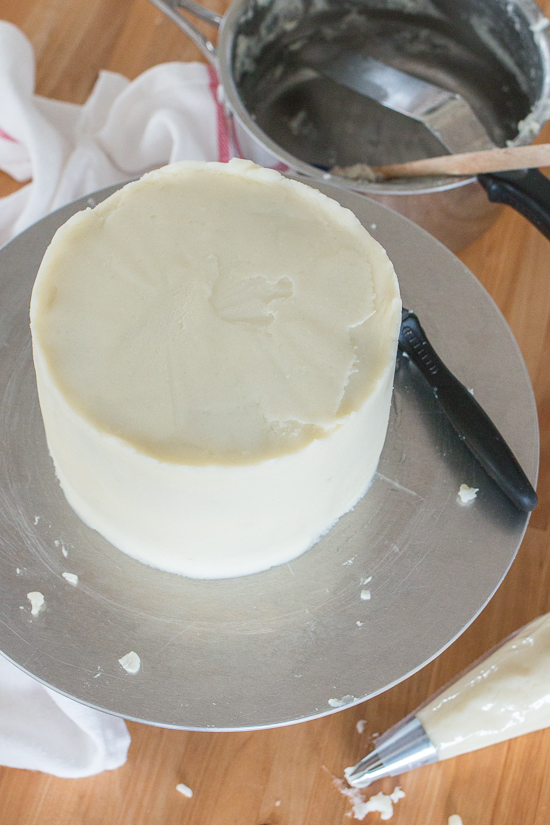 Plenty of additions — sliced onions, pressed garlic, shredded carrots, minced parsley, lightly beaten eggs, breadcrumbs, ketchup, and dried thyme — combine with lean ground beef to create a delicious balance of flavors and textures.
The mashed potatoes, mixed with buttermilk, butter, and nutty Gruyere cheese, add a smooth, delicious coating to this fancy yet comforting meal.
As I typed that list of ingredients, I realized that each slice of meatloaf layer cake includes all of the major food groups! You could totally eat a tasty wedge and call it dinner, but a side of green beans as well as crisp green salad round out the meal nicely.
Since this meatloaf cake is best assembled ahead of time, it does require reheating each slice in the microwave for full enjoyment. This small inconvenience is definitely worth the priceless reactions on the faces of your family and friends as they realize the joke.
Fortunately, the punchline of this gag tastes just as delicious as a sweet, decadent layer cake, but in a different way. It's the best kind of April Fools' joke because everyone laughs together and no one feels disappointed.
Wishing you a prank-filled April Fools' Day full of fun and laughter!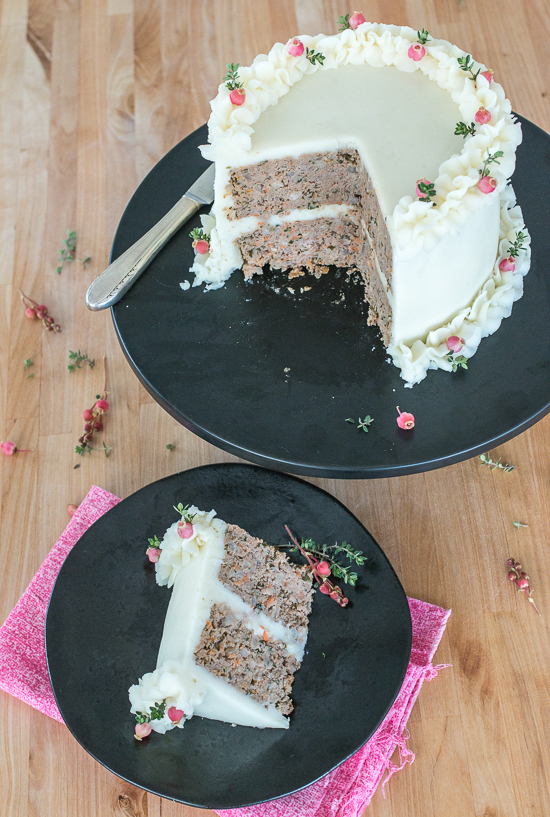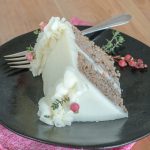 Print Recipe
April Fools' Day Meatloaf Layer Cake with Gruyere Mashed Potato Frosting
This recipe can also be baked in one 8-inch round cake pan or a 9 by 5-inch loaf pan. Baking times will vary depending on the size of your pan.
Ingredients
Meatloaf
1 1/2

cups

finely chopped onion

about 1 medium

2/3

cup

ketchup

2/3

cup

finely chopped Italian parsley

1/2

cup

finely grated carrot

about 1 medium

3

cloves

garlic

minced or pressed

3

large eggs

lightly beaten

1

teaspoon

dried thyme leaves

1

teaspoon

kosher salt

1/2

teaspoon

freshly ground black pepper

1 1/2

pounds

lean ground beef

1

cup

Panko breadcrumbs

or rolled oats for gluten free option
Gruyere Mashed Potatoes
2 1/2

pounds

potatoes

about 4 large, peeled and sliced in large chunks

3

garlic cloves

thinly sliced

1

bay leaf

1

cup

grated Gruyere cheese

1/4

cup

buttermilk or heavy cream

3

tablespoons

unsalted butter

salt

to taste
Instructions
Meatloaf
Preheat oven to 350º F. Lightly grease two 6-inch round cake pans.

Combine all the meatloaf ingredients except for the ground beef and breadcrumbs in a large bowl. Mix well to combine.

Add meat and breadcrumbs to the bowl and knead everything together gently with your hands until the mixture is well blended. Do not over mix.

Divide the mixture between prepared cake pans and bake until an instant read thermometer inserted in the center reads 160º F, about 50 to 55 minutes. Remove from the oven and let stand for 15 to 20 minutes before turning out each layer on a rack to cool to room temperature. If not frosting immediately, transfer cooled layers to the refrigerator until ready to continue.
Gruyere Mashed Potatoes
Boil potatoes, garlic, and bay leaf until the potatoes are tender.

Remove bay leaf, drain, and return potatoes and garlic to the pan, shaking over medium heat until residual water evaporates and the potatoes look dry.

Off heat, puree the potatoes with a masher or ricer, taking care to work out all the lumps.

Place pan over low heat and add Gruyere, buttermilk, and butter. Mix until the cheese and butter melt, increasing the heat slightly if needed to help the cheese incorporate smoothly into the mixture. Season with salt. If desired, beat potatoes briefly with a hand mixer or in the bowl of a standing electric mixer fitted with the paddle attachment to make sure they're extra smooth.
Assembly
Place one layer of the meatloaf cake on a platter. Spread a generous layer of mashed potatoes on the top before adding the second meatloaf layer. Add mashed potatoes to the sides and top of the meatloaf cake, smoothing the surface with an offset spatula.

Add remaining mashed potatoes to a pastry bag (or zip lock bag with the corner snipped off) fitted with a large piping tip. Pipe a mashed potato border around the top and bottom edge of the cake. If desired, decorate with edible flowers, fresh herbs, small cherry tomatoes, cocoa nibs, or candied bacon.

Refrigerate meatloaf cake until ready to serve. Reheat individual slices in the microwave after slicing.
Some of the links in this post are affiliate links. If you click through and make a purchase, I earn a small commission for my referral at no additional cost to you. Thank you for supporting Flour Arrangements.
YOU MIGHT ALSO LIKE
April Fools' Day Dessert Tacos
Cactus Meringues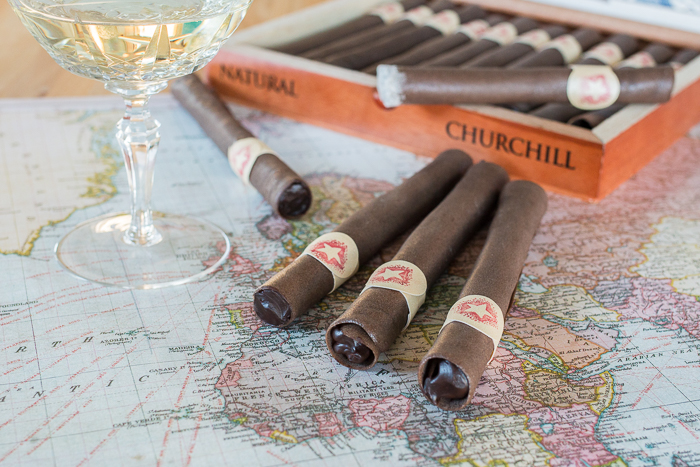 Chocolate Tuile Cigars with Whisky Ganache