Comforting and delicious, these Easy Baked Polenta Cups, which feature a thick layer of polenta mounded with rich cheese, chopped vegetables and diced meats, make a perfect dinner bar meal.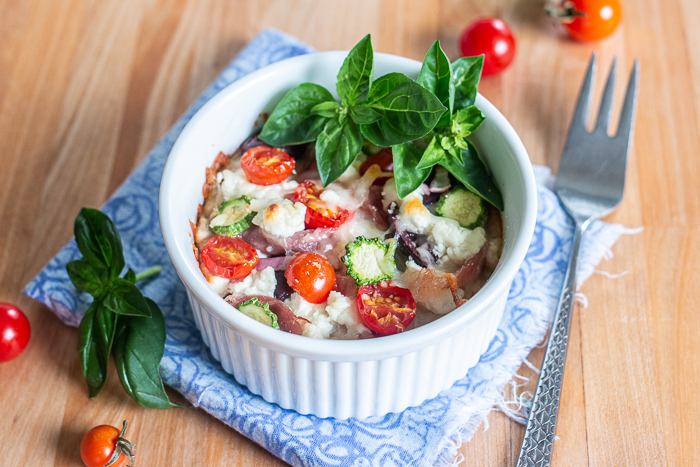 Since my kids don't like tomatoes, I typically avoid dishes that feature them prominently. Unfortunately, this means that I pass over some of my favorite recipes when I'm making dinner.
Maybe I'm a pushover, but watching my kids screw up their faces while they eat and attempt to rearrange the food on their plates doesn't make for pleasant family meal time.
That said, with lots of garden-fresh tomatoes right now, I really had a hankering for for Skillet Polenta with Tomatoes and Goat Cheese.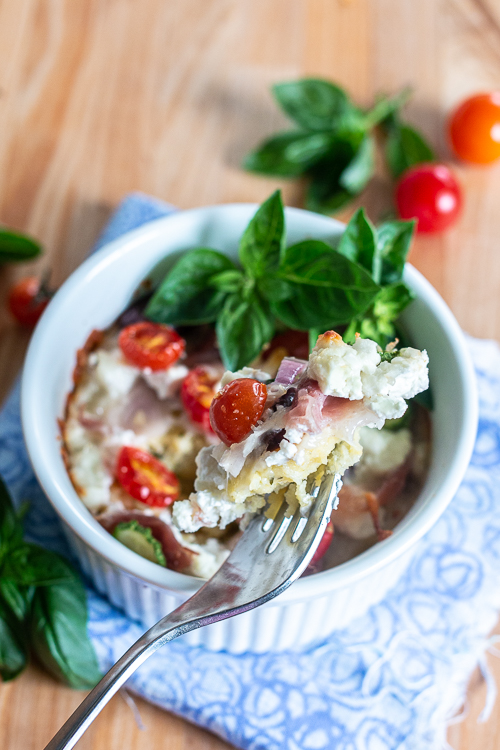 Rather than subject myself to grumbling about something I really enjoy, I created a workaround that I like even better: Easy Baked Polenta Cups!
The original dish, baked in a large skillet, features a thick layer of polenta topped with cherry tomatoes, herbs, and cheese. For this recipe, I divided the polenta between six ramekins, which meant everyone in my family can customize their own dinner and get it just right.
Preparing the Polenta Base
The polenta base comes together quickly in a saucepan on the stove. Whisk the cornmeal, salt, and water over moderate heat to thicken. It's so easy!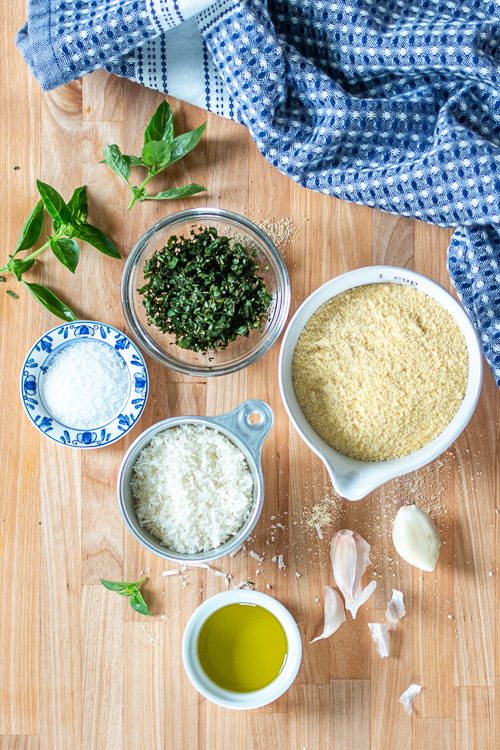 At Tessa's suggestion, I stirred Parmesan cheese, minced garlic, and chopped basil into the just-cooked polenta.
Since she usually likes simple toppings, Tessa wanted more flavor in the base. Her instincts were right on, and these additions improve the overall dish — no matter what you put on top.
Because the polenta becomes quite thick as it cooks on the stove, transferring it into small ramekins can make quite a mess.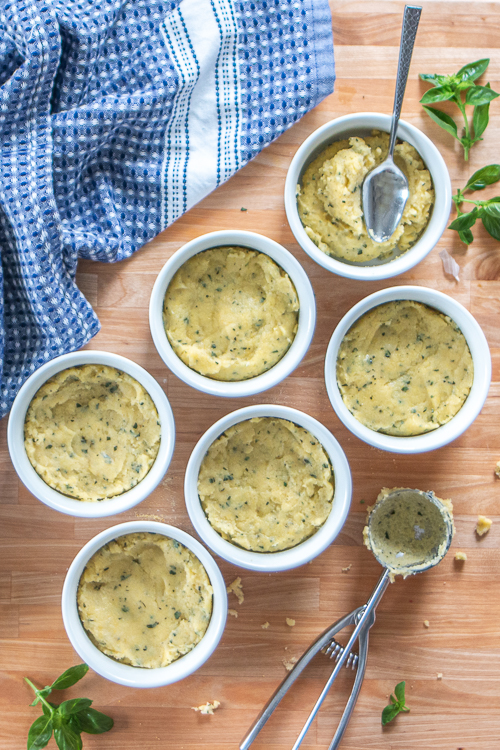 The dense, porridge-like mixture resists coming off a spoon or spatula, so using an ice cream scoop with a release lever makes this process much easier!
Once it's divided evenly between the ramekins, smooth the mounds of polenta with the back of a lightly-oiled spoon, pressing the mixture to the edges.
Adding Toppings to Polenta Cups
Individually customizable dishes add fun to mealtime. Who doesn't love a taco or pizza bar? These Baked Polenta Cups are no exception.
When we tested this recipe at my house, everyone got creative as we added toppings. I especially love seeing combinations that I wouldn't come up with on my own.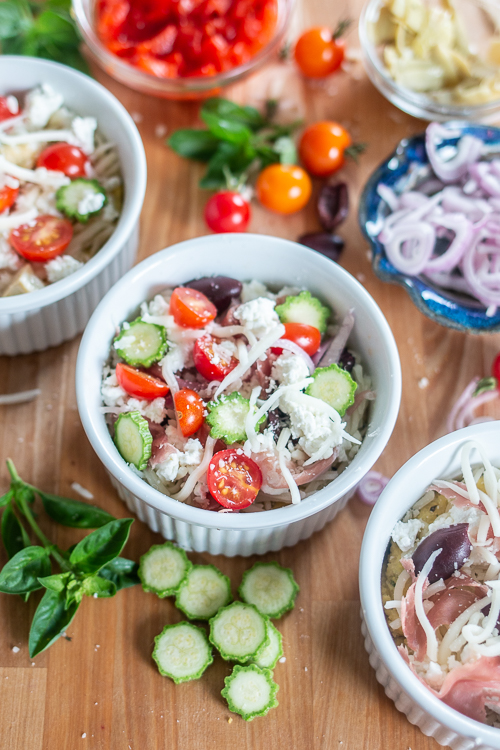 Eliza used her standard pizza toppings: olives and prosciutto. Tessa chopped up some leftover chicken for hers, while Mike spooned on a smashed meatball with tomato sauce. I topped mine with just-picked cherry tomatoes and other chopped veggies.
This recipe is a great one for making a meal out of whatever you have on hand, and it's a refreshing way to add new life to leftovers.
In addition to meats and veggies, we layered on a variety of cheeses, including mozzarella, goat, and bleu. The mozzarella melts well to bind the toppings together, while the other cheeses add flavor and richness to these little cups.
Baking Polenta Cups
Once you've topped your polenta cups to perfection, bake them in an oven preheated to 400°F until the cheese is melted and bubbling, about 20 to 25 minutes.
Right out of the oven, these cups are quite hot! Let them cool for at least 10 minutes before serving.
Make-Ahead Options
This meal works well as a make-ahead option for busy weeknight dinners or easy party planning. The polenta can be prepared and spooned into ramekins well ahead of time. Cover the cups with plastic wrap and tuck them in the refrigerator until you're ready to top them.
Topped and baked polenta cups also reheat quite well in the microwave, which provides a more streamlined plan-ahead option. It also makes for awesome leftovers!
Serving Ideas
These Easy Baked Polenta Cups provide a delicious, comforting meal in a satisfying, single-serving presentation.
These little cups are definitely on the small side — the ramekins hold one cup each. With a simple salad or hearty bowl of soup, though, they're sized just right for my family's appetite. Honestly, each time I sit down to eat one, I think it won't be enough, but, once I've finished, I realize that I'm actually full (especially lately, since we're not getting outside for exercise with all the wildfire smoke here in California).
My favorite part about this easily customized recipe is that everyone gets exactly what they want, which always makes mealtime merrier.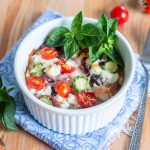 Print Recipe
Easy Baked Polenta Cups
Comforting and delicious, these Easy Baked Polenta Cups feature a thick layer of polenta mounded with rich cheese, chopped vegetables and diced meats. With endless topping choices, this customizable recipe makes a perfect dinner bar meal. 
Ingredients
Polenta
3

cups

water

3/4

teaspoons

kosher salt

1

cup

yellow cornmeal

1/4

cup

grated Parmesan cheese

2

tablespoons

fresh basil

chopped

1

large

garlic clove

minced or pressed

1

tablespoon

olive oil
Toppings
1

cup

shredded mozzarella cheese

1/2

cup

crumbled flavorful cheese

like goat or bleu

small or diced vegetables

like cherry tomatoes, squash, corn, shallots, olives, artichoke hearts, roasted red peppers, etc.

chopped meats

like prosciutto, salami, or cooked chicken, sausage, or bacon, etc.

fresh basil

for garnish
Instructions
Polenta
Preheat oven to 400°F. Brush six 8-ounce ramekins lightly with olive oil. Set aside.

Combine water, cornmeal, and salt in large saucepan over medium-high heat.  Whisk constantly until the mixture begins to boil.  Reduce heat to medium-low and cook, continuing to whisk until the polenta is very thick and pulls away from sides of pan, about 3 minutes. Off heat, mix in Parmesan cheese, basil, garlic, and olive oil.
Assembly and Baking
Transfer the cooked polenta to prepared ramekins with an ice cream scoop. Spread the mixture evenly to the edges of each cup with the back of a lightly-oiled spoon.

Top the polenta with two tablespoons of the mozzarella cheese. Add a tablespoon of goat or bleu cheese. Layer vegetables and meat over the cheese. Sprinkle an additional tablespoon cheese (any kind, or a combination) over the top.

Bake the prepared cups until the cheese is melted and bubbling, about 20 to 25 minutes.

Let the cups cool on a rack for about 10 to 15 minutes before serving. Garnish with fresh basil, if desired.
Some of the links in this post are affiliate links. If you click through and make a purchase, I earn a small commission for my referral at no additional cost to you. Thank you for supporting Flour Arrangements.
YOU MIGHT ALSO LIKE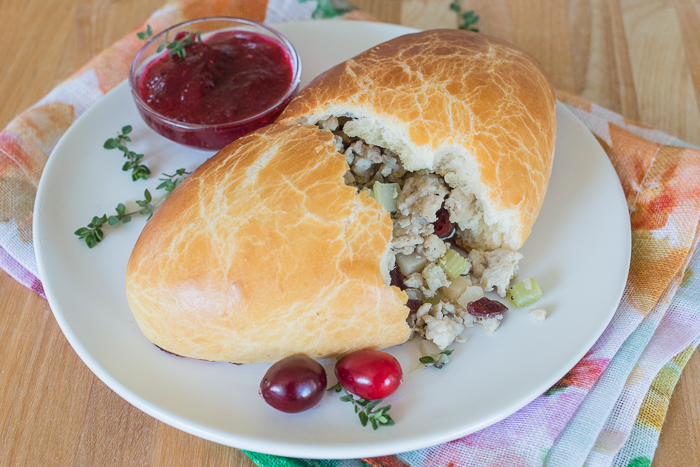 Turkey Cranberry Runzas
Mini Deep Dish Pizzas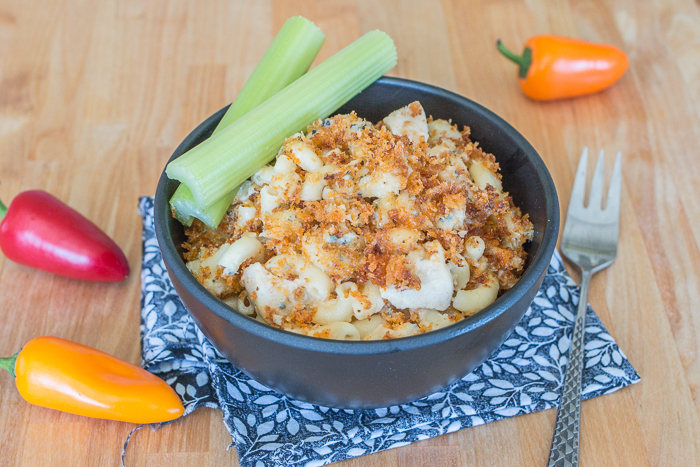 Buffalo Chicken Macaroni and Cheese