Ready to enjoy in minutes, this Persimmon Ice Cream delivers a sweet, soft serve treat full of distinctive persimmon flavor.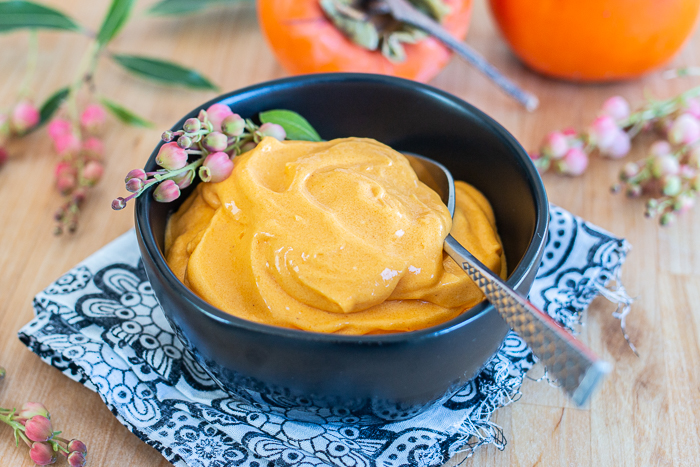 While I love the flavor of Hachiya persimmons, I've never been a big fan of this beautiful orange fruit. I just can't get past its slimy texture.
I'd devour a crunchy Fuyu persimmon any day, but I'd rather kiss a banana slug than eat a ripe, gelatinous Hachiya.
Unlike some fruits, it's impossible to eat Hachiya persimmons before they're perfectly ripe. Their extreme astringency sucks the life out of your mouth in a way that makes it feel like you may never recover.
Unfortunately, as soon as they're ripe enough to eat safely, their texture turns astonishingly gooey.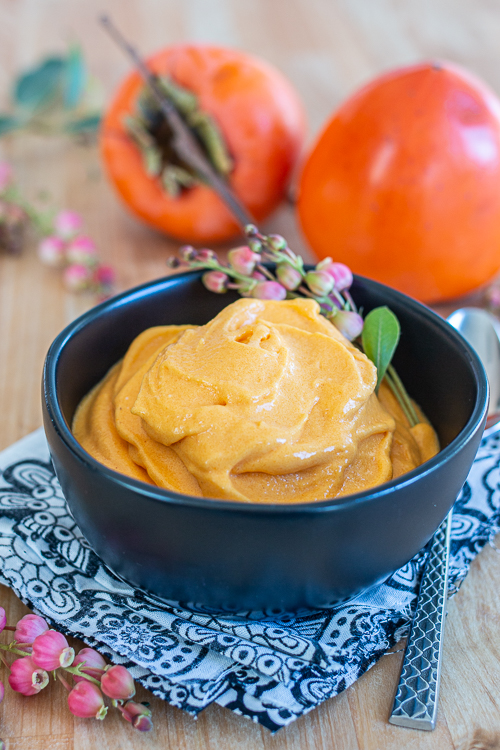 Because of their texture, I've just never been that interested in Hachiya persimmons, despite the endless quantity of fruit produced by the large tree growing in my parents' backyard.
My dad loves his persimmons, but his tree bears far more than he can consume on his own. Over the years, I've helped him unload bags of fruit to persimmon-loving friends.
When I discovered that my daughter Tessa shared her grandfather's passion for this squishy-soft fruit, I started keeping several on our counter to ripen for her.
At some point, when her stash of persimmons ripened simultaneously, I stuck a few of them in the freezer to keep them from going to waste.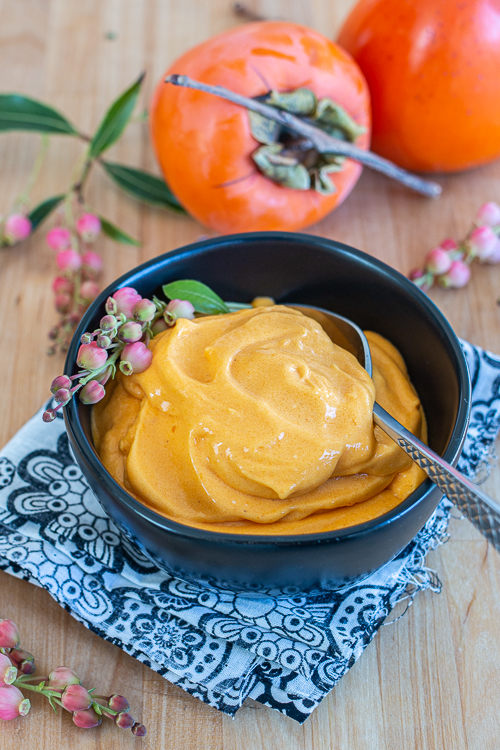 I didn't really know what to do with the rock-hard persimmons. When my husband — who grew up lobbing ripe persimmons at his goats — finally asked if he could compost them, I knew I had to come up with something.
That something, Persimmon Ice Cream, has finally given me a reason to eat — and truly enjoy — Hachiya persimmons!
This incredible frozen treat is ready in minutes and, with a soft serve-like texture, it delivers sweet, delicious persimmon flavor without the fresh fruit's slithery texture.
How to Make Persimmon Ice Cream
People talk about baking with Hachiya persimmons, but their texture is so averse to me that I don't even like handling and peeling them to use in baked goods.
Once they're frozen solid, though, with a few minutes at room temperature to soften up the outer layer, they peel easily with a swivel grater.
The one and only peeling challenge comes from their icy coldness. After a few tries, I started holding the fruit in a clean kitchen towel while peeling. This cuts the chill and keeps your hands from burning with cold.
Once you've dispensed with their peels, slice them in half and then cut off the leafy top bits. Chop the halves coarsely and then put them in a food processor with some cream, vanilla extract, and a pinch of salt.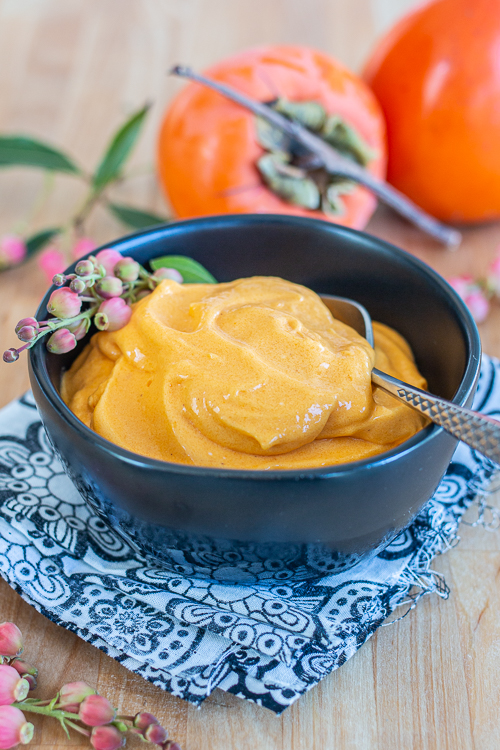 Whirl the ingredients until smooth and creamy, stopping as needed to break up any frozen chunks that clump together.
That's it! It's so fast and easy! Scoop the ice cream into bowls and serve immediately.
Because persimmons are quite sweet naturally, this ice cream doesn't require any added sugar, which means you don't have to feel guilty about indulging!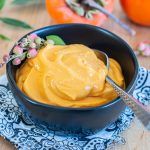 Print Recipe
Persimmon Ice Cream
Ready to enjoy in minutes, this Persimmon Ice Cream delivers a sweet, soft serve treat full of distinctive persimmon flavor. Makes about 2 cups.
Ingredients
2

large

Hachiya persimmons

frozen whole

1/2

cup

heavy cream

1

teaspoon

vanilla extract

generous

pinch

kosher salt
Instructions
Take the persimmons out of the freezer and let them sit at room temperature for about 5 minutes for easier peeling and chopping.

Hold a persimmon in a clean towel and peel it with a swivel peeler. Repeat with the second persimmon.

Chop the persimmons in half lengthwise and then slice off the leafy area on the top of each piece. Coarsely chop the halves and place them in a food processor fitted with the blade attachment.

Add remaining ingredients and process until smooth, stopping as needed to break up any large pieces that cling together.

Transfer the ice cream to bowls and serve immediately.
Some of the links in this post are affiliate links. If you click through and make a purchase, I earn a small commission for my referral at no additional cost to you. Thank you for supporting Flour Arrangements.
YOU MIGHT ALSO LIKE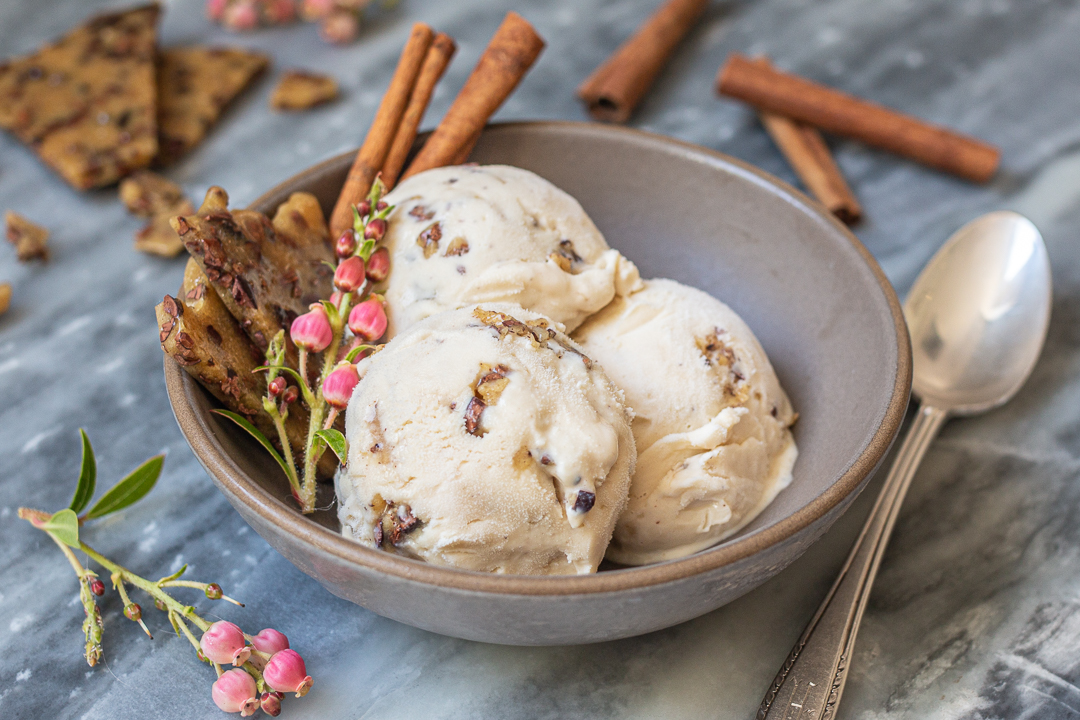 Cinnamon Cocoa Nib Brittle Ice Cream
Lemon Blueberry Swirl Ice Cream
Pumpkin Granola