This roasted grape tart features flavorful fruit layered over over sweet mascarpone cream and a brown sugar-pecan crust.  It's simple, yet elegant.

I love grapes. I love their juicy crispness.  I love the explosion of sweetness they unleash in your mouth as their taut skins rupture. I love grapes, but I only love them when they're perfect.  Once they're even slightly past their prime, I want nothing to do with them.
My genius mom used to pop saggy grapes in the freezer: since water expands as it freezes, juice-filled grapes plump right back up into delicious frozen treats.  I'm pretty sure I didn't realize that she was using the sad, withered grapes that we refused to eat to make this coveted snack. Now, though, I totally appreciate this simple trick for reducing food waste.
These days, ironically,  I'm withering perfectly lovely grapes on purpose.  Tossing them with a bit of oil, salt, sugar, and herbs and baking them in the oven transforms grapes from simple snack food to elegant cheese platter fare.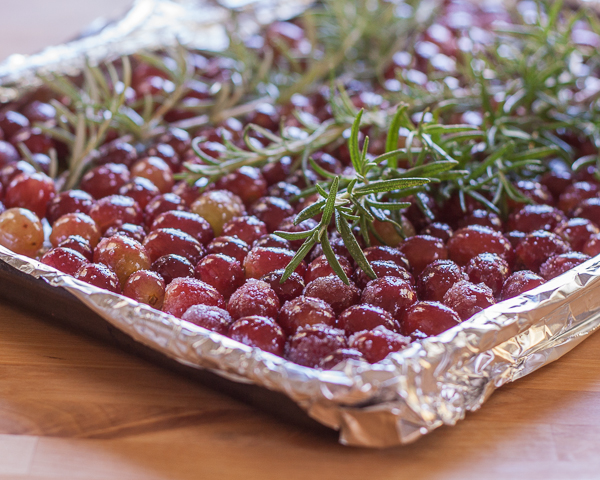 Roasting heightens grapes' flavor as it begins to caramelize the sugars in each juicy globe.  As soon as the heat makes them sag in their skins, they're mouthwateringly delicious. With a splash of balsamic vinegar, they're downright addictive.
Adding roasted grapes to dessert gives me some restraint, but not much.