Creamed turkey and thyme-cornmeal waffles combine their warm, comforting flavors in a simple, satisfying meal. Topped with cranberry sauce and green beans, this dish is a perfect use for Thanksgiving leftovers!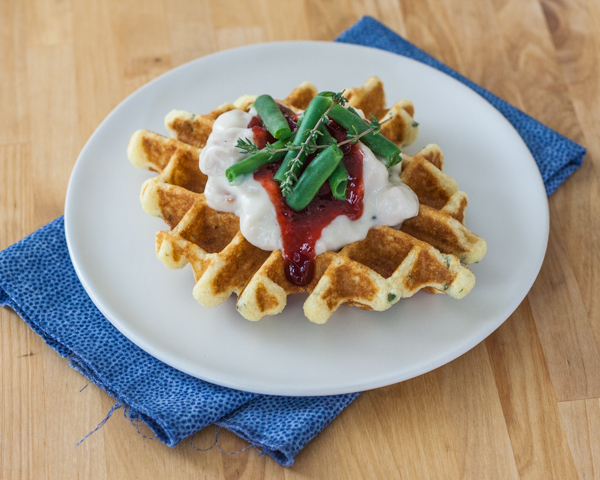 Leftovers are one the best parts of Thanksgiving.  Of course I love spending time with family and friends and gathering around a big table for an awesome feast, but Thanksgiving leftovers draw out my feelings of gratitude for days and days.
As I indulge in a plate of leftover turkey loaded with all the traditional fixings, I can't help but feel grateful about having a family of friends and friends who are like family.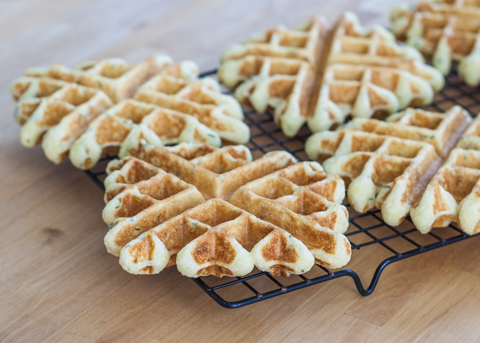 And while I could cheerfully eat turkey dinner day in and day out, it's hard not to see Thanksgiving leftovers as creative opportunities.  Roasted turkey, especially, is like a blank canvas with endless culinary possibilities — pizza, pot pie, enchiladas, salads, soups, you name it.  And here's one of the best things about creating meals with leftovers:  since the main ingredients are already prepped and ready to go, these recipes are that much easier to prepare.
In anticipation of all those leftovers-to-come next week, I did some experimenting with Creamed Turkey and Thyme-Cornmeal Waffles.  My family already loves eating breakfast waffles for dinner, so it was about time we added savory waffles to our repertoire.    [Read more…]