This basic Homemade Pizza Dough recipe works well in a standing electric mixer, but it's super satisfying to prepare it by hand, too.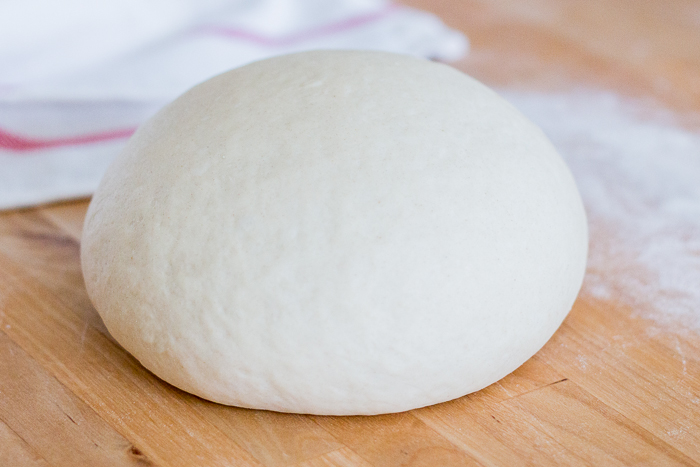 Our weekly pizza tradition started years and years ago, long before we had kids. These leisurely evenings with friends Dave and Michele stretched out over pizza-making, wine, beer, Survivor's first-ever season (remember that crazy schemer Richard Hatch?), and plenty of uninterrupted conversation.
Those simpler, easier times are long gone, and, sadly, we no longer live near our pizza pals anymore, but we still make pizza almost every week.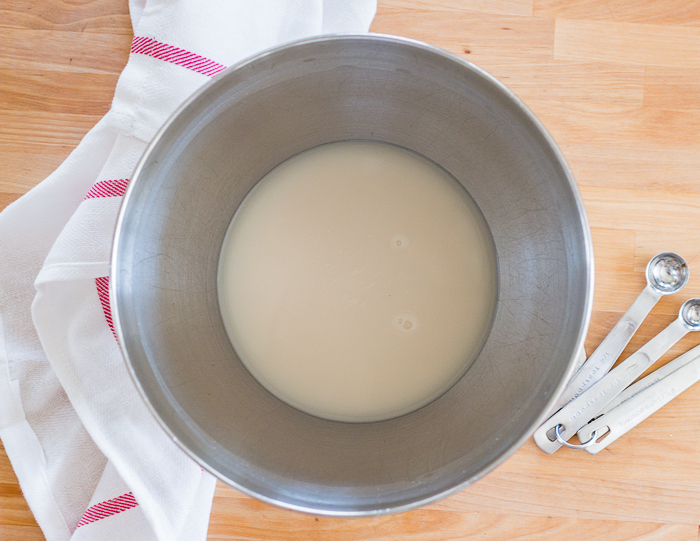 Despite the fact that we've cranked out countless pizzas over the years, I've only shared two pizza recipes on Flour Arrangements!
Years ago I shared this stuffed pizza recipe, which is one of our favorites, and then more recently, I wrote about this spring-time pizza featuring apricots that tastes incredibly fresh and delicious. With pizza, it's just hard to go wrong.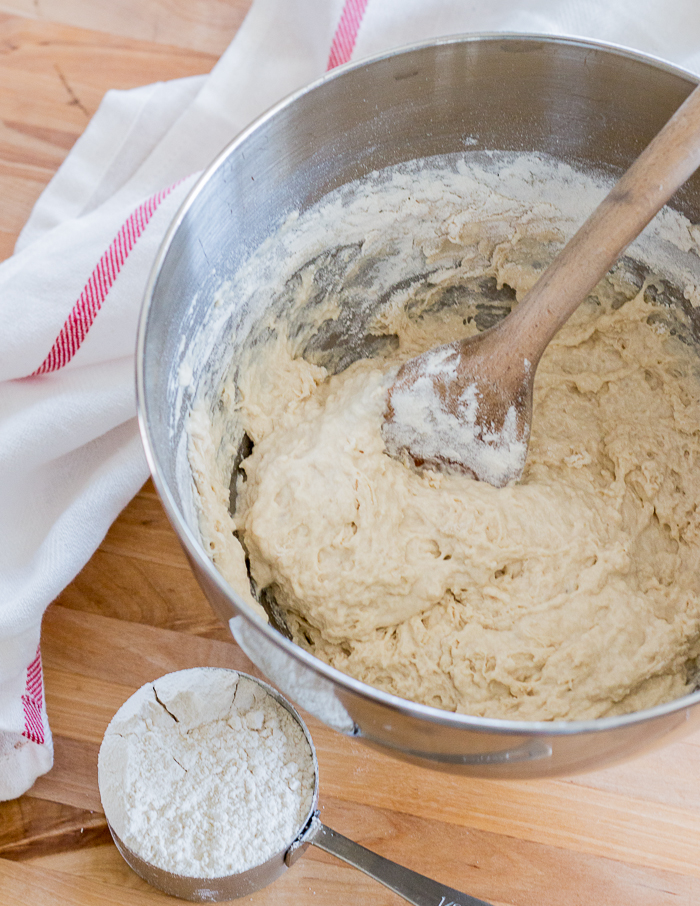 At our house, making pizza usually means getting creative with whatever ingredients that we happen to have on hand. Aside from preparing the dough, I almost never associate pizza with a recipe. Anything goes — a thin layer of olive oil, pizza sauce, pesto, or barbecue sauce topped with chopped veggies, leftover or cured meat, a handful of herbs, and cheese.
So, despite the bit of planning involved with preparing dough ahead of time, pizza-making couldn't be easier.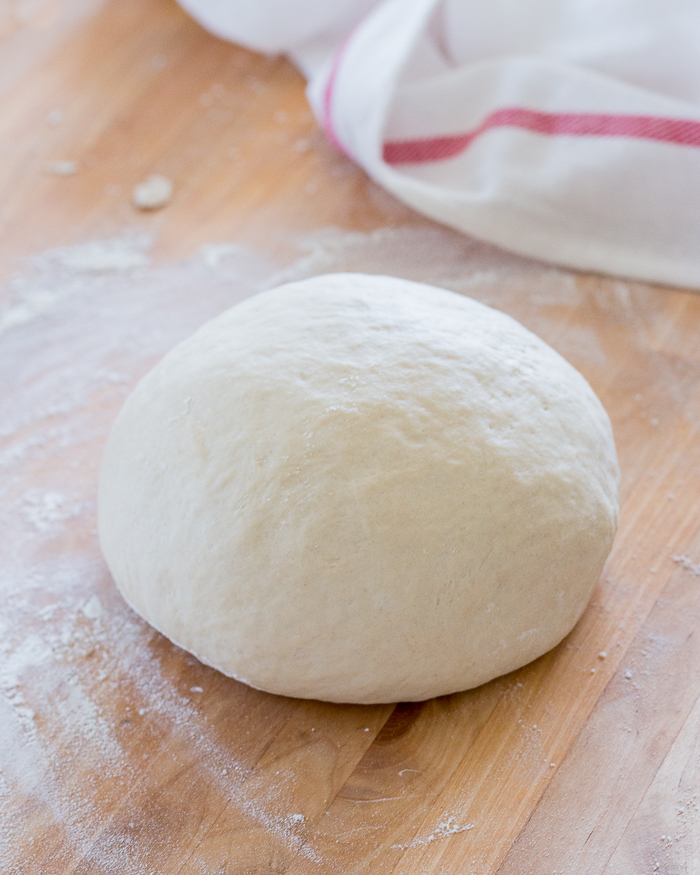 This basic dough recipe works well in a standing electric mixer, but it's super satisfying to make it by hand, too. Even if you love your electric mixer, I'd recommend preparing pizza dough by hand at least once so you have a feel for how the mixture changes as you add flour and knead it.
While our pizza dough recipe stays the same week after week, the pizzas we produce with it always turn out differently.
I usually make the dough an hour or so in advance, but the rising time is really quite flexible. If you plan to prepare it more than several hours ahead of time, simply let it rise in the refrigerator instead of on the counter.
Since my kids are picky eaters, we usually divide the dough into small pieces so people can choose their own toppings. In addition to ensuring that everyone gets exactly what they want, our do-it-yourself pizza nights turn an ordinary meal into a fun activity.
While Dave and Michele live too far away for a weekly dinner date, I can't help thinking about them every time we make pizza. Our kids are now old enough to make pizza on their own, which means we could almost recapture those leisurely evenings that I remember so fondly.
We could sit back and sip cocktails and enjoy mostly uninterrupted conversation while our kids prepare our pizzas. How great does that sound?
Print Recipe
Homemade Pizza Dough
Makes two 12-inch pizzas.
Ingredients
1 1/3

cups

warm water

(105º to 115º F)

2 1/4

teaspoons

active dry yeast

3 1/2 to 4

cups

unbleached all-purpose flour

2

tablespoons

olive oil

2

teaspoons

salt

2

teaspoons

granulated sugar or honey

cornmeal

for dusting

toppings and cheese

as desired
Instructions
Add water to a large bowl or the bowl of a standing electric mixer. Scatter yeast over the water's surface. Stir to combine. Let stand until bubbly, about 5 minutes.

Add two cups of the flour, the olive oil, salt, and sweetener to the bowl and mix with a wooden spoon or the mixer's paddle attachment until well combined. Add remaining flour, about ½ cup at a time, mixing by hand or with the paddle until the dough clears the sides of the bowl. If working by hand, turn the dough out on a lightly floured surface and knead, adding flour a little at a time if the dough still feels sticky. Knead until dough is smooth and elastic. If using an electric mixer, switch to the dough hook and knead on medium speed for about 5 minutes until the dough is smooth and elastic. If the dough feels too sticky, add a bit more of the flour and knead for another minute or two. Transfer dough to a bowl coated with olive oil, turning the dough once to coat it with oil. Cover with plastic wrap and let it rise in a warm place until doubled in volume, about an hour.

Preheat oven to 475º F. Grease and dust two baking sheets with cornmeal or place a baking stone in the oven (preheat for at least 45 minutes before baking). Gently deflate the dough and turn it out on a lightly floured surface. Divide the dough in half (or into as many pieces as you'd like pizzas) and shape each piece into a ball. Cover with plastic wrap and let the dough rest for 10 to 15 minutes as you prepare the toppings.

Working with one at a time, flatten each dough ball on a lightly floured surface, rolling and stretching it into a 12-inch round for large pizzas. Place the dough circles on prepared baking sheets or pizza paddles dusted with cornmeal.

Brush the top of each dough round generously with olive oil. Top with sauce, toppings, and cheese as desired.

If using a baking stone, working one at a time, slide pizzas off the paddle (a baking sheet works just as well if you don't have a paddle) onto the baking stone. If using baking sheets, place the pans and pizzas in the oven to bake. Bake until the crust is browned and the cheese is melted and golden around the edges, about 12 minutes. Cool pizzas for 10 minutes before slicing.
PIN HOMEMADE PIZZA DOUGH RECIPE FOR LATER

You might also like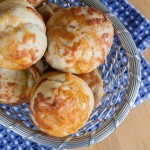 Olive & Prosciutto Pizza Rolls
Homemade Flatbread
Cheese-Stuffed Monkey Bread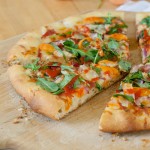 Apricot & Prosciutto Pizza with Sriracha & Honey