Packed with diced apple, sweetened with maple syrup, and spiced with cinnamon, these maple-oat apple muffins get extra sweetness and texture from a lightly spiced streusel topping. Oven warm and slathered with maple-cinnamon mascarpone, they're a perfect fall treat.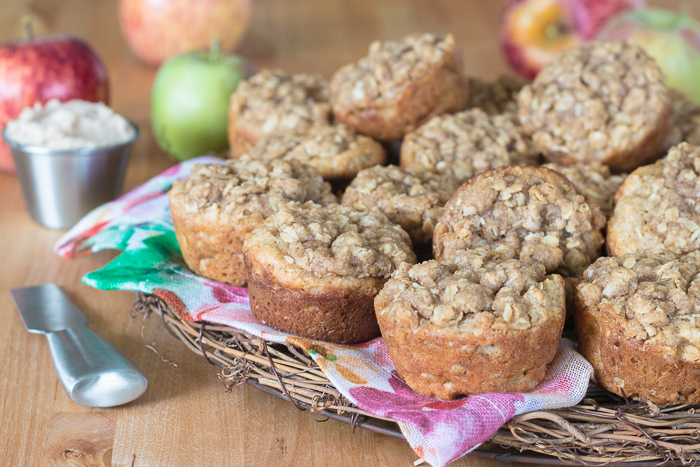 When my husband shared that Friday Harbor Labs was planning its annual Apple Raid this week, I wondered if we could somehow get there in time to participate.
The opportunity to spend a day picking apples on an idyllic island in the Pacific Northwest seemed too perfect to pass up.
Then I remembered the flight, drive, and ferry trip required to get there. Unless you own a plane, there's really no such thing as a quick trip to Friday Harbor, WA. With school and work, not to mention all the kids' activities that consume our free time these days, pulling off a spontaneous trip to the San Juan Islands is about as likely as winning the lottery.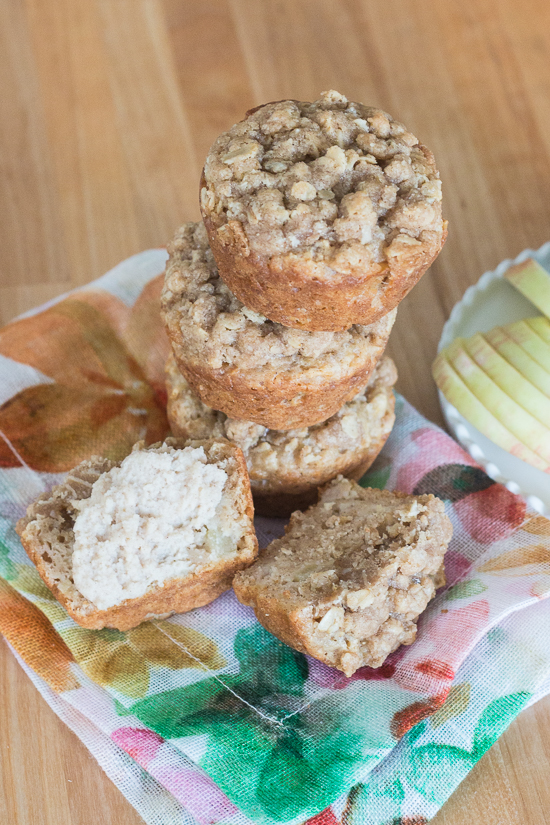 While I'm disappointed to miss out on one of my favorite island traditions, at least we have no shortage of apples here in California. Our three-year old apple tree has finally started producing fruit! In addition, some lovely neighbors delivered two large bags of gorgeous fruit to our doorstep.
Crisp and delicious, these apples are equally perfect for eating and baking. They're far better, really, than the apples we always picked at the apple raid.
Aside from the ones I hand-selected for baking, most of the island apples end up in a cider press.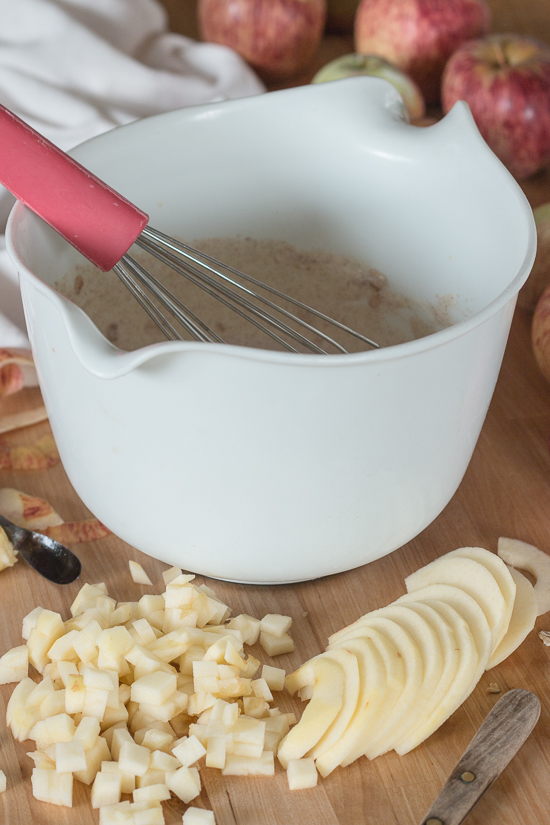 Our local apples taste so perfectly tart and sweet that it's almost a shame to bake with them. We couldn't help ourselves, though, and have prepared some favorite standby recipes and tried some new ones as well.
Mixing diced apples into muffins sweetened with maple syrup is my favorite new way to bake with apples this fall.
Tender, moist, and full of apple-cinnamon goodness, these muffins get extra texture and flavor from a generous layer of streusel topping, as well a scoop of oats mixed into the batter. Slathered with maple-cinnamon mascarpone, they make a perfect breakfast or snack.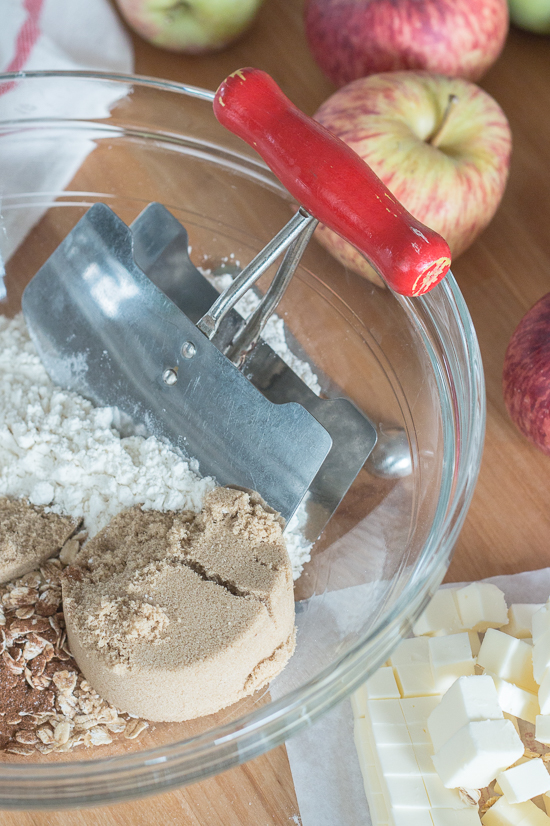 These maple-oat apple muffins are just the kind of treat that I would have baked after returning home from the Apple Raid to share at to the cider-pressing party the following morning. There's really nothing like a warm baked good and a mug of freshly pressed mulled cider to take the chill off a cold October morning.
While I won't get the chance to share these muffins with apple picking companions this year, I've already plied my family and friends with them on several occasions.
Everyone who's eaten one has raved about how well the streusel topping works with the apple muffin. This makes me glad I didn't give up on it.
The first couple of times I made the muffins, the streusel melted off the tops. While the chewy ring of topping baked on the pan tasted delicious, the scant amount of streusel remaining on the muffins felt utterly disappointing.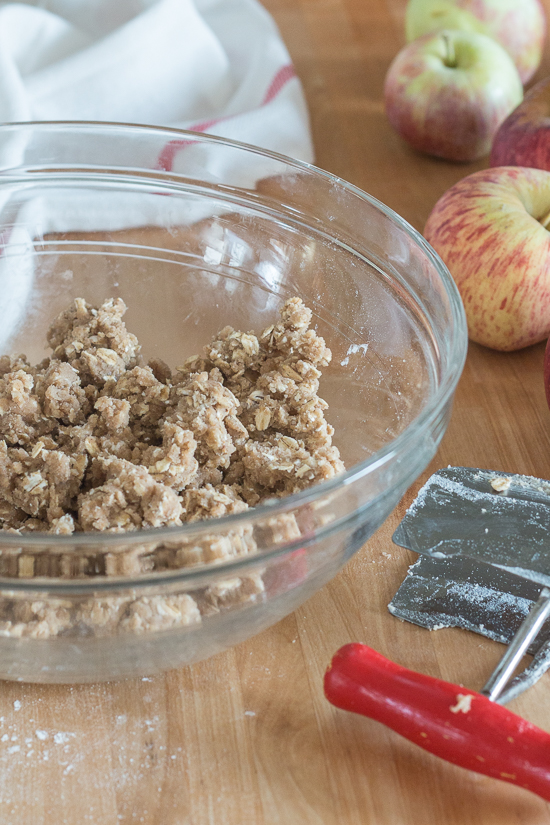 Undeterred, I set out to make a batch of slightly smaller muffins that wouldn't rise much above the pan to help contain the streusel during baking.
Somehow I got distracted as I prepared the streusel topping, mixing it past the crumb stage into a cookie-dough like consistency. Rather than sprinkle it over the batter, I shaped it into rough disks to press into the batter before putting the muffins in the oven.
The topping baked into perfect crumbly-looking streusel without expanding much past the edge of each disk.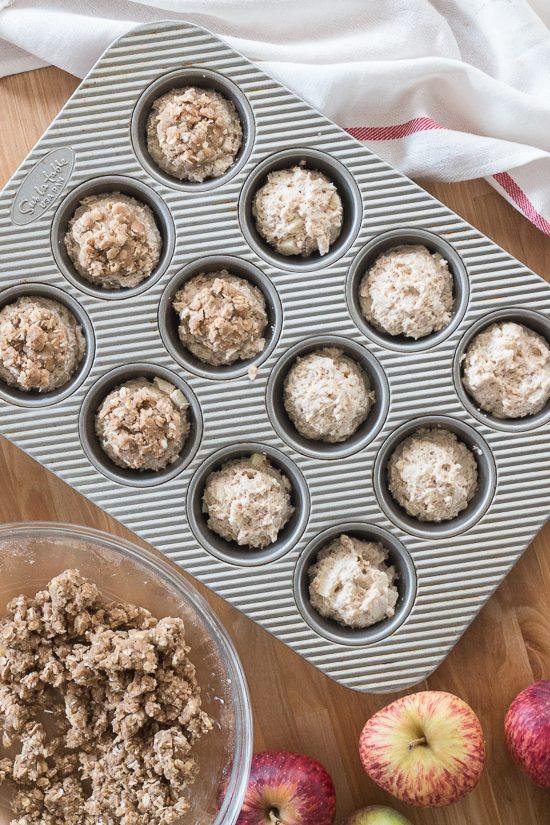 I wish I could say I planned this, but I'll take success however I can.
Since my accidental topping baked so well, I wondered if I should try making bigger muffins on my next pass.
As soon as I sampled a muffin, though, I knew I wouldn't change a thing. The proportion of topping to smaller-sized muffin was just right.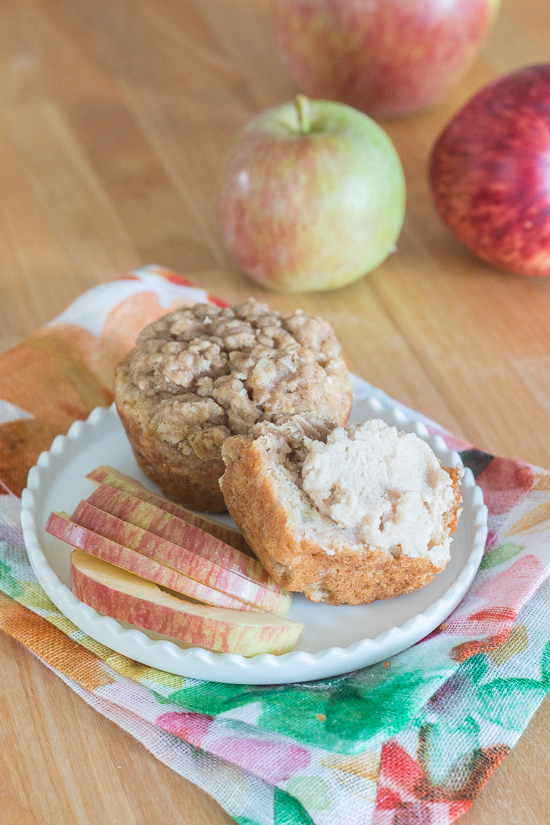 These muffins are great on their own, but adding maple-cinnamon mascarpone takes them to the next level.
Not only is this lightly sweetened and spiced spread delicious, it makes the muffins feel extra fancy. While fancy certainly isn't required, when it's as easy as mixing cinnamon and maple syrup into mascarpone, it's hard to go wrong.
Bake these tasty fall treats for breakfast, to bring to your kids' soccer games, or to add a little sweetness to a lazy afternoon. You won't be sorry.
Happy apple season!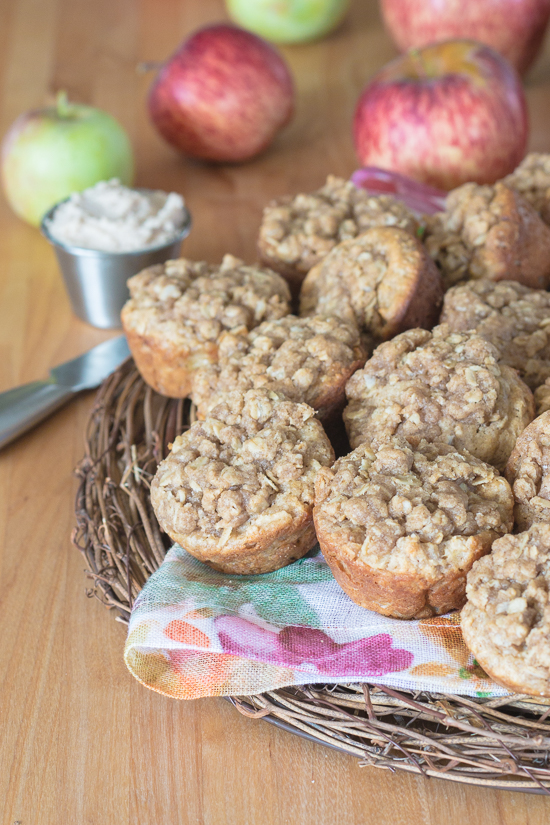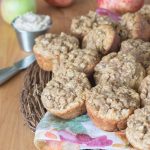 Print Recipe
Maple-Oat Apple Muffins with Streusel Topping and Maple-Cinnamon Mascarpone
Start by preparing the wet ingredients for the muffins to give the oats in the batter a chance to soften before baking. Using an
ice cream scoop
to add batter to muffin cups is an easy way to ensure uniformity for even baking. Makes 16 muffins.
Ingredients
Muffins

1

large egg

1

cup

sour cream

1/3

cup

rolled oats

1/4

cup

maple syrup

2

tablespoons

unsalted butter

melted

1

large apple

peeled, cored, and diced in ¼-inch pieces (about 1 ½ cups)

3/4

teaspoon

ground cinnamon

1

pinch

of allspice

1

cup + 2 tablespoons

unbleached all-purpose flour

1 ½

teaspoons

baking powder

1/2

teaspoon

baking soda

1/2

teaspoon

salt

Streusel Topping

1/2

cup

rolled oats

½

cup

unbleached all-purpose flour

½

cup

brown sugar

½

teaspoon

cinnamon

pinch

salt

½

cup

unsalted butter

Maple-Cinnamon Mascarpone

8

ounces

mascarpone

2

tablespoons

maple syrup

½

teaspoon

cinnamon
Instructions
Preheat oven to 350° F. Grease or paper line 16 standard-size muffin wells.

Combine egg, sour cream, maple syrup, oats, butter, cinnamon, and allspice in a large bowl. Whisk well to combine. Stir in apple.

Prepare streusel topping in a medium bowl. Whisk oats, flour, brown sugar, cinnamon, and salt to combine. Toss in butter to coat. With a pastry blender or clean fingers, work butter into the dry ingredients until the butter is evenly distributed and the mixture takes on an almost cookie dough like texture that still feels a bit rough. Set aside.

Mix flour, baking powder, baking soda, and salt for the muffin batter in another bowl. Add dry ingredients to the wet and stir until evenly moistened, no more than 15 to 20 strokes.

Scoop about 1/4 cup batter into each muffin cup. Shape streusel topping into rough disks slightly smaller than the muffins' tops. Press them into the batter gently. Bake until the muffins feel springy and a tester inserted in the center comes out clean, about 20 minutes. Cool for 5 minutes in the pan before removing to a rack.

For the maple-cinnamon mascarpone, combine mascarpone, maple syrup, and cinnamon in a small bowl. Mix well to combine.

Serve muffins warm or at room temperature with maple-cinnamon mascarpone.
Some of the links in this post are affiliate links. If you click through and make a purchase, I earn a small commission for my referral at no additional cost to you. Thank you for supporting Flour Arrangements.
Pin Apple Muffins for Later

You might also like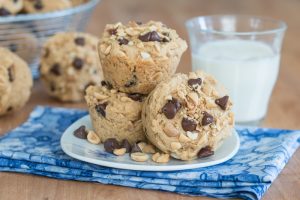 Peanut Butter Chocolate Chip Muffins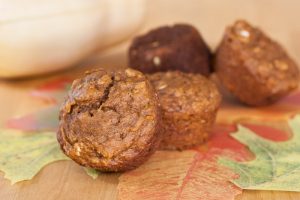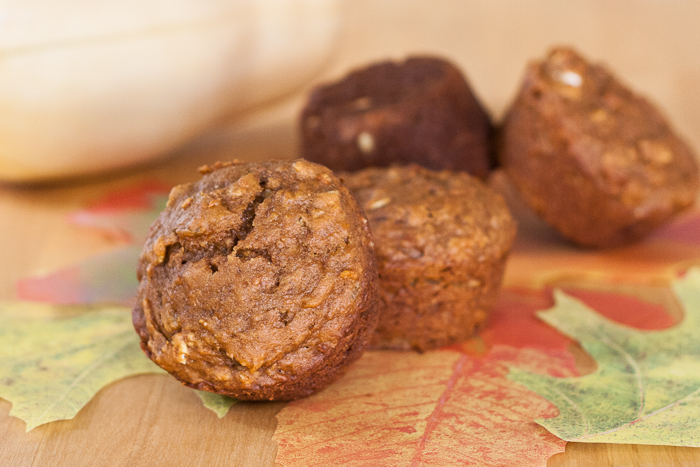 Sweet Potato Muffins with Candied Ginger