Rich, buttery, and pillowy-soft, these Apple Cider Pull-Apart Rolls make a satisfying addition to any dinner spread. They're perfect for sliders, too!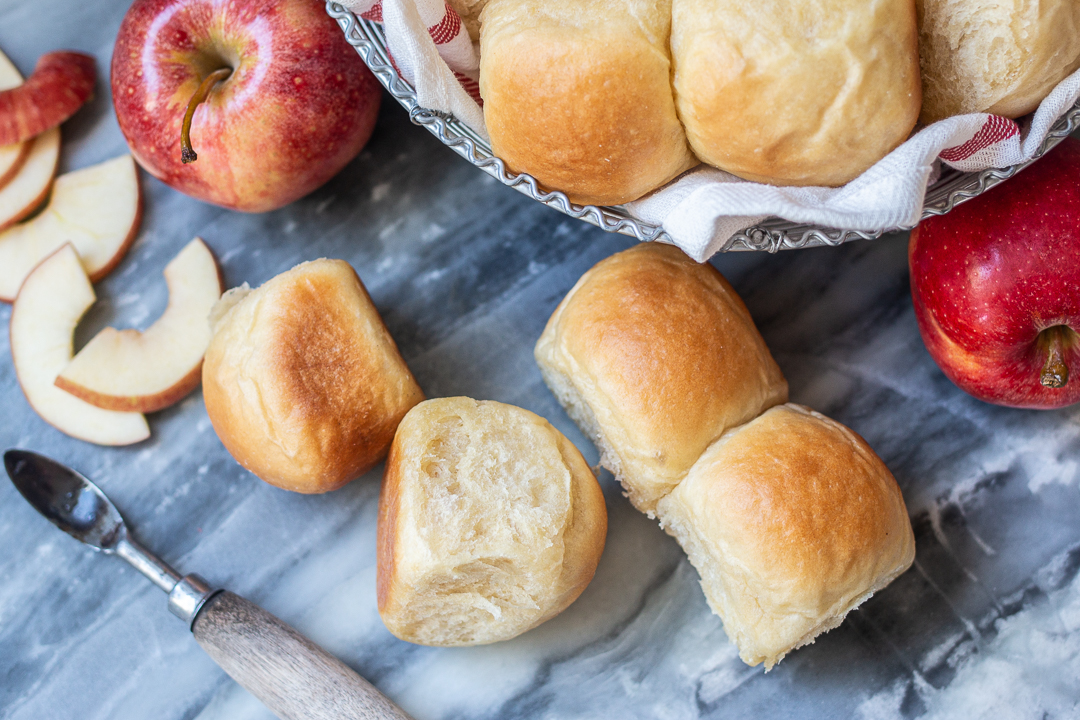 We only lived in Friday Harbor on San Juan Island for five years, but we forged deep friendships during our time there.
Almost every year since we moved to the San Francisco Bay Area, we've traveled to the island in August so we can catch up with friends, enjoy our favorite spots, and attend the San Juan Island County Fair.
This year, with a global pandemic on, we decided to skip our trip, and I'm feeling so homesick for our island family.
Missing Friday Harbor got me thinking about some of our favorite island traditions, including Friday Harbor Labs' annual Apple Raid.
Most years, come Fall, we sailed to Shaw Island to pick apples at the labs' orchard. The sheer quantity of apples we picked always astonished me, as did the hundreds of gallons of apple cider we pressed from them.
For weeks after, we challenged ourselves to prepare as many different recipes as possible with apples and cider. I remember one dinner with our neighbors that included apples in every course!
As I reminisced about Friday Harbor, I felt inspired to incorporate apple cider into some yeasted dough, something I'd never tried before.
Apple Cider Rolls!
These comforting Apple Cider Pull-Apart Rolls may well be the softest, most tender rolls I've ever baked.
While I'd hoped they might have hint of apple flavor, you'd never guess that they include a fair quantity of sweet apple cider if you didn't make them yourself. Here's the thing — they're so incredibly buttery and light that I wasn't even disappointed.
You know what else? The fact that they don't taste like apple means that I can boast about a secret ingredient that makes them so soft and delicious. When you bake them, you can, too!
Rich, buttery, and oh-so-tender, these Apple Cider Pull-Apart Rolls make perfect dinner rolls. I love them so much that I've already decided to serve them for Thanksgiving dinner this year. I'm crossing my fingers that we'll be able to gather with our large extended family, but I'm also not holding my breath.
In addition to serving as dinner rolls, these Apple Pull-Apart Rolls are just the right size for sliders! Apple Cider Slider Rolls! Say it out loud — you know you wanna.
My husband made some of his signature pulled pork last week, and I baked these supple rolls instead of my usual Sweet Potato Rolls for our mini sandwiches.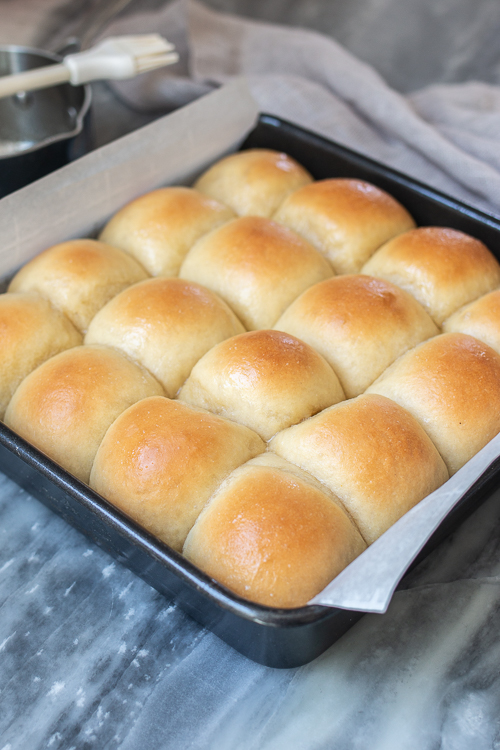 My family's partiality to pulled pork with Sweet Potato Rolls had me prepared for complaints, but everyone loved these rolls slathered with smoked pork, barbecue sauce, and coleslaw.
Now I'm feeling torn — which rolls will I make the next time he decides to make pulled pork? It feels so weird to have choices, especially when both of them taste incredible.
It also feels weird not to be in Friday Harbor right now. If we were there, we'd likely be planning a pot luck at South Beach. Wishing I could bring a double batch of these rolls to share with our friends.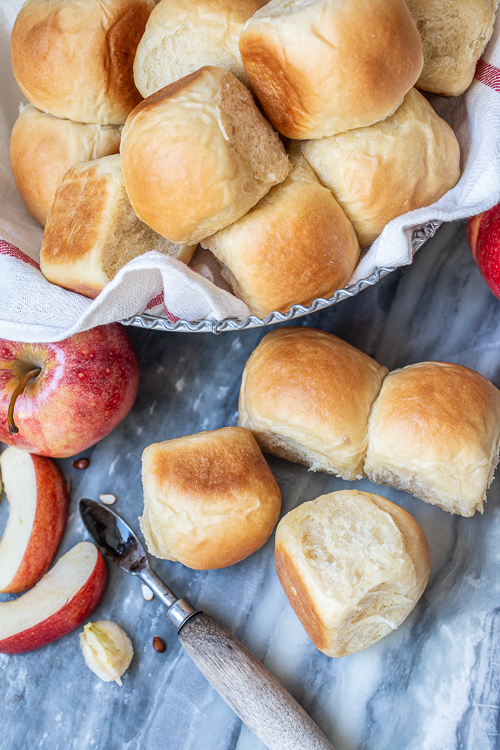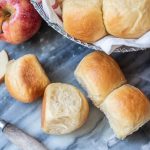 Print Recipe
Apple Cider Pull-Apart Rolls
Rich, buttery, and pillowy-soft, these Apple Cider Pull-Apart Rolls make a satisfying addition to any dinner spread. They're perfect for sliders, too! Makes 16 rolls.
Ingredients
2

tablespoons

warm water (between 105-115°F)

2 1/4

teaspoons

active dry yeast

pinch

granulated sugar

7

tablespoons

butter

divided, plus more for greasing the pan

1/2

cup

apple cider

2

tablespoons

maple syrup

1

teaspoon

kosher salt

1

large

egg

2 1/4 to 2 1/2

cups

unbleached all-purpose flour
Instructions
Add the water to the bowl of a standing electric mixer. Scatter yeast and a pinch of sugar over the top and mix to combine. Let sit until bubbly, about 5 minutes.

In the meantime, melt 4 tablespoons of the butter in a small sauce pan over low heat. Remove from heat and mix in apple cider, maple syrup, and salt. Add egg and whisk until well combined.

Add the butter-cider mixture to the bowl with the yeast. Add 1 cup of the flour and mix well to combine with a wooden spoon or the mixer's paddle attachment. Add additional flour, about 1/4 cup at a time until a sticky dough forms. Let the dough rest for 20 minutes.

Knead the dough with the mixer's dough hook until smooth, satiny, and slightly tacky, about 5 to 10 minutes.

Transfer the dough to a lightly greased bowl, turning to coat all sides. Cover with plastic wrap and let rise until doubled, about an hour.

Butter a 9-inch square cake pan and line it with parchment paper that extends up over the sides of the pan (these serve as handles for ease in removing the buns for serving). Grease the top surface of the parchment paper.

Turn the dough out on a lightly floured surface and divide it into 16 equal pieces. Using just enough flour to prevent sticking, shape the pieces into tight balls and set them in the prepared pan. Cover the pan with plastic wrap and let rise until the rolls are puffy, about 30 to 40 minutes.

While the rolls rise, preheat oven to 375° F. 

Bake the rolls until golden brown, about 12 to 15 minutes (internal temperature should be between 185 and 190° F). 

While the rolls bake, melt the remaining 3 tablespoons butter in a small saucepan. As soon as the rolls come out of the oven, use a small pastry brush to coat the tops and exposed edges with melted butter.

Let cool for about 10 minutes before removing from the pan. Serve warm.
Some of the links in this post are affiliate links. If you click through and make a purchase, I earn a small commission for my referral at no additional cost to you. Thank you for supporting Flour Arrangements.
YOU MIGHT ALSO LIKE
Sweet Potato Rolls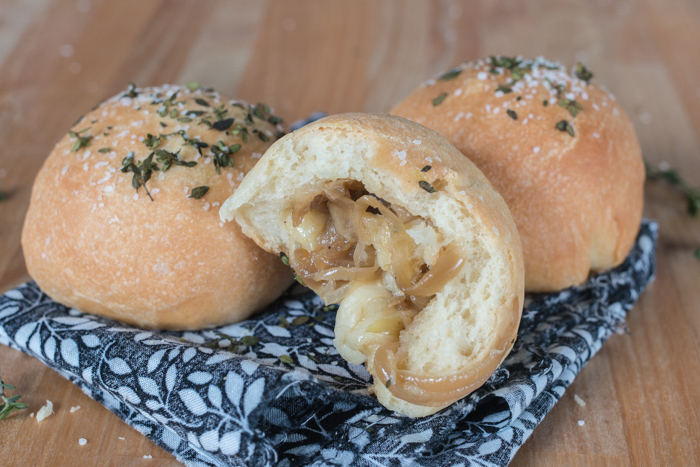 Caramelized Onion and Gruyere-Stuffed Rolls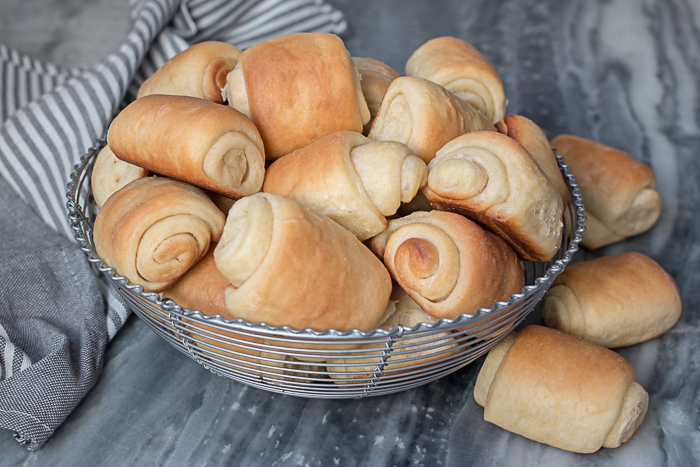 Buttery Spiral Rolls