With a flavorful vegetable filling wrapped up in Gruyere pastry dough, this Butternut Squash Pot Pie serves up satisfying wedges of savory goodness.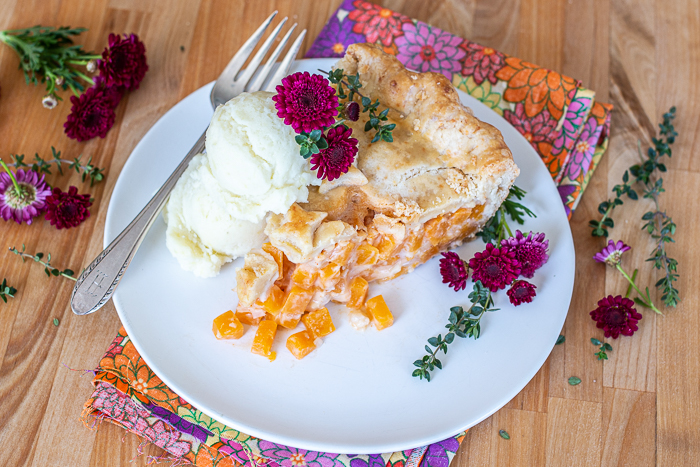 A few months back when I dished up mashed potatoes with an ice cream scoop, I couldn't get over how much they resembled sweet, creamy ice cream.
I'm always on the lookout for April Fools' Day recipe ideas, so this got me thinking about dressing up savory foods as sweet ones topped with mashed potato "ice cream."
Since pie and ice cream go hand in hand, it didn't take me long to decide that a pot pie would fit the bill for this year's April Fools' Day meal!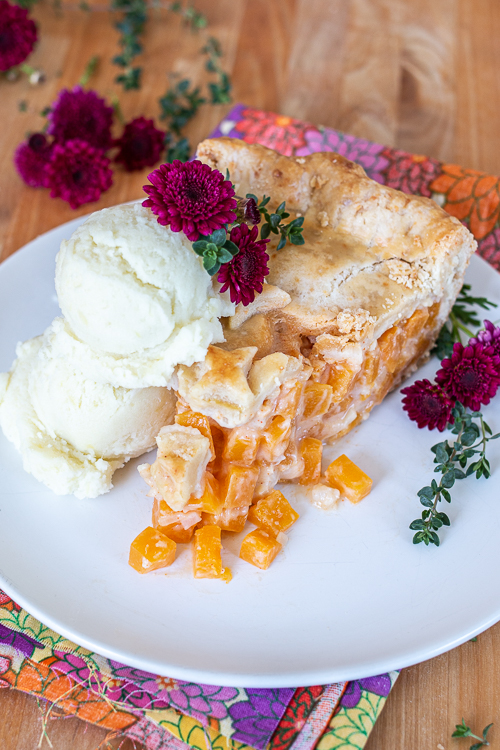 None of the pot pies I've baked look much like sweet fruit pies, so I decided to come up with a vegetarian recipe, which turned out even better than I imagined.
If you don't know what you're looking at, the diced squash in this Butternut Squash Pot Pie makes it look a lot like a peach or mango pie!
Along with squash, the creamy, thyme-laced filling includes chopped pear, sliced garlic, and leeks.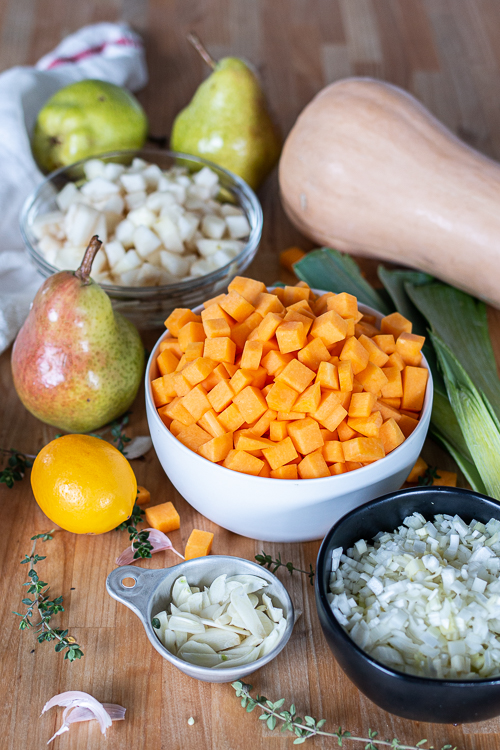 Served warm with mashed potatoes, this pie's delicate flavors mingle in savory perfection.
If you serve this pie as an April Fools' Day prank, your diners will likely be pleasantly surprised by its savory deliciousness. And, to make sure no one feels cheated of dessert, I recommend following the meal with some Dessert Tacos.
To add richness and highlight the pie's savory flavor profile, I mixed Gruyere cheese into the pastry dough, which bakes into a delightfully light and flaky crust.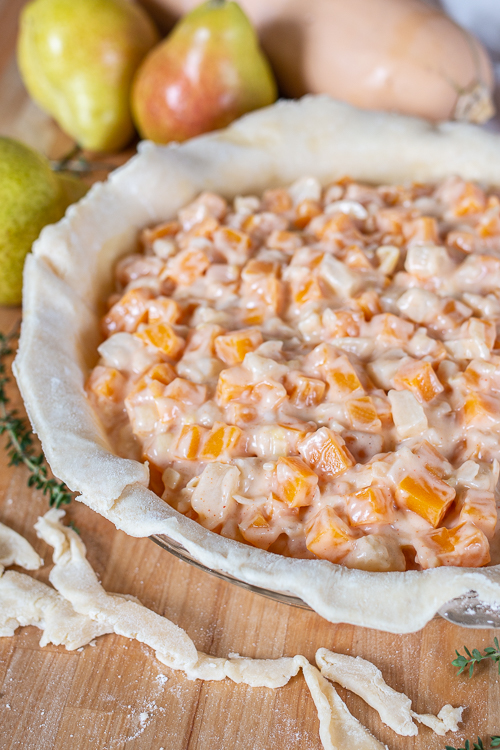 Of course you could substitute prepared pastry dough to make things easier, but the nutty decadence of this cheese-infused pastry is well worth the extra effort.
Butternut Squash Pot Pie Make-Ahead Options
While this recipe includes many steps, it's easy to stretch them out over a day or two to make preparation feel more manageable. I usually make the filling the day before I plan to bake the pie.
When I served it for dinner recently, I baked the whole pie a day ahead, let it cool to room temperature, and then put it in the fridge overnight. Before serving, I reheated the pie until the center reached 160° F, which took about 30 minutes at 300° F.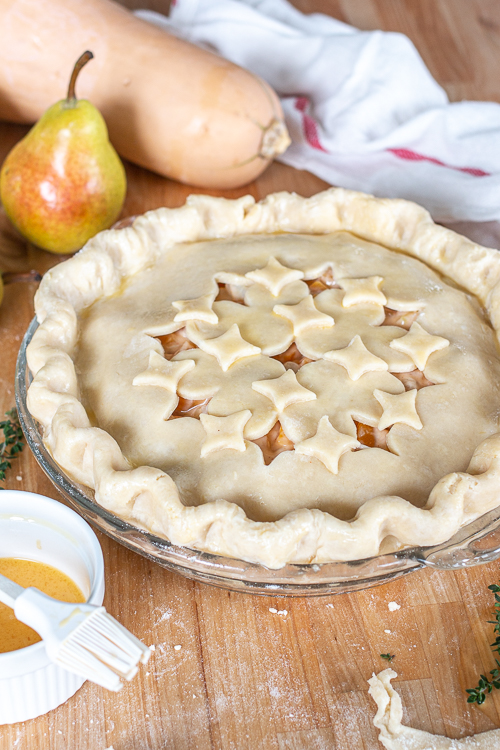 While this Butternut Squash Pot Pie may have started out as an April Fools' Day joke, it came together as a seriously delicious vegetarian pie.
It makes a great meal anytime, and it feels sophisticated enough to serve for celebratory occasions.
I'm already planning to bake it as part of next year's Thanksgiving spread!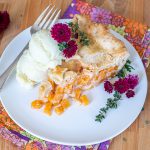 Print Recipe
Butternut Squash Pot Pie
With a flavorful vegetable filling wrapped up in Gruyere pastry dough, this Butternut Squash Pot Pie serves up satisfying wedges of savory goodness. Serve with Gruyere Mashed Potatoes.
Ingredients
Pastry Dough
2 1/4

cups

unbleached all-purpose flour

1

teaspoon

confectioners' sugar

1

teaspoon

kosher salt

1/2

cup

grated Gruyere cheese

about 1 ounce

1

cup + 2 tablespoons

unsalted butter

cut in 1/4-inch slices

1/3

cup

ice water

strained
Filling
4

cups

butternut squash

peeled and diced in 1/2-inch pieces

2

small

firm, ripe pears

peeled, cored, and diced in 1/2-inch pieces

4

cloves

garlic

thinly sliced

2

tablespoons

olive oil

1/2

teaspoon

salt

plus more to taste

3

tablespoons

unsalted butter

3

tablespoons

unbleached all-purpose flour

1 1/2

cups

chicken or vegetable broth

1

cup

whole milk

2

leeks

white part only, finely chopped

5

fresh thyme sprigs

1

bay leaf

1/2

teaspoon

smoked paprika

1

tablespoon

dry sherry

1

tablespoon

fresh lemon juice

freshly grated nutmeg

to taste

white pepper

to taste
Egg Wash
1

egg

2

teaspoons

water

pinch

kosher salt
Instructions
Pastry Dough
Combine flour, sugar, and salt in the bowl of a food processor.  Whirl to combine. 

Add the cheese and about half of the butter and whirl until no chunks remain. Add remaining slices and whirl briefly to chop them up into pea-sized pieces.

Turn food processor on and quickly begin drizzling ice water through the feed tube, stopping before the dough comes together. Pinch some crumbs together between your fingers; if they don't stick together, add a bit more water and whirl briefly. 

Turn the mixture out onto a large piece of plastic wrap. Use the plastic wrap to help you bring the dough together; fold the edges of the dough toward the center and press down until it holds together, taking care not to overwork the dough.

Divide the dough in half and shape into two flat disks wrapped tightly in plastic wrap. Refrigerate the for at least 45 minutes.
Filling
On a rimmed baking sheet, toss chopped squash, pear, and sliced garlic with olive oil and salt. Bake until the squash is barely tender, about 10 to 15 minutes.

In the meantime, melt the butter in a large sauce pan over medium-low heat. Add the flour and whisk constantly for 2 minutes.

Add the broth and whisk until smooth, scraping down the sides with a spatula if needed. Increase heat to medium and whisk in the milk.

Stir in leek, thyme sprigs, bay leaf, and paprika. Bring the mixture to a simmer over medium heat, whisking occasionally. Once the mixture begins to bubble, whisk constantly until it thickens, about 3 to 5 minutes more. Whisk in sherry and lemon juice. Set aside.

Remove thyme sprigs and bay leaf from the sauce and mix roasted vegetables. Season to taste with freshly grated nutmeg, salt, and white pepper. If preparing ahead, allow the filling to cool to room temperature and refrigerate until ready to use.
Assembly and Baking
Increase oven temperature to 425° F. Whisk egg, water, and salt together in a small bowl and set aside.

On a lightly floured surface, roll out one of the dough rounds into a 13 to 14-inch circle. Transfer it carefully to the pie dish. Brush some of the egg wash over the dough.

Roll out the remaining round into a 13 to 14-inch circle. If using decorative cutters, make vent holes.

Brush the overhanging edge of pie dough with some of the egg wash. Center the top crust over the pie dish and seal the pie gently by pressing down all the way around the pie's edge with the bottom of a fork.

Trim any overhanging dough with a knife and flute the edge with your fingers, if desired. If not using cookie cutters for vent holes, cut steam vents in the top. Brush the top crust lightly with egg wash.

Place the pie on a baking sheet to catch any overflow. Bake for 25 minutes on the bottom rack of the oven. Reduce heat to 350º F and continue baking until the crust turns golden brown, 30 to 40 minutes. Allow the pie to cool for several hours before slicing. Serve warm with Gruyere Mashed Potatoes.
Some of the links in this post are affiliate links. If you click through and make a purchase, I earn a small commission for my referral at no additional cost to you. Thank you for supporting Flour Arrangements.
YOU MIGHT ALSO LIKE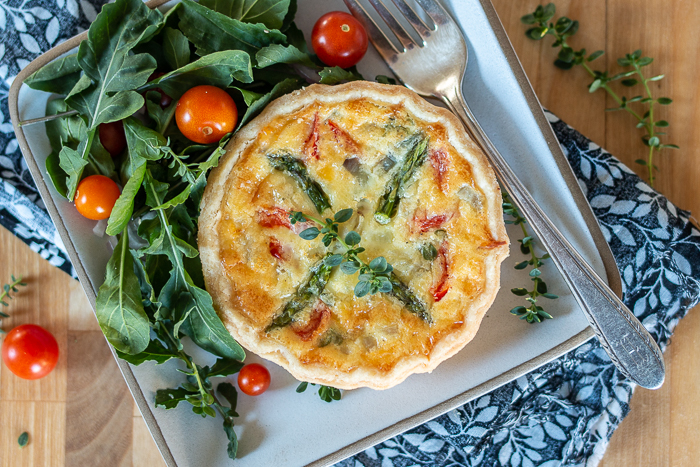 Mini Quiche Meal Bar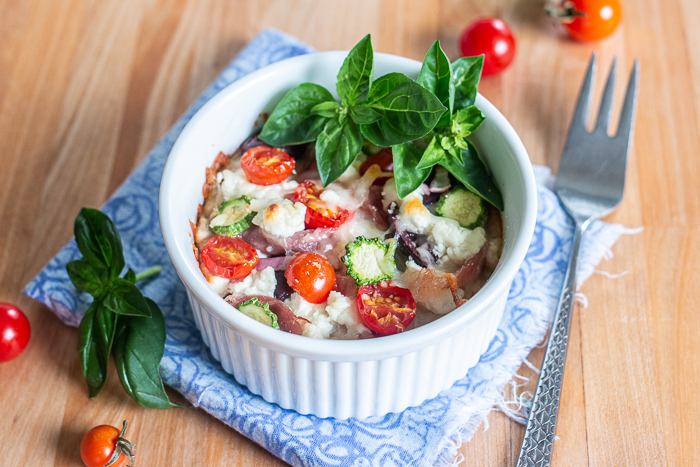 Easy Baked Polenta Cups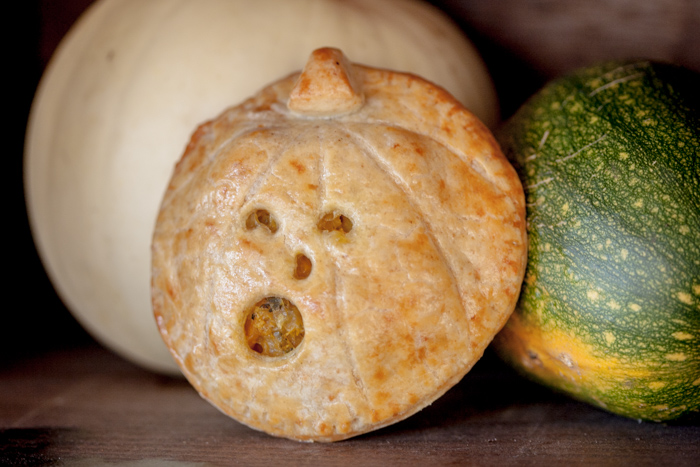 Savory Pumpkin Hand Pies