With just a hint of spice, these Banana Chocolate Chip Muffins deliver sweet banana bread goodness combined with rich chocolate decadence.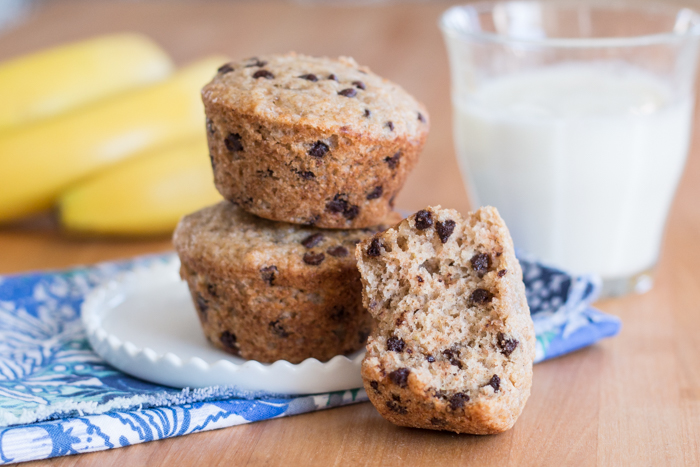 Overripe bananas have brought me back from my long absence here at Flour Arrangements. I spent the summer outside with my daughters — at the beach, biking around town, or swimming at the pool.
When we did venture inside to bake, my kids wanted to make tried and tested recipes like chocolate chip cookies, corn bread muffins, or simple vanilla cookies. They're eager to bake, and I'm trying to encourage it, which means not pushing my experimental projects — like these banana chocolate chip muffins — on them.
By the time this school year started, finally affording me time and energy to bake, I'd broken my baking habit.
Instead of spending obsessive and excessive hours in the kitchen, I've worked in our yard, mostly tending our first real crop of vegetables.
I've hauled a bunch of junk  to the Goodwill, ever hopeful that I haven't ditched anything my hoarder husband will miss. I've read some great books, and I've paid more attention to my kids. We chat and snack on popcorn in the afternoons instead of digging into whatever I've been baking while they were at school.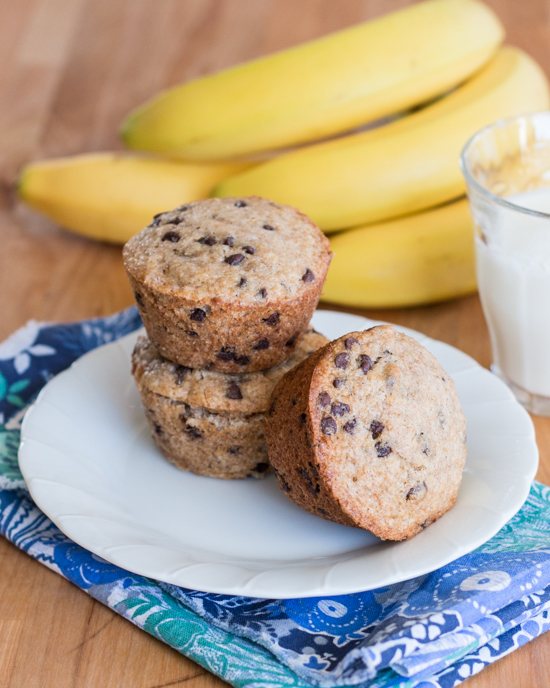 But back to those overripe bananas that just didn't want to go in the compost bin… Now that I'm trying to figure out how to fill my kids' lunch boxes on a daily basis, transforming mushy bananas into muffins eased my sometimes tricky lunch making ordeal — at least while the muffins lasted.
While most of the banana chocolate chip muffins traveled to school with my kids, I ate enough of them to know that I wanted to bake them again. When another pair of bananas finally started turning brown a week later, I got my wish.
With just a hint of spice, these muffins deliver sweet banana bread goodness combined with rich chocolate decadence. Using mini chocolate chips distributes tiny bursts of chocolate evenly throughout the muffins, but if you don't have them on hand, an extra trip to the store isn't strictly necessary — regular-sized chocolate chips will work well, too.
Since I can't stand wasting food, I love that these muffins give new life to past-their-prime bananas. In addition to fruity goodness, the recipe includes whole wheat flour, which imparts a satisfying texture without making the muffins feel like health food.
While working on this recipe, photographing the finished muffins, and putting this post together, I learned that I've missed experimenting in my kitchen.
I may not be posting quite as often these days, but you haven't heard the last from me yet. Happy baking.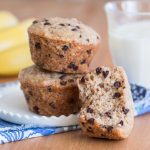 Print Recipe
Banana Chocolate Chip Muffins
These muffins are excellent split in half, toasted, and spread with peanut butter.
Ingredients
1/2

cup (1 stick)

butter

softened but still cool

1

cup

granulated sugar

1

large egg

2

medium ripe or slightly overripe bananas

mashed

1

cup

whole wheat flour

1

cup

unbleached all-purpose flour

1 1/2

teaspoon

baking powder

1/2

teaspoon

baking soda

1/2

teaspoon

salt

1/2

teaspoon

allspice

1/2

teaspoon

ground cardamom

1/3

cup

buttermilk

1

cup

mini chocolate chips
Instructions
Preheat oven to 350º F. Lightly grease 16 standard-sized muffin cups.

By hand or with an electric mixer, cream together butter and sugar until smooth. Scrape down the bowl and beat in egg until evenly combined. Add mashed bananas and mix well.

In a separate bowl, whisk together flours, baking powder, baking soda, salt, and spices. Add half of the dry mixture to the wet ingredients, stirring until just combined. Add buttermilk and then stir in remaining dry ingredients and chocolate chips.

Divide the thick batter between the prepared muffin cups. Bake for about 20 minutes or until a tester comes out clean. Remove from the oven and cool in muffin tins for 10 minutes. Serve warm or at room temperature.
PIN BANANA CHOCOLATE CHIP MUFFINS FOR LATER

You might also like
Easy Blueberry Muffins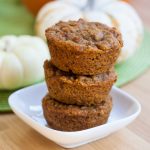 Pumpkin Date Muffins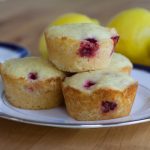 Lemon Raspberry Muffins