Deep and rich, this Peppermint Chocolate Cake gets a cool, refreshing burst from both peppermint extract and schnapps. Topped with peppermint ganache and crushed candy canes, it's a breathtaking holiday dessert.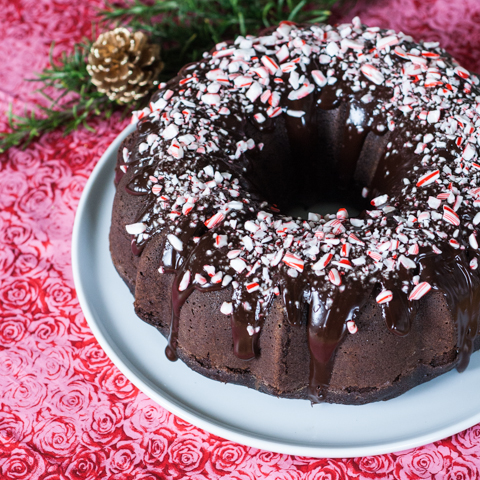 Much to my kids' dismay, I rarely frequent the candy aisle at the grocery store.  I bake too much cake and pie to want to mess around with candy most of the time, but I needed some candy canes to crush as topping for this Chocolate Peppermint Cake the other day.  As I marched into the sugary confection section, I learned something completely astonishing:  broken candy canes are totally a thing you can buy.
I have to hand it to those candy makers.  Imagine the sheer mass of candy cane wreckage piling up in their factories.  I wonder who first thought, "Let's market the broken stuff to all those people crushing up candy canes for their peppermint bark and other holiday treats"? Good on him or her.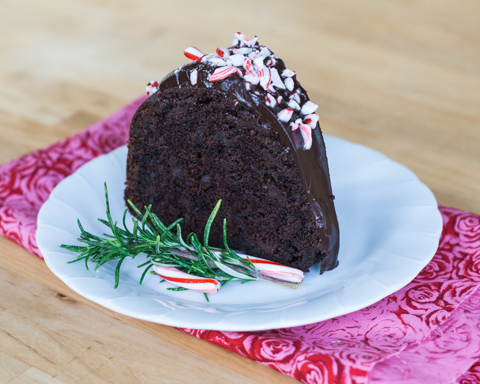 Here's the thing, though.  I couldn't bring myself to buy them.  I don't often get to smash things, and I wanted to smash my own candy canes, dammit.  It's so satisfying, especially if you remember to do it in a plastic bag so the candy shards don't go flying all over the kitchen.
I came home with two packages of candy canes. My kids had asked if we could hang some on the tree, which really means they hope to snack on this Christmas tree fruit when I'm not looking.  Good on them.  Sometimes I can be nice. [Read more…]