On Halloween, even your food can wear costumes! Serve dessert for dinner this year with these Spooktacular Halloween Meatloaf Cupcakes topped with mashed potato ghosts.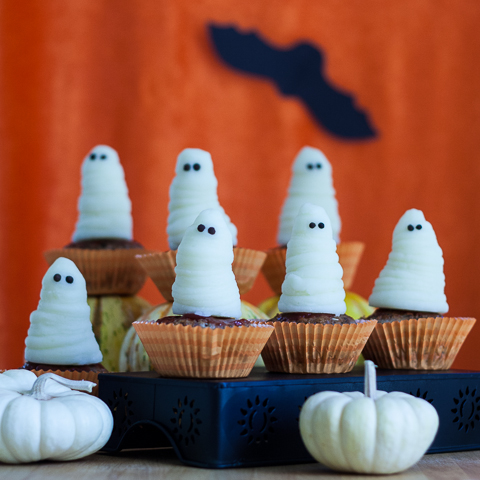 I'm constantly reminding my daughters not to play with their food. They're forever up to mischief — waving around olive-topped fingertips or turning asparagus spears into light sabers. I knew I was asking for it when I made these spooky Halloween meatloaf cupcakes since they're an invitation for dinnertime antics, but I just couldn't help myself — it's almost Halloween!
In addition to creating an easy, holiday-themed dinner, this goofy, spooky meal provides the perfect solution for my long-standing meatloaf conundrum.  I love meatloaf — its comforting heartiness, its simple preparation and easy clean-up, and its versatility of ingredients — but I almost never make it because it feels like it takes forever to bake.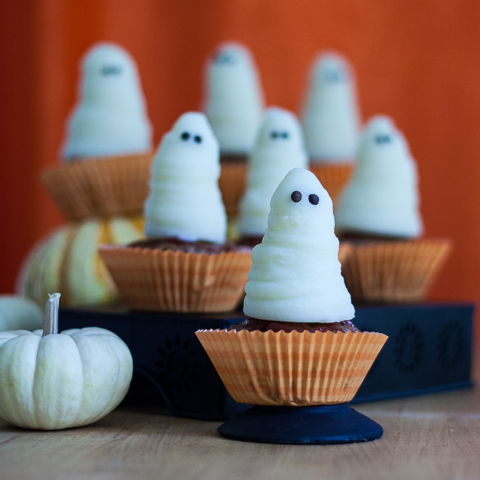 Meatloaf cupcakes, though? They bake in about 25 minutes.  This means you can have dinner on the table from start-to-finish in less than an hour.  Since these little cupcakes are so easy to make, conjuring up some mashed potato ghosts is a simple step that adds, quite literally, the icing on the cake!
…